Bitcoiin promotion continues in secret following fraud cease and desist

Bitcoiin received a securities fraud cease and desist from New Jersey on March 7th.
If the company is legitimate, they have the option of challenging the notice and registering the with the SEC.
Doing so would require Bitcoiin to provide the public with important information pertaining to the company and its B2G altcoin.
So uh, that's what they did… right?
Nah, this is MLM crypto baby.
As at the time of publication, Bitcoiin themselves are yet to publicly respond to the New Jersey cease and desist.
However that doesn't mean the company isn't actively communicating with their investors about it.
Behind the scenes and away from the public eye, top Bitcoiin affiliates are urging their downlines to continue promoting in secret.
Don Le is one such top affiliate. Prior to Bitcoiin Le was promoting the recently collapsed USI-Tech Ponzi scheme.
In a March 9th Facebook post, Le tells his downline 'we will no longer do any webinars'.

If you're having private calls please stop them and let your team know to cancel any calls.

John DeMarr has asked us to take down, remove, delete all videos, websites, and any social media content pertaining to B2G. Please do this ASAP.
According to Bitcoiin marketing material, John DeMarr is an "accredited investor" with a "direct relationship with (the) management of Bitcoiin".

DeMarr runs a private investigation business in California.
According to Martin De Jager, DeMarr in his capacity as a PI gave Questra World and Atlantic Global Asset Management the all-clear.

Questra World and Atlantic Global Asset Management were Ponzi schemes.
In late 2017 both Questra World and Atlantic Global Asset Management collapsed. A month ago the owner of the two companies was arrested in Russia.
At the direction of John DeMarr and in possible violation of the New Jersey cease and desist, Don Le goes on to advise;
John has allocated 1 million tokens for us.

You can still buy more tokens and bring people into B2G until the 1 million tokens are SOLD OUT.

If you want to share this, please do so PRIVATELY: no mass email, no facebook post, youtube, or public announcement.

One on one, face to face or on a private call is best.
If Bitcoiin is legit, why DeMarr and Le are urging investors under them to not publicly promote the company is unclear.
One possible reason is the Bitcoiin admins are gearing up to pull a runner.
According to Le, at midnight on March 25th Bitcoiin will take their website down.
The stated reason for the downtime is to allow time for an "audit on all accounts".
The reason Bitcoiin needs to audit investor accounts is not provided.
Le claims that after the audit, Bitcoiin investors will be able to "cash out". Details of how though are also not provided.
Around the same time, Le states John DeMarr 'will fly to Hong Kong … and meet up with the founders'.
Like Bitcoiin, neither John DeMarr or Don Le are registered with the SEC. Meaning continued promotion of Bitcoiin's unregistered securities is illegal.
And call me cynical, but this sounds pretty much like your text-book MLM cryptocurrency exit-scam.
After getting wind of a government investigation into the scheme, Bitcoiin gets everyone to delete evidence. Then it launches a secret promotion to encourage new investment.
That's on top of the $75 million Le claims the company has already taken in.
After their new promotion Bitcoiin are taking down their website and one of the top US investors is leaving the country.
Nothing suss.
Elsewhere on the internet Bitcoiin investors appear to remain in denial over the cease and desist.
According to Brandon Potter from Georgia, Bitcoiin has some "VERY RICH people behind it".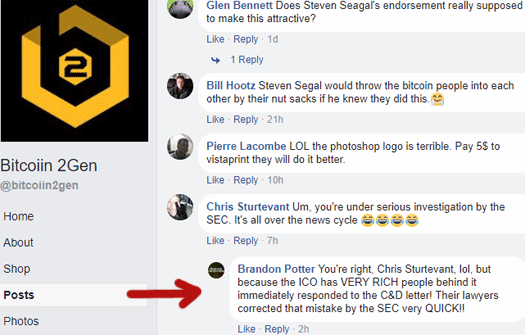 To date there's been no confirmation the SEC are investigating Bitcoiin at a federal level.
There's also been no indication Bitcoiin have responded to the New Jersey cease and desist.