UnionPay accuse OneCoin of being "inconsistent with facts"

Back in March OneCoin lost their Mastercard merchant issuer.
Turns out being part of a million dollar drug gang is bad for business.
Mastercard have since denounced OneCoin, effectively announcing they want nothing to do with the company.
Given Mastercard are watching for links between merchants and OneCoin's many shell companies, we're probably not going to see a OneCoin branded Mastercard anytime soon.
Through their many shell companies, OneCoin had to seek out alternative processing channels.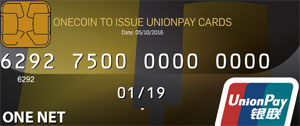 On May 10th OneCoin announced they were going 'to issue UnionPay cards'.
OneCoin has taken another tremendous leap toward becoming the Top cryptocurrency worldwide!

We are proud to announce that very soon we will start the issuing of ONE NET UPI CARDS in association with UnionPay.

This gives our Members the unique opportunity to receive the cards through a SIMPLIFIED APPLICATION PROCEDURE, without having to go through prolonged OnePay KYC.

The first printed cards are already available in our Hong Kong office. The debit cards, reloadable on a daily basis, are accepted in China, and will operate in US Dollars.
Turns out OneCoin and their affiliates have been incorrectly marketing these cards. Despite OneCoin claiming they are "issuing" the cards, UnionPay International have issued a press-release clarifying they aren't.
After confirming with Georgia's Capital Bank, the OneNet UnionPay card issued by the bank is a prepaid card which supports transactions in the US Dollar. It cannot be used to conduct transactions in Onecoin or Bitcoin.

Therefore, the rumor that 'Capital Bank issues UnionPay Onecoin card' is inconsistent with the facts.

UnionPay has always complied with the regulations in card-issuance, and has never issued any UnionPay card supporting transactions in virtual currency.
The UnionPay cards are hooked up to a JSC Capital Bank account in Georgia (the country).
On their website, JSC Capital Bank offer a "Chinese UPI Card", which operates as a standard debit card.
UPI card is the best way to trade in China, Dubai and other Asian countries.

Wherever you would like to trade your money is always safe UPI will have on the card.

In over 140 countries will be able to use this card, cheaply and easily, at the same time you get to the ground, and many (merchants) offer a discount.
OneCoin affiliates are able to transfer withdrawn cash from their backoffices or bank accounts onto the cards, which can then be spent in China.
As per the UnionPay press-release,  the UnionPay cards have nothing to do with OneCoin within the context of cryptocurrency.
If you're wondering why UnionPay are going out of their way to stress the cards are not directly tied to the OneCoin business, it's because in late April Chinese authorities began arresting OneCoin investors. China has also cracked down on banks working with cryptocurrency companies directly.
The funds OneCoin affiliates are loading onto the UnionPay cards appear to be issued from a JSC Capital Bank account bearing the name "OneNet".
JSC Capital Bank were first reported to be providing financial services to OneCoin back in November of 2015. Less than a month later OneCoin stopped accepting affiliate deposits through their JSC Capital Bank account(s).
To what extent JSC Capital Bank are aware they are processing transactions for a global Ponzi scheme is unclear.