OneCoin's China UnionPay cards disabled, public exchange denied

Back in May OneCoin announced they were rolling out UnionPay branded cards for their Chinese investors.
Such was the misleading marketing around the cards, that UnionPay had to issue formal clarification that the cards could not be used to conduct transactions in OneCoin.
The UnionPay cards were dummy cards that OneCoin affiliates could load up with approved withdrawal requests and then spend within China.
Despite the arrest of OneCoin affiliates in China, seizure of million of dollars and regulatory confirmation that OneCoin is illegal in China, UnionPay have continued to turn a blind eye to OneCoin's use of the cards for money laundering.
That might have now changed, following an announcement that OneCoin's UnionPay cards have been disabled.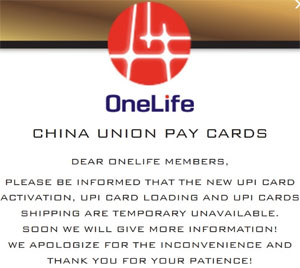 Whether OneCoin or UnionPay disabled the cards is unclear.
As per a message in the OneCoin backoffice;
Please be informed that the new UPI card activation, UPI card loading and UPI cards shipping are temporarily unavailable.

Soon we will give more information!

We apologize for the inconvenience and thank you for your patience!
If UnionPay disabled the cards, it is almost certainly related to ongoing regulatory investigations in China.
If OneCoin disabled the cards, it could be due to the company's current banking crisis.
Earlier this week OneCoin lost their long-standing Bank of Africa account. Following over a dozen bank account closures in the past year or so, the Bank of Africa was OneCoin's last-standing account.
Losing the Bank of Africa account has meant OneCoin cannot accept investment by bank wire. Bank wire is is believed to have been the primary method of deposit by OneCoin affiliates.
Top OneCoin investors had been telling their downlines to expect an update by the end of the week, but as of yet nothing has materialized.
Without bank accounts, OneCoin might not be able to transfer funds to the UnionPay cards, rendering them useless.
Meanwhile on the OneCoin Facebook pages, affiliate complaints regarding rejected and perpetually pending withdrawal requests appear as fast as the company can delete them.
OneCoin management routinely tout China as OneCoin's biggest and most important market, so a problem with withdrawal payments in the region is significant.
Alexa currently rank China as the largest source of traffic to the OneLife website and third largest to the OneCoin website.
In related OneCoin news, OneCoin continues to be rejected outside of the income opportunity hype bubble.
RevEX is an upcoming cryptocurrency review and public exchange site.
Our goal is to help people make their decisions on where to trade and which cryptocurrencies to buy and sell by reading and writing reviews based on personal user experience with coins and exchanges.

Also, with REVEX we want to bring new users into the cryptocurrency world and help them decide on where and into which cryptocurrency to invest.
The site recently held a public vote on cryptocurrencies and exchanges its users wish to see reviewed and featured.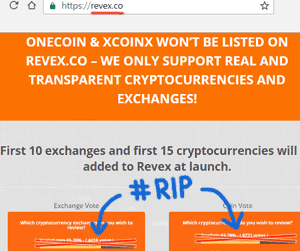 Both OneCoin and xCoinx (OneCoin's internal exchange) topped the voting list, with thousands of likely manipulated votes from OneCoin affiliates.
In response to the poll results, RevEX announced a finalized list of ten exchanges and fifteen cryptocurrencies that will feature on the site.
OneCoin and xCoinx have been scrubbed from the results, with a message explaining:
OneCoin & xCoinx won't be listed on RevEX – We only support real and transparent cryptocurrencies and exchanges!
Stay tuned for an update on OneCoin's banking crisis and ongoing payment problems…