OneCoin increase initial investment to €18,800 EUR

It's the end of the year and traditionally for Ponzi schemes, that means a run on the bank.
People who have been diligently compounding their invested funds year round want to cover holiday expenses, and that means a cash flow crisis for the MLM underbelly.
To remedy the situation it's common to see Ponzi schemes to incentivize investment, which is typically tied into a holiday theme.
Looking to capitalize on Christmas and the upcoming Chinese New Year, OneCoin have just announced a new Festival investment package.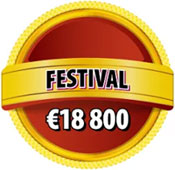 With Christmas and the Chinese New Year approaching, OneCoin has prepared an exciting surprise for all of you!

To celebrate the upcoming festivities, we offer a limited edition pack– The Festival Package!
For €18,800 EUR, OneCoin investors get 250,000 OneCoin tokens, a bunch of worthless OneVegas credits and 18,800 Business Volume (used to calculate residual commissions).
OneCoin have long operated on the ruse of selling educational packages, but interestingly enough there's no mention of anything other than straight investment with the Festival Package.
What, not even a box of fortune cookies for €18,800?
Cmon guys, how are your affiliates going to keep up the "we're selling educational packages" facade if the Festival Package is a straight 1:1 investment?
As at the time of publication, OneCoin are changing banks approximately once or so every month.
Evident banking and financial regulatory issues has seen OneCoin sign up with JSC "Capital Bank", who are purportedly based out of  Tbilisi in Georgia (the country).
Affiliate withdrawals have also been delayed for over a month now and support is purportedly non-responsive, leaving OneCoin affiliates in the dark as to the status of their money.
Questions from affiliates about withdrawals meanwhile are being deleted from OneCoin's official Facebook page daily.