Chinese authorities investigating OneCoin, investors arrested

In early March OneCoin announced a "Grand Ceremony" in Harbin, China.
OneCoin Founder and co-owner Ruja Ignatova was to attend the April 23rd event.
Since the initial March 8th promotional announcement, neither OneCoin or its management has made any reference to the Harbin event.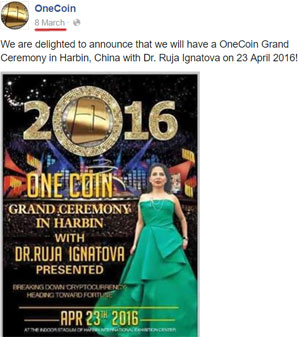 April 23rd has come and gone, with there being no record of the planned Grand Ceremony taking place.
About a week before the event, information from BehindMLM reader Leo Wang suggested authorities had something to do with the Harbin event being cancelled.
BehindMLM can now confirm Chinese authorities are indeed investigating OneCoin.
Several investors have been arrested, over $30 million USD has been seized and police are warning the public against investing in the scheme.
When Chinese authorities began investigating OneCoin, known in China as "维卡币", is unclear. What we do know however is that a Guandong police investigation lead to a raid on a OneCoin promotional event on March 16th.
Three top Chinese OneCoin investors holding the event were arrested and assets totaling 200 million RMB ($30.8 million USD) have been seized.
Authorities investigating OneCoin estimate some 600 million RMB ($92.4 million USD) has been invested by thousands of OneCoin affiliates in Guangdong, Shandong, Liaoning, Sichuan, Henan, Hebei, Heilongjiang, Hunan and "other places".
On April 24th the Provincial Public Security Economic Crime Investigation held a public-awareness event.
The event was specifically aimed at raising awareness of "new types" of Ponzi fraud, including the cryptocurrency Ponzi points model OneCoin uses.
Director Huang Shou accused companies like OneCoin, who he said engage in "illegal fund-raising activities", of "targeting the elderly".
One method Chinese OneCoin investors used to promote the scheme was to claim China Business Network television presenter "江予菲" had endorsed the scheme (hat tip to Leo Wong again for the tip-off).
Two days ago YiCai News issued a press-release denying the claims.
As per an April 19th letter signed by 江予菲;
The reporter 江予菲 is not involved in any way with OneCoin.
Anyone using her likeness to promote OneCoin is doing so falsely and illegally (as per Chinese law)
YiCai will continue to investigate the matter and hold the OneCoin investors legally responsible for disseminating false information.
Anyone who continues to use 江予菲's name to promote OneCoin will have legal action taken against them.
YiCai are a part of China Business Network and are, according to their website,
China's largest financial content provider.

Its flagship products include CBN Digital Media (mobile applications, websites, and subscription-based social media platforms), CBN Television, CBN Daily Newspaper, CBNWeekly, CBN News Agency, CBN Data and CBN Research Institute.
At the time of publication there has been no clarification from OneCoin as to why the scheduled April 23rd Harbin event did not go ahead as planned.
The arrest of investors and seizure of over $30 million dollars in late March would certainly explain it.
And if promotion of OneCoin has ground to a halt upon news the scheme is being investigated and arrests made, perhaps also why OneCoin investors worldwide are having problems withdrawing funds out of the scheme.
Update 26th May 2016 – A news report from ZSBTV has revealed the amount seized by Chinese authorities has risen to $45.7 million USD.