OneCoin affiliates not paid for over a month

As part of the comparison between OneCoin and USFIA yesterday, I opined that, seven months in, OneCoin is probably at the stage where a Ponzi scheme "comes off the rails".
Less than twenty-four hours after that article was published, we've now learnt that there are OneCoin affiliates who haven't been paid for over a month.
Chris Stone joined OneCoin back in August 2014 and claims to be among the first few thousand to have signed up.

To put that into perspective, the OneCoin domain was only registered in June 2014. And just yesterday, OneCoin claimed to now have over 600,000 affiliates.
As per the OneCoin Ponzi points business model, Stone invested funds and then diligently began to grow his monopoly money balance.
Withdrawing funds from time to time as he compounded his points, Stone recalls
a wire transfer would take a max of 3 days to go from one bank to another.
About a month ago, that all changed.
In a recent post to OneCoin's Facebook page, since deleted by OneCoin management, Stone attempted to raise awareness of his issue:

Still never received wired money from last Thursday from the 2 wire transfers that left my account.

The other 4 guys have not received pay also.

The other 4 wires have not left my account yet and two of them are even over 10 days passed due.

Support has not stated why the money transfers have not arrived in the accounts they were sent to.

Even though prior wires to those accounts would arrive within a day from showing out of the OneCoin account.

When will members actually receive the money that they were suppose too?

Is OneCoin actually out of money and actually not going to pay the members what is owed or what they said they already wired from the accounts?
Before posting to OneCoin's Facebook wall, Stone claims to have sent "30 plus emails to (OneCoin) support".
Stone asserts that OneCoin support are refusing to give him a tracking number for wire transfers they claim to have made.
That would be a very simple and basic thing to provide if the money was sent so it can be then traced and verified.

I'm still waiting to know where 2000 euro of my money is after a week of canned email responses or no replies.
In response to Stone's post being deleted, fellow OneCoin investor Xieping Wang opined:
Seems no plan for our withdrawals, just grapped (sic, grabbed) money from members.
To which Stone replied, 'at this point I don't expect to get it'.
Other OneCoin affiliates also began to share their experiences, complaining of similar withdrawal problems:
Waan Pimsuee: I wait for 3 weeks already and haven't got any transfer to my account.

Edward McAlpin: I am in the same boat, no money received after 2 transfers 1 over 29 days, the other at 15 days now.

To all you who say it takes 30 to 40 days you are complete idiots, you can transfer money in seconds these days, and some lame excuse that the split has caused it and computers are catching up is ridiculous.
Juha Parhiala is one of OneCoin's top investors. Parhiala resides in Thailand and, according to promotional material published on BusinessForHome, makes over $600,000 a month in OneCoin.
Parhiala is doted on by OneCoin Founder Ruja Ignatova, who last month presented him with a plaque captioned "one of the most inspiring leaders":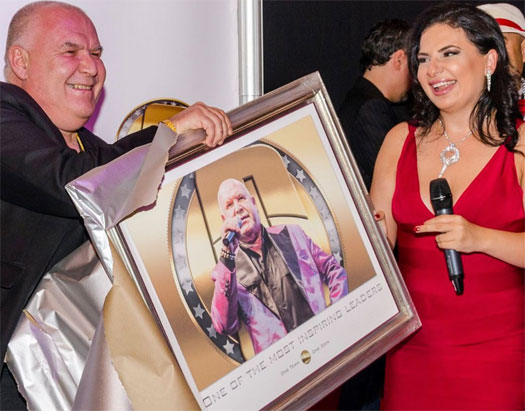 Whereas OneCoin support were giving Chris Stone the runaround, Parhiala was all to happy to explain why he and other OneCoin affiliates weren't getting paid:

Chris, you can't just grab money away from he company without doing anything.

You gotta recommend two tycoons or one premium package to qualify for your withdrawal.
As per their website, OneCoin's Premium investment package is €12,500 ($14,000 USD). The Tycoon package is €5000 ($5600 USD).
According to Parhiala, unless OneCoin investors convince others to invest at least €10,000, they do not qualify for withdrawals.
Parhiala didn't elaborate on why this is the case. Nor why this is the first time anyone is hearing about OneCoin's new withdrawal rules.
Needless to say, Parhiala's announcement didn't go down well with OneCoin affiliates:
Tracee Tim: Juha, your statement about having to recommend two Tycoons or a Premium package to withdrawal (sic) is news to me.

I came in because I read and was also told this was passive and I didn't have to recommend others to join.

Xieping Wang: Seem (sic) they don't have enough funds. Serious!

What can we do now?
At least one other affiliate announced they were selling their OneCoin account:
Nick Hetcher: FOR SALE… My position in OneCoin. I have 1179 One Coins.

I have some leaders on both legs, however, they are not doing much yet. Make me a reasonable offer.
Personally, the confirmation that OneCoin cannot continue to fund Juha Parhiala's $600,000 a month ROIs unless new funds are invested comes as no surprise.
It's just a shame that OneCoin investors weren't told this before they invested. Instead we got mumbo-jumbo about cryptocurrencies and opening up banks across the world.
Having just written about OneCoin, I don't really have insight fresher than my USFIA comparison yesterday.
The relevant take-away from which was probably this:
I suspect by the end of the year, April or so next year at the latest, we're going to see financial institutions start to clamp down.

That of course won't be publicly advertised, with OneCoin affiliates unable to access funds the only sign it's happening.
Stay tuned…
Update 5th October 2015 – Fuelling speculation OneCoin is already having banking issues, is the announcement today that they have changed their bank.
In an update titled "OneCoin Withdrawal" published a few hours ago, the company writes:
Dear members, OneCoin has changed the bank we cooperate with.

Please note that we process now with a different bank. All withdrawals have been executed and processed and should be in your bank accounts soon.

Thank you for your patience.

The OneCoin Team
No reason is given for the switching of banks, nor whether or not it's why OneCoin affiliates haven't been paid for nearly a month.