Hungarian authorities put together massive OneCoin taskforce

The bad news for OneCoin continues, with the Hungarian Central Bank today announcing a joint investigation with various police departments and tax authorities.
On May 5th representatives from the Interior Ministry, Budapest Police Headquarters, the Municipal Prosecutor's Office, the Prosecutor General's Office the National Tax and Customs Administration, the National Bureau of Investigation, the National Police and the National Bank of Hungary convened to discuss OneCoin.
The meeting was initiated by the National Bank, following OneCoin warnings issued in 2015 and 2016.
Whereas the first warning was somewhat general in nature (OneCoin is not registered to offer investments in Hungary, please don't invest etc.), the second warning singled out OneCoin for being a pyramid scheme.
Evidently the time for warnings is over, with the National Bank feeling the need to escalate action against OneCoin.
What comes of the assembled taskforce remains to be seen.
Hungary is the third country to recently clamp down on OneCoin, with both India and Germany taking action against the scam last month.
Tom McMurrain, a top US OneCoin investor, was scheduled to hold recruitment events in India from April 28th. After the arrest of 18 OneCoin affiliates on April 23rd, the OneCoin India tour events were promptly cancelled.
McMurrain spent the week ranting and raving on Facebook live.
Similarly, Germany's BaFin regulator banned promotion and operation of OneCoin in Germany on April 27th.
German OneCoin affiliate Udo Deppisch was scheduled to host two OneCoin events in Ulm (May 10th) and Nuremberg (May 11th).
As of a few hours ago, the status of both events was updated to "cancelled" on the official OneLife Events website: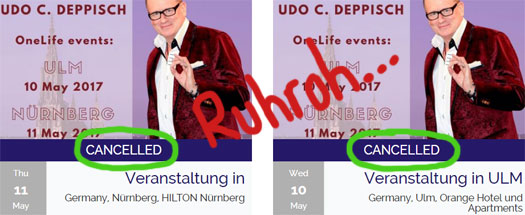 Stay tuned…