OneCoin's Parhiala buys Sharky Bar in Cambodia (money laundering?)

Despite an alleged three million plus investors unable to withdraw the purported internal value of their OneCoin points, life is good for those at the top.
Along with Sebastian Greenwood, Juha Parhiala holds the top investor position(s) in the OneCoin Ponzi scheme.
Up until about six months ago, Parhiala boasted being the number one MLM top earner in the world on Ted Nuyten's Business For Home.
In what was likely an attempt to reduce regulatory heat, Parhiala changed the name of his position on the list to "World Wide Solution".
Today Parhiala has been eclipsed by fellow OneCoin scammer Igor Alberts, however Business For Home still cites him as earning an estimated $24 million dollars annually.
After stepping away from OneCoin earlier this year, purportedly due to health reasons, Parhiala has now emerged as the new owner of a bar in Cambodia.
According to expats on the Khmer440 forum, Sharky Bar is known for being "packed with customers (and) female entrepreneurs".
There are still hookers at Sharkys, just not every day like in the old days…normally when something is going on, otherwise they don't come.
Over the past few years however the bar has run into problems, and has been sold and resold multiple times since early 2016.
As per discussion on Khmer440, the current owner put down a deposit in September, 2017.
Deposit paid, new owners taking over beginning of October. No outstanding tax liabilities, no document or ownership issues.

The new owners (as is usually the case) are full of new ideas and improvements for the bar, but my understanding is that it won't change dramatically in nature.
On November 6th the official Sharky Bar Cambodia Facebook page showcased photos of extensive renovations.
The birth of the new upgraded legendary SHARKYS will be all new but with that special sharkys of old feel , wine weomen [sic] and song a great place to relax unwind or party hard with some great company and friendly staff.
This was followed by posts detailing English classes for Sharkys Bar staff.
On December 1st Sharky Bar revealed teh new "CEO" of the company was OneCoin's Juha Parhiala.
A big thanks to our teacher Russell, our CEO Juha and the rest of the team for putting all our great staff though 4 weeks of intense English Training.

Next week we are off to Pattaya for some on-hand training.
Pattaya is a resort city in Thailand. Parhiala has been hiding out there now for a number of years.
On December 7th Parhiala hosted Sharky Bar staff at his home in Pattaya: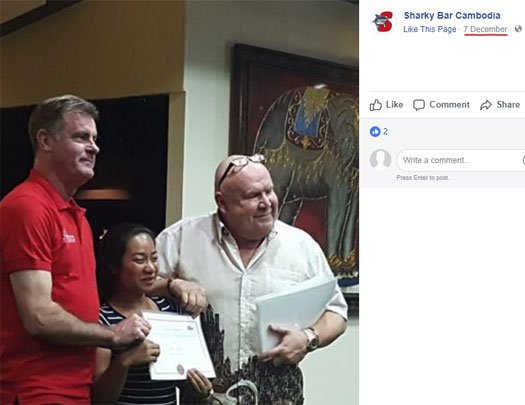 Parhiala's purchase of Sharky Bar raises two immediate questions;
The first is why someone purportedly earning millions of dollars who resides in Thailand would purchase a failing bar in Cambodia?
In addition to underworld contacts running a bar in an Asian country provides (this of course isn't geographically specific to Asia), it also provides a convenient platform to launder Parhiala's OneCoin earnings through.
The second question pertains to Parhiala's recent lack of public involvement in OneCoin.
After a short-lived "comeback" earlier this year, Parhiala again disappeared and hasn't been publicly involved in OneCoin for well over six months.
Arguably the first of OneCoin's "top leaders" to disappear, Parhiala's public departure would have appeared to trigger a slew of top investors and management abandoning OneCoin throughout 2017.
I know that if I'd been conned into investing thousands of euros into OneCoin only to find all the top earners were now abandoning the company, I'd certainly be feeling somewhat aggrieved.
For scammers like Parhiala who have stolen who knows how many millions from OneCoin investors around the globe though, they evidently have no problem continuing to live shamelessly large with your money.
Earlier this year Thailand's Economic Crime Suppression Division, the Office of Consumer Protection and the Department of Special Investigation launched an investigation into OneCoin.
Unfortunately to date however nothing has come of it. Which is probably due to the fact that OneCoin has practically no investor base in Thailand (Parhiala and fellow top OneCoin investors hiding out there do not promote locally).
Like Thailand, Cambodia has little to no local OneCoin recruitment activity. I'm not aware of a OneCoin investigation by Cambodian authorities.
Sharky Bar is currently gearing up for a "grand re-opening and 22nd birthday party" on December 15th.
Meanwhile for regular OneCoin investors, the end of 2017 marks almost a year since the company prohibited ROI withdrawals.