Sebastian Greenwood used illegal cell to move OneCoin millions

The DOJ has recovered around 20 GB of data from Sebastian Greenwood's seized prison phone.
To date there's been no indication what that data entails, or what Greenwood was up to.
Now Jon Levy, an attorney representing several OneCoin victims, provides insight into what Greenwood's phone was used for.
As per research by Levy, Greenwood, among other things, used his illegal prison phone to virtually attend court hearings in Dubai.
Those hearings pertained to the release of millions of dollars, previously held in frozen Mashreq Bank accounts.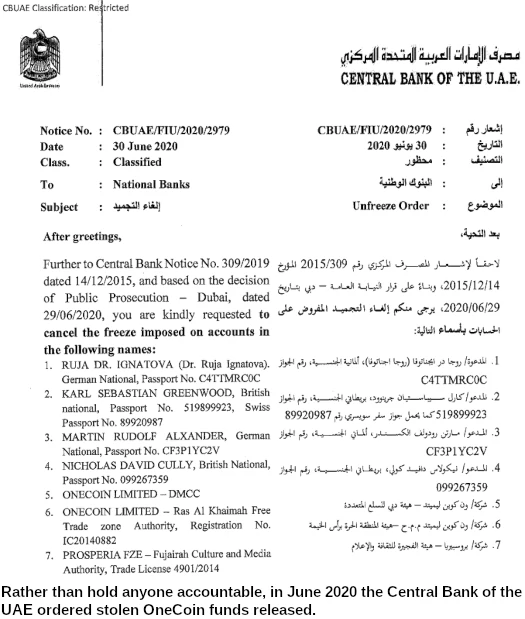 In July 2020. OneCoin bank accounts worth as much as several hundred million were unfrozen in Dubai.

Greenwood using his Dubai law firm and a Power of Attorney managed to appear in court via phone and through a check kiting scheme, has managed to execute judgment on at least $20 million.

A lawyer for Ruja Ignatova has shared in the bounty as well.
The funds in question were ordered frozen by the Anti-Money Laundering and Suspicious Cases Unit of the Central Bank of the UAE.
BehindMLM has previously covered the Mashreq Bank accounts, which tie into a cesspool of financial corruption in Dubai.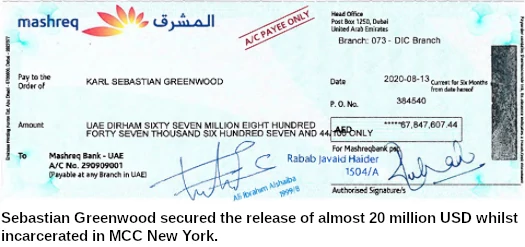 One nefarious document Levy flags is a March 2021 Power of Attorney.
The PoA was executed and notarized by Greenwood via his prison phone, to Ahmed Abdo Hajj Mohammed Aldubaili.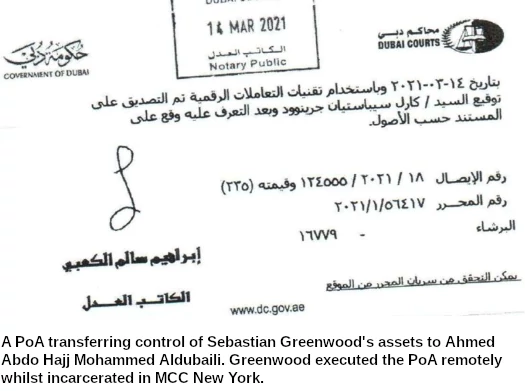 Levy cites Aldubaili as a "Danish dealer in gold and diamonds". A report from NRWZ also reveals Aldubaili has residency ties to Bulgaria, the home of OneCoin.
Writes Levy;
The authorities would be wise to look into Aldubaili, they may find the OneCoin missing billions including 4 memory sticks containing 230,000 Bitcoins obtained by Ruja Ignatova.
Greenwood handing PoA to Aldubaili suggests, while incarcerated in a US prison and using an illegally obtained cell phone, he is diversifying released OneCoin funds into potentially untraceable physical assets.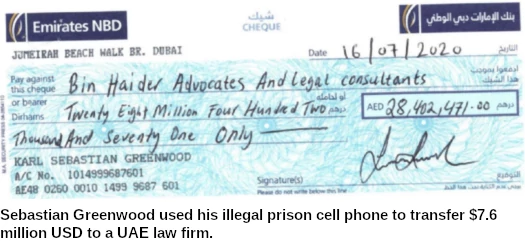 The DOJ are believed to still be investigating Greenwood's prison phone data.
Whether they are or will be following up on Greenwood shuffling OneCoin related funds around, whilst incarcerated in MCC New York, is unclear.