Veselina Valkova looking to open "high risk" business accounts
Veselina Valkova's time at OneCoin no doubt taught here banks will eventually clamp down on Ponzi shenanigans.
All it takes is one or two, and from there is a cat and mouse snowball effect.
In light of this, Valkova is evidently exploring alternative banking channels for her yet to be launched Circle of Finance scheme.
Valkova, a former OneCoin Ponzi executive, has teamed up with Habib Zahid. The pair are hoping to launch Circle of Finance and Invicta, both of which form part of a wider OneCoin clone.
Last December Valkova was considering applying for a Cashaa high risk business account.
She hit a roadblock however upon learning she'd have to cough up a £1000 pound fee.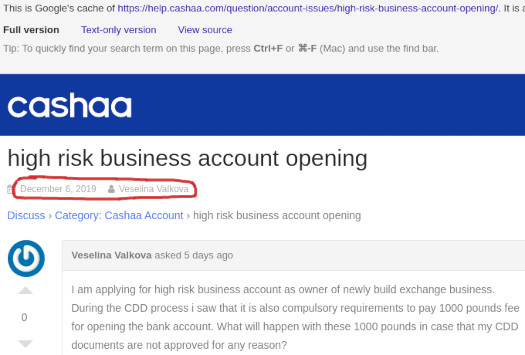 I am applying for high risk business account as owner of newly build exchange business.

During the CDD process i saw that it is also compulsory requirements to pay 1000 pounds fee for opening the bank account.

What will happen with these 1000 pounds in case that my CDD documents are not approved for any reason?
Given Valkova's history, you can appreciate the concern.
CDD stands for "Customer Due Diligence". Given Valkova's involvement in OneCoin, her being granted a business account anywhere relies on either
filing false documents;
duping a provider with shell company nonsense; or
a provider turning a blind eye to Valkova's involvement in a $4 billion+ Ponzi scheme… and now wanting an account to run her own scheme through.
Cashaa markets what they call "crypto-friendly business accounts".
The company uses it's own CAS cryptocurrency, which Valkova was presumably hoping to tap into (investor money in –> convert to CAS –> launder to wherever).
Whether Valkova ultimately went through with signing up for a Cashaa account is unclear. I suppose we'll find out soon enough if Circle of Finance ever launches.