Seychelles' notaries under fire for OneCoin laundering conspiracy

It's established that the UAE, Dubai in particular, played an integral role in Ruja Ignatova's laundering of OneCoin funds.
As part of his ongoing investigation into OneCoin money laundering, Jonathan Levy has uncovered misconduct by a notary in Seychelles.
Mimoun Madani, a Dutch national residing in Dubai, was granted Power of Attorney by Ignatova.
The PoA is dated after Ignatova disappeared in 2017 and was signed off on by 'a well-known Seychelles lawyer and member of parliament, Bernard Georges'.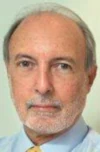 Georges (right) heads up Georges & Co, a "boutique law firm" operating out of Eden Island, Seychelles.
Madani would go on to use the PoA to 'to transfer billions of dollars in assets involved in the One Coin pyramid scheme.'
Madani … used Seychelles Power of Attorneys purportedly signed by Ignatova and her confederate (Sebastian) Greenwood.
When questioned by Levi as to the authenticity of Madani's notarized PoA, Bernard Georges claimed
the POAs were not witnessed by them and that their seal and signature only attests to their "existence."
That is to say, presumably for payment, Georges signed off on the PoA's existing after they were purportedly signed by Ignatova, Greenwood and Madani.
Georges, at least as far as he's claiming, didn't see the PoAs actually being signed by the parties.
For the purpose of notarization, this is required for what should be obvious reasons.
Based on (Georges') notarization the documents were apostilled and presented in the UAE and perhaps elsewhere as presumably genuine to launder millions of dollars.
Jonathan Levy goes on to claim Sheikh Al Qassimi is also managing 230,000 BTC through a forged PoA, notarized by another Apostille in Seychelles.
In light of what appears to be misconduct, Jonathan Levy has requested Seychelles Police open
an investigation (into) the notarial practice wherein documents are notarized and then apostilled without any regard to their authenticity or even the existence of the parties.

If irregularities are found, I would hope a Seychelles arrest warrant for Mr. Madani is issued for uttering a forged document.
As summed up by Levy is correspondence sent to Seycehelles' Financial Crimes Investigations Unit;
The stakes are very high because Al Qassimi has revealed that Ignatova is in possession of 230,000 Bitcoin he provided to her in 2015 as part of the Seychelles transactions – the value of the Bitcoins is currently over $10 billion.

Al Qassimi is utilizing the forged Seychelles Power of Attorney to attempt to seize property worth up to $1 billion in the UAE.

The jurisdiction of Seychelles is central to the claims of both Madani and Al Qassimi who claim to be the legitimate representatives of Ignatova and OneCoin as their alleged authority is derived from documents apostilled by your country.
Levy's letter is dated August 18th. Whether Seychelles Police respond remains to be seen.
Update 22nd August 2021 – Jonathan Levy advises he has received the following response from Seychelles Police;
Please note we will take this up and revert as soon as we can.
We'll continue to monitor for updates.
Update 31st August 2021 – Seychelles' Financial Crime Investigation Unit has publicly confirmed it is investigating the matter.