OneCoin scammers hold event in Italy, authorities make arrests

OneCoin scammers in Italy held an event in Verona over the past few days.
As those in attendance arrived at the airport to leave Italy after the event, authorities swooped in and made several arrests.
OneCoin was banned in Italy back in 2017. That same year Italian authorities fined OneCoin €2.5 million euros for non-compliance.
Despite OneCoin being banned in Italy, scammers continue to promote the Ponzi scheme locally.
The Facebook group "IMA – Italia Indipendent Marketing Association Italia" details an event held over the last few days in Verona, a city in northern Italy.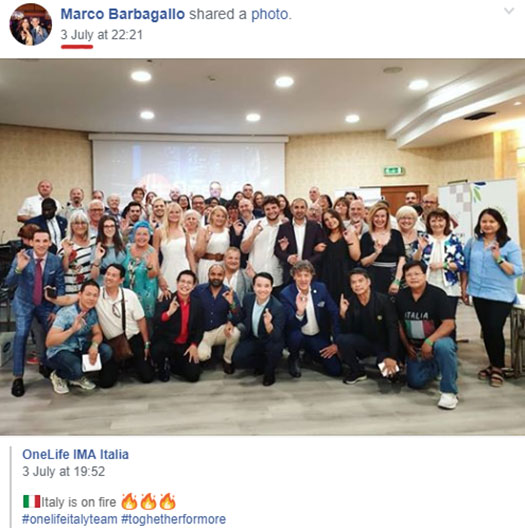 According to promotional material, the Verona event was run by Simon Le, Habib Zahid and Italian OneCoin promoter Luca Miatton.
Admins of the Italia Indipendent Marketing Association Italia include Marco Agnelli, Nicola Giarcuni, Renato Zin, Luca Miatton, Patrizia Testagrossa, Alessio Mitta Miatoon, G Nithihayah Oliva and Marco Barbagello.
As part of a press-release detailing the digital seizures, Public Prosecutors in Rome have revealed an investigation into six OneCoin promoters.
The investigations, coordinated by the Public Prosecutor's Office of Rome, made it possible to ascertain a well-engineered scam by 6 Italian promoters, some of whom are still active in the North-East, aged between 23 and 52 years who had also involved the lawyer representative of a Roman company for business training.
This investigation lead to the arrest of three OneCoin promoters at Orio al Serio International Airport.
Those arrested were carrying 117,840 euros, which authorities claim are the proceeds of illegal OneCoin investment at the Verona event.
Unfortunately Italian authorities haven't named the OneCoin promoters they arrested.
It's unlikely local Italian OneCoin promoters would be trying to leave Italy, so there's a good chance Simon Le and Habib Zahid might be among those apprehended.
In addition to arresting OneCoin scammers, Italian authorities also claim to have seized one hundred websites and social media accounts related to OneCoin.
Pending authorities making any further announcements regarding the arrests, stay tuned…