OneCoin investment scam warning issued in Rwanda

Rwanda is the latest country to issue an investment scam warning against the OneCoin Ponzi scheme.
In a public notice published earlier today, the Central Bank tied OneCoin to "investment scam activities operating in Rwanda".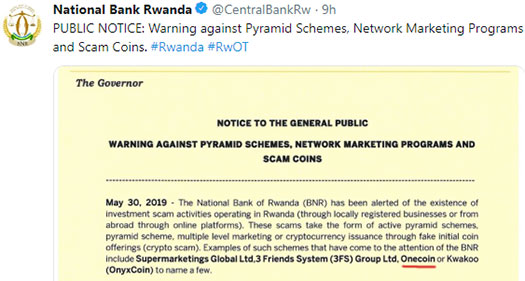 According to the financial regulator,
these scams take the form of active pyramid schemes, pyramid scheme, multiple level marketing or cryptocurrency issuance through fake initial coin offerings (crypto scam).

Having noted the dangers of the above mentioned scams, the National Bank of Rwanda reminds the general public that these are illegal in Rwanda and investors in such schemes are highly likely to lose their money.
BehindMLM sounded the alarm on the OneCoin Ponzi scheme back in 2014.
Although the Ponzi side of the business collapsed in early 2017, pyramid recruitment of new OneCoin investors persists.
In related OneCoin news, there is still no update on the status of Konstantin Ignatov.
We were expecting news of a preliminary hearing earlier this week, however as at the time of publication there have been no further developments.