Soldo denies relationship with OneCoin, threatens to sue

Luca Miatton is one of the ringleaders still promoting OneCoin in Italy.
On April 25th, Miatton held a Facebook live in which he presented a Soldo OneLife branded Mastercard.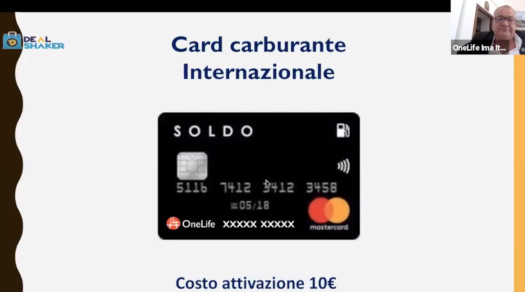 As per their website, Soldo provide 60,000+ companies with prepaid Mastercards.
The cards are supposed to be given to company employees to manage "spending and expenses".
When a member of the public queried about Miatton's representation of a partnership between Soldo and OneCoin, Soldo threatened legal action.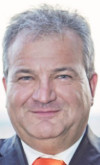 In his April 25th Facebook live, Miatton (right) stated the following (translated from Italian);
Today we have entered into a very important agreement with the company.

And here is the international Mastercard fuel card. It costs 10 euros for activation with the OneLife brand.

(With) this information card (you) can go to any distributor, you can fill up with diesel fuel.
According to BehindMLM reader WhistleBlowerFin, this is part of a marketing ploy to give the impression that OneCoin Ponzi points are spendable outside of the network.
Curious as to why Soldo would be doing business with a global Ponzi scheme, WhistleBlowerFin reached out to them over Twitter on April 28th.
Here's OneCoin/OneLife scammer Luca Miatton's announcement about @Soldo Mastercard.

The principle Miatton uses will be probably same as with 3rd party vouchers, limited groups & next group finances the previous group.

I would very much urge @Soldo to investigate what their Italian branch is doing. OneCoin/OneLife is a confirmed massive international fraud scheme, and Luca Miatton is one of its biggest promoters in Italy.
On April 29th Soldo replied to WhistleBlowerFin's tweet:
Soldo has no relationship whatsoever with Mr Miatton, Onelife/OneCoin.

Any content suggesting otherwise is totally false and causing Soldo serious harm.

Soldo will issue proceedings against anyone involved in the publication or spread of such defamatory allegation or suggestion.
They followed that communication up with a letter threatening legal action.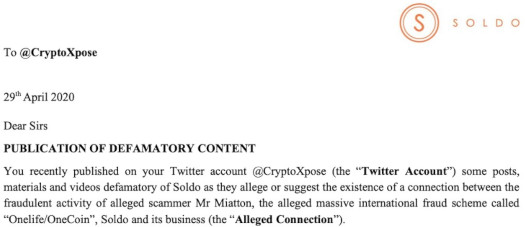 Dear Sirs

PUBLICATION OF DEFAMATORY CONTENT

You recently published on your Twitter account @CryptoXpose some posts, materials and videos defamatory of Soldo as they allege or suggest the existence of a connection between the fraudulent activity of alleged scammer Mr. Miatton, the alleged massive international fraud scheme called "OneLife/OneCoin", Soldo and its business.

Despite the superficial evidence regarding the alleged connection (i.e. the Soldo card in the video is, in fact, a Photoshop creation), the above allegation or suggestion is completely false and the publication of the posts, materials and videos alleging or suggesting the existence of the alleged connection or in any way referring to the alleged connection has caused and/or is likely to cause Soldo serious harm.
Soldo demanded WhistleBlowerFin delete his tweets and post nothing further on the subject, failing which
Soldo may choose to issue proceedings against you without further notice.
The letter is signed by Soldo's Head of Legal, purportedly from an office in London.
WhistleBlowerFin replied to Soldo's threat by asking they
investigate without thretening [sic] me. I'm reporting what the OneCoin scammers are doing and asked you to investigate.

I'm not the one claiming Soldo cooperates with Luca Miatton's company.
At the time of publication Miatton's original Facebook live is still up. It's unclear whether Soldo has reached out to Miatton, or whether they just want the connection, alleged or not, buried.
Stay tuned for any updates.