Ignatova does it again, another fake magazine cover?

In their own words, Financial IT are
a cutting edge financial technology magazine.

The publication provides a unique and valuable forum for people involved in the change process to learn and exchange ideas and knowledge – as technology cements its pivotal role in supporting the financial markets.
The magazine was first published in 2012, is printed four times a year and has a circulation of 'over 2,000 print and digital copies'.
Advertising features heavily in the publication, with Financial IT pitching the magazine as the 'perfect media vehicle to extend global reach of your print advertisement and brand awareness campaigns'.
We help FinTech companies to generate genuine leads and to improve their SEO rankings.

We provide an online platform, video production, content marketing, listings, reviews and rankings.
According to their media-kit, "full editorial coverage" in Financial IT will set you back £1999 or £2999 a year. Basic coverage via a "long-form editorial article" is £999 a year.
So, what does any of this have to do with OneCoin you ask? Well, yesterday OneCoin Founder and CEO Ruja Ignatova announced that she would be gracing 'the cover of the winter issue of Financial IT':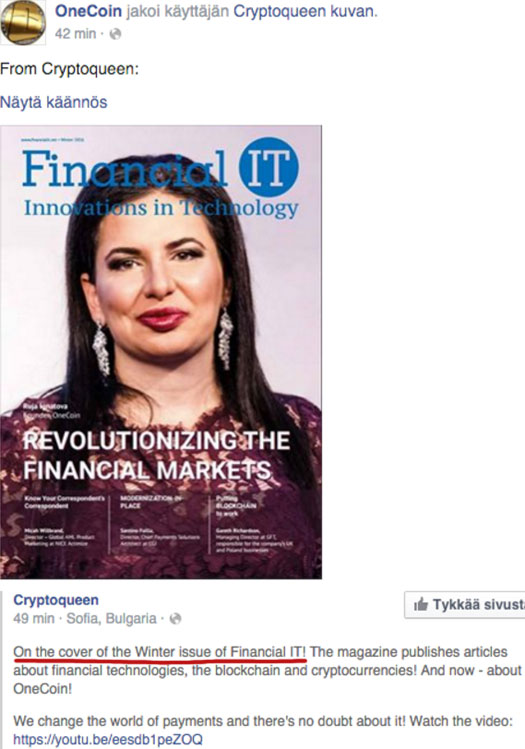 The announcement was originally made on Ignatova's personal "CryptoQueen" Facebook account. It was then republished on the OneCoin corporate Facebook account.
The photo of Ignatova super-imposed on the Financial IT cover is from her corporate sponsorship gig at the EU-Southeast Europe Summit late last year: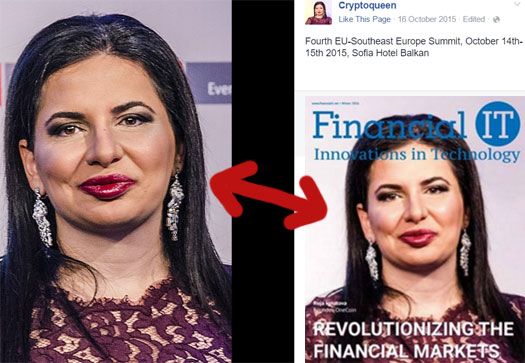 Accompanying the Facebook announcement was a PR video, directing viewers to "get your magazines today".
Here's the thing though… a few hours ago Financial IT unveiled the actual cover of their 2016 edition.
See if you can spot the difference: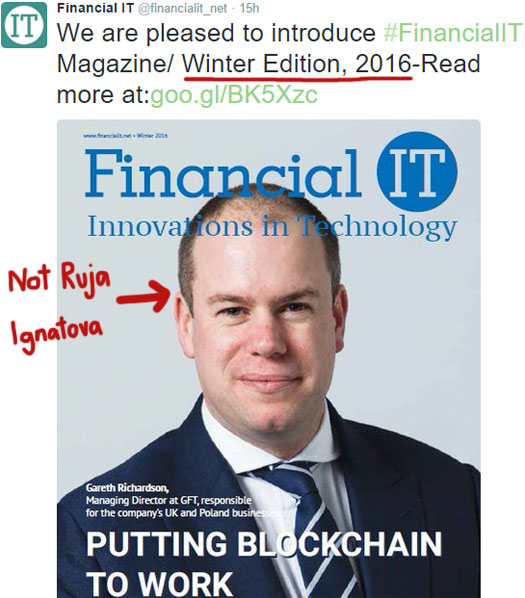 Unless Ignatova recently underwent radical surgery and changed her name to Gareth Richardson, we don't know where she is either.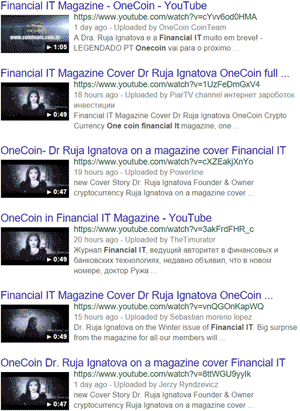 Now, without even the slightest verification, OneCoin's PR video has been plastered all over Facebook and YouTube.
OneCoin affiliates are even quoting Financial IT's Chris Principe as saying:
When I first heard about OneCoin, I thought it was either a scam or a pyramid scheme.

After researching further and getting an opportunity to interview Dr. Ignatova, I was absolutely impressed with the technology backing OneCoin and their block chain, as well as excited about their vision for today's economy.
On their website Principe is credited as Financial IT's publisher. Why he's issuing public statements about content appearing in Financial IT is unclear.
Reminiscent of the Forbes debacle, it appears OneCoin have misrepresented whatever agreement with Financial IT they may or may not have.
Either way, it's pretty obvious OneCoin paid for any published or unpublished coverage in Financial IT. Really, it's little more than a glorified advertisement.
Actual media coverage of OneCoin that doesn't see money change hands is far less flattering.
Shortly after it was published, Ruja Ignatova and OneCoin took down their Financial IT announcements. No explanation has been provided on either Ignatova or OneCoin's Facebook pages.
I'm aware of at least one BehindMLM reader who has reached out to Principe for comment, but as at the time of publication they haven't heard back.
I myself have sent this article to Principe's Financial IT email address with a request for comment and/or clarification. I'll publish a response if we receive it.
Update 22nd February 2016 – Chris Principe has yet to reply to my email, but someone over at Financial IT has been busy.
Since publication of this article Financial IT have issued another tweet, this time for a "February edition" of their magazine: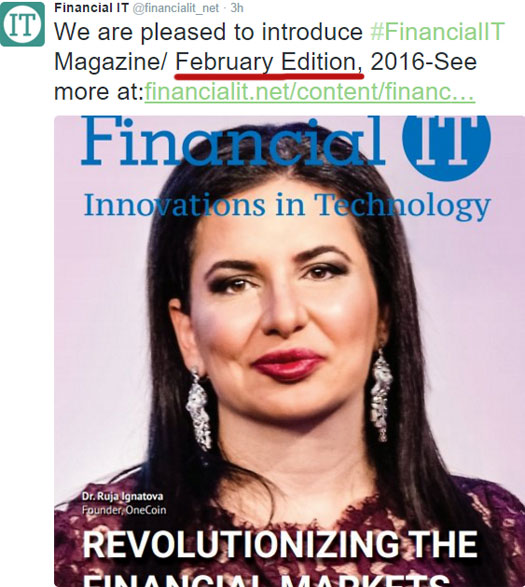 Additionally, the Financial IT website has been updated to showcase both a January and February edition of the magazine: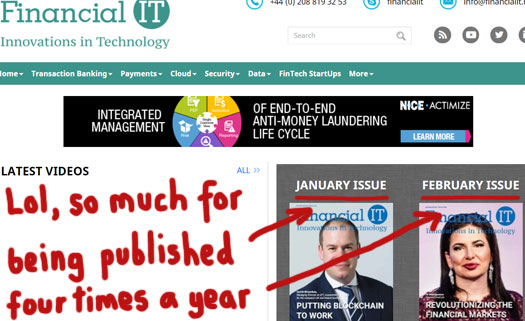 This is particularly amusing, because Financial IT maintain on their "about us" page that the magazine is 'published 4 times a year'.
How much OneCoin paid for a special Financial IT February edition cover and advertorial is unclear.