OneCoin continues fraud through Santander Bank PL

Although it's a shadow of the four billion dollar Ponzi it was, new victims are still being recruited into OneCoin.
The current signup process has revealed OneCoin continues to defraud consumers through a Santander Bank account in Poland.
Throughout 2016 BehindMLM tracked OneCoin's jump from one bank to another. As fast as OneCoin set up shell companies to dupe banks, banks cottoned on and shut them down.
That journey came to an end in November 2016. Till recently, the last bank account OneCoin solicited investment through was a Bank of Africa account held in Tanzania.
OneCoin's current banking details reveal the methodology hasn't changed.
Today OneCoin solicits investment through a Santander Bank account in Poland. The owner of the account is Igoria Trade SA, a shell company owned by Wojciech Grzegorz Kulinski.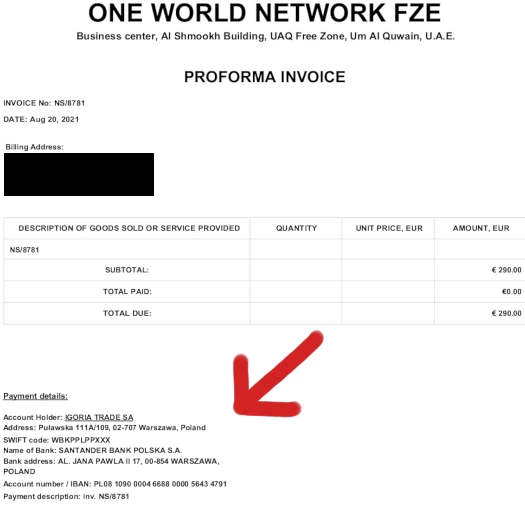 The invoice new OneCoin victims receive is from One World Network FZE, a shell company set up in the UAE.
In addition to the UAE being a scam-friendly jurisdiction, OneCoin laundered hundreds of millions of dollars with the assistance of the Al Qassimi royal family.
If OneCoin founder Ruja Ignatova is still alive, the UAE is also a leading contender for her current whereabouts.
In what appears to be an attempt at plausible deniability should a bank investigate, OneCoin instructs new victims to
write ONLY invoice number without any additional information … in the payment reference.
Anything else, such as references to OneCoin and/or OneLife, will see OneCoin return the transfer. This is probably so they can tell anyone investigating the transfers were made in error.
OneCoin's email invoices are sent from an address pointing to the "onelifecorp.eu" domain.
To date European authorities have taken no steps to disable OneCoin's active website domains.
Igoria Trade SA was first publicly implicated in OneCoin's current money laundering activities back in June.
Polish authorities were informed of the connection even earlier in May. So far neither Polish authorities or Santander Bank Polska has taken any action.
Through the Igoria Trade SA account, OneCoin continues to solicit investment into its Ponzi scheme.
In addition to bank wires, OneCoin solicits investment through cryptocurrency.
Separately, BehindMLM readers have been tracing OneCoin's current cryptocurrency wallets.
Millions of dollars have recently been laundered through OneCoin wallets tied to Binance and BitForex.
Update 23rd August 2021 – Blockchain research in the comments below has now also implicated Poloniex and Kraken.
Update 3rd October 2021 – OneCoin appear to have lost their Santander Bank account.
The company is now routing new investment through Metro Bank in the UK.