Kraken exchange refuses to list OneCoin's OFC "Ponzi coin"

When OneCoin announced its OFC ICO last week, twelve public exchanges were initially featured on the ICO website.
OneCoin claimed it was "contacting" the featured exchanged regarding public listing of their OFC ERC20 token.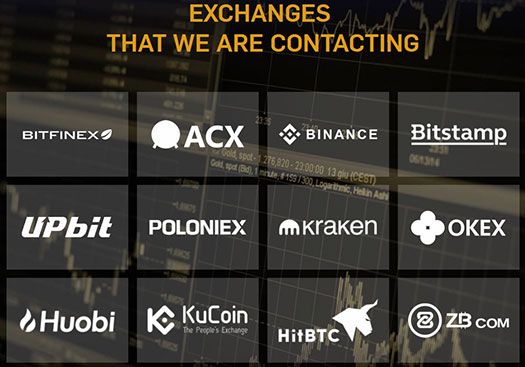 Without explanation, OneCoin slashed the featured exchange number to just six within a few days.
Now, of the remaining six exchanges that were listed, one has publicly confirmed it has no plans to list OneCoin's OFC "Ponzi coin".
Since halving the listed exchanges it was supposedly contacting, OneCoin has since deleted the listing from their ICO website entirely.
You can still see the "exchanges" section of the website menu, even if now it doesn't go anywhere.

Seeing as everything else we've reported on has disappeared from the OneCoin ICO website, expect mention of "exchanges" to disappear pretty soon too.
But I digress. Earlier today Twitter user Alexis Aiono reached out to one of the featured exchanges, Kraken.
Will these exchanges please publicly denounce any potential partnership with the known scam #Onecoin?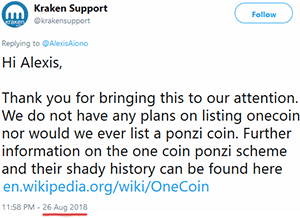 Two which Kraken Support replied;
Thank you for bringing this to our attention.

We do not have any plans on listing onecoin nor would we ever list a ponzi coin.
Ouch. One can likely assume the rest of the exchanges on OneCoin's list had similar reactions, prompting the company to remove its exchange list altogether.
OneCoin meanwhile is hoping to flog its OFC tokens to investors for €0.02 to €0.06 EUR from October 8th.
With public listing of the hastily put together ERC20 token looking increasingly unlikely, it appears OFC tokens will be no different to OneCoin's original non publicly tradeable Ponzi points.
Which begs the question, perhaps more pertinently than when first revealed, what is the point of OFC tokens to begin with?
Gullible schmucks can still directly invest in pre-generated points through OneCoin, so why waste time with OFC tokens?
Oh right… nobody is investing in OneCoin points directly anymore.
ICO hype to the rescue!