Declaration letters sought in Chris Principe's OneCoin defamation case

Earlier this year Chris Principe sued Timothy Curry for losses in excess of $75,000.
In his lawsuit Principe alleges Tayshun publicly blasting him for his involvement in the OneCoin Ponzi scheme resulted in damages to his reputation.
Dating back to a dubious Feb 2016 Financial IT cover featuring OneCoin founder Ruja Ignatova, Principe's involvement in the promotion of OneCoin has been well documented.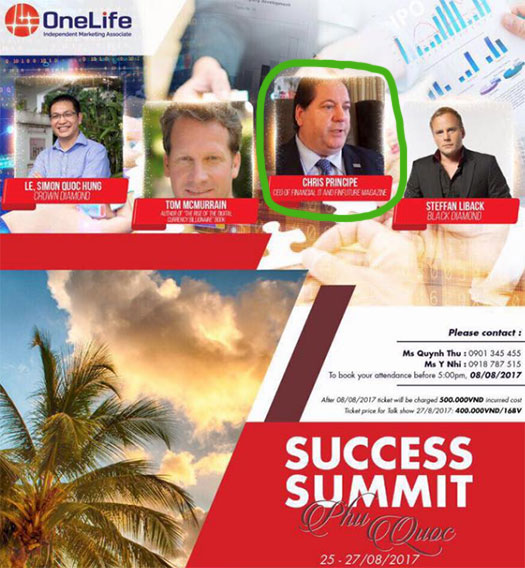 Principe's complaint details damages to his reputation as a result of his alleged involvement with OneCoin.
Ironically Skyway Capital, the company Principe claims he lost a PR deal with, is also a Ponzi scheme.
Principe's lawsuit was filed in May this year and has been playing out in court.
A few weeks ago a tentative October, 2018 trial date was penciled in. The next court appearance in the case is scheduled for December 1st next month.
While it seems unlikely Principe will take the case to trial (yes, the details of the lawsuit are as mindbogglingly asinine as they sound), Curry nonetheless has to meet legal and financial burdens defending a lawsuit carries.
As part of his defense, Curry is asking victims of OneCoin, or anyone with information/experience directly related to the fraudulent nature of the business, to pen a declaration letter.
Writes Curry;
The Letter (Declaration) can be as long or as short as you like, but the more details, the better.

A "Declaration" must begin with: "To the Honorable Judge Staton, or whom it may concern," and end with the following:

"…This I declare under penalty of perjury that the aforementioned is true and correct." (with your name, state or country of residence, and email address and/ or phone number [phone not necessary])

I would very much appreciate it. My next Court appearance is December 1st of this year.

Please forward Amy such email letter to my attorneys at: desotolegal@gmail.com
Suggestions Curry has provided for what to put in the declaration include:
an introductory bio: who are you? What is your background/ job title, etc?
are you a Onecoin Victim or observer? Why?/ How?

Anyone submitting a Declaration may include statements, observations and/ or links to "World News" about the scam (ie., covering Govt Warnings, Bans, Arrests, Fines, Task Forces assigned, etc.

obviously I will be documenting my own, but the more details individuals can cite, independently, this will not be considered redundant)
SPECIFICALLY, this case is NOT about "Onecoin/ OLN," per se, so we need STATEMENTS citing Principe and his promoting of the scheme, specifically, and examples of witness to videos, statements, OC Promotions and Events (on-stage, etc).
Principe was presented and promoted as a "banker" and "magazine publisher" which presumably leant credibility to the Onecoin Ponzi fraud: we need witness accounts and interpretations of what they observed regarding Principe, Financial IT, Fin-Future, stage presence, "the economics/ MATH of Onecoin," etc.
Curry also advises the organizers of CoinFest, an annual cryptocurrency education conference, have volunteered to
to oversee a multi-signature BTC donation wallet for me to fight this particular scammer in what could be an expensive case (although I believe I have overwhelming evidence to indemnify me and potentially turn the tables).

I've already had to liquidate several thousand dollars IN ACTUAL CRYPTOCURRENCY (because… uhh… you can do that with REAL cryptocurrency) to fight this FRIVOLOUS LAWSUIT.

The CoinFest Board will manage the funds and allocate them accordingly for this case to ensure that any donations raised are spent solely for such purposes.

In the event that more money it's raised then necessary to fight the scammers, any additional funds will go towards the Mission of CoinFest towards FREE cryptocurrency give-aways and funding the aforementioned crypto and blockchain education projects which raise global awareness and education.
Donations to the fund can be made in bitcoin to this wallet address.
Although not officially confirmed, it is widely believed OneCoin investor funds are being used to fund Principe's lawsuit.
Not so much because Principe's association with one Ponzi scheme causing him to lose a PR gig with another Ponzi scheme warrants litigation, but rather as an attempt to harass and silence outspoken OneCoin critics by proxy.
OneCoin itself has no operations in the US, amid fears regulators would be quick to shut it down.
OneCoin as a business meanwhile is currently in turmoil, with affiliate recruitment down globally and top management abandoning the company.
The recently announced "ICO that isn't an ICO" has only added fuel to the fire, leaving top OneCoin investors scrambling to answer questions from confused investors.
Footnote: This article was originally published on November 2nd. Following clarification on legal matters pertaining to the case (not related to BehindMLM or myself), it was taken down.
Those legal matters have been clarified and so the article has been republished today.