Is Achieve Community committing credit card fraud?

Following the termination processing services by Payoneer, Achieve affiliates waited nervously for the company to acquire new ewallet services to pay them with.
Purportedly Achieve has found a company willing to take on the risk of providing services to a matrix cycler Ponzi scheme, but who it is they're not ready to say just yet.
In the meantime deposits have been opened up via a different processor, iPayDNA.
Money is now supposedly flowing into Achieve, but not everything is as it seems…
On their website, iPayDNA advertise themselves as focused on "high-risk" clientele:
iPayDNA's main mission is to provide a one stop center for high risk and mainstream merchants to conduct their e-commerce by providing credit card and non-card payment processing services.
Evidently Achieve Community was unable to procure ewallet services of a "regular" payment processor.
Meta keywords used to describe the site include "high risk credit card processing services" and "high risk credit card processors".
With great risk comes great fees though, with at least one Achieve Community affiliate reporting a 1.9% fee for depositing money with the company.
Initial reports from affiliates suggested that, hefty deposit fees aside, things were working as they should. As the screenshot below from an Achieve affiliate shows, payments to Achieve Community were being made out to "RTAchieve-Q":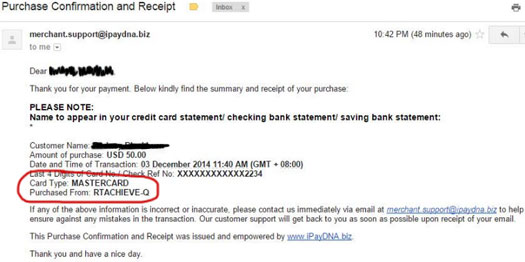 Achieve Community style their website "readytoachieve.com", so the abbreviation "RTAchieve-Q" isn't too much of a stretch.
Soon after however things began to deteriorate, with affiliates reporting charges appearing on their credit cards from a string of unfamiliar merchants.
OMG!! My bank account was hacked this morning at 1 pm by WEIWEISHOP365*COM for two payments of $509.
Other merchants appearing on Affiliate Community affiliate's credit card statements include a "lawn care in Canada", a "nursery in china" and something called "suyingshop".
Visits to the website domains of weiweishop365 and suyingshop reveal similar looking websites: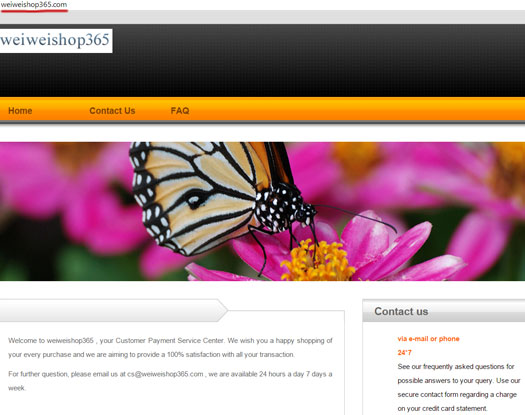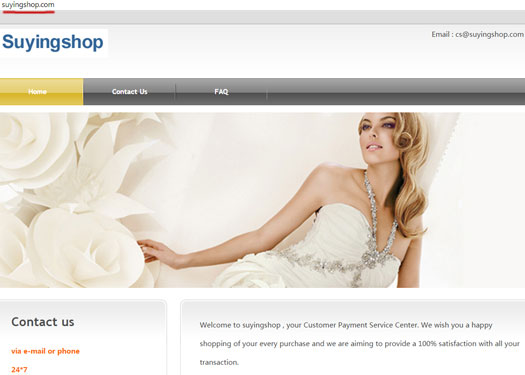 Both domains registration details are set to private, both websites are hosted in Hong Kong (China) and both websites are powered by a "free business website template":

Neither website offers anything of value, nor are they actual businesses. If I had to guess, these websites exist only to fulfill an online presence requirement in order to be perceived as a legitimate merchant.
On their website iPayDNA state they have 'offices and representative offices in Hong Kong, Malaysia, Philippines, Mauritius, UK and Gibraltar.'
When combined with the merchants above who are appearing on Achieve Community affiliate's credit card statement, it's highly probably that iPayDNA are using Chinese banking channels.
Why is any of this important?
Credit card laundering, sometimes referred to as "factoring," works like this: A company that does not have a credit card merchant account with a bank or credit card company recruits another company (that does have a merchant account) to process credit card transactions through its account.
In the above scenario, Achieve Community is the company "that does not have a credit card merchant account", and iPayDNA is the recruited company who does.
When the processing merchant receives payment for the credit card charges, it turns the money over to the company that doesn't have an account, but it keeps a previously agreed-upon percentage or other fee.
So what's the problem you ask?
The reasons why some companies need other companies to process their credit card transactions are most often not the "hard luck" stories that the company representatives might tell you.

In many cases, these companies need other merchants to process their credit card transactions because investigations and credit checks by banks and/or credit card companies revealed that these companies are bad risks and may end up having excessive charge-backs.

Banks and some credit card companies investigate and evaluate businesses before they give them merchant accounts.

One reason they do this is to avoid doing business with merchants they consider to be at potentially high risk for incurring losses, excessive charge-backs, or harm to the reputations of the credit card companies and their members.

Once an account is opened, regulations provide that a member bank may not accept deposits from any person or entity with which there is no merchant agreement.

Therefore, merchants can legally deposit only those drafts generated by their own businesses.
Shell merchants like weiweishop365 and suyingshop are obviously not legitimate operations, nor do they have anything to do with Achieve Community. Yet there they are appearing on Achieve Community affiliate's credit card statements.
The banks in China are being told the money is coming in from weiweishop365 and suyingshop, and everybody is none the wiser.
Or as Achieve Community owner Kristi Johnson put it last Wednesday,
You will get an odd code as the payee instead of Achieve on your card statement – that is just how these clusters of overseas merchants work – and it gives Achieve our higher limits so that everyone can continue to sign up all day and night.

Please make note of it from your receipt so you know what the charge is when you get or look at your statement. Your bank may also charge you a small processing fee now as the accounts are overseas.
It was only a few months ago that a grand jury indicted the owners of eAdGear on a felony charge of conspiracy. eAdGear's owners also ran a Ponzi scheme and, in an attempt to fly under the radar, limited transactions within the company to less than $10,000.
Here with Achieve Community the methodology is slightly different but the motive is the same. We have multiple shell merchants tied to Chinese banking channels being used to "give Achieve higher limits" with processors who specialize in "high risk" clients.
Exactly how long do you think this is going to go undetected by credit card and banking institutions (not to mention regulators) in the US?
And what's going to happen when bogus companies start appearing on transfer statements of Ponzi withdrawals from Achieve Community flowing into the US?
At the time of publication, Alexa estimates that a quarter of all traffic to the Achieve Community website originates from the US. Australia, Ireland and the UK make up 37% which, when combined with US traffic, accounts for well over 50% of the total traffic to the Achieve Community domain.
Whether or not the shell merchants appearing on Achieve Community affiliate's credit card statements were set up by Achieve, iPayDNA or an unnamed third-party is not clear.
Looking at iPayDNA's Chinese connections though, it would seem the company is simply following through on their promise to deliver advertised processor services to what they deem are "high risk" clients.
As it stands now Achieve Community are claiming they'll have a withdrawal processor hooked up sometime next week. Whether or not this will be through iPayDNA or another company is not known.
A recent update yesterday claims that Achieve Community has signed up 2500 new affiliate investors since last Tuesday. If each of these new investors purchased just one position in the cycler queue that would mean $125,000 in new position investment was made.
Not withstanding any additional new investment made by existing affiliate investors (in the same update Achieve Community claim they now have 12,500 affiliates).
On the backend, at a bare minimum these new signups have generated at least $1 million in additional ROI liability for the company. And that doesn't include existing liabilities already generated by investors prior to Payoneer pulling the plug.
$1 million in payouts alone would require Achieve investors to purchase another 20,000 positions. The liabilities generated by those positions in turn would… well, you get the picture.
Whether financial regulations or the unsustainable nature of Ponzi schemes does them in, Achieve Community is on the fast track to either being shut down or collapsing.
Stay tuned for an update next week, when Achieve Community reveal who they are going to be making withdrawal payments through.