Achieve Community sign Global Cash Card, co-founder bails

After Payoneer terminated Achieve Community's payment processor services in early November, the opportunity has been in limbo for over a month.
Deposits into Achieve were re-instated two weeks ago via Asian processor iPayDNA, with members reporting unrelated companies showing up on credit card statements shortly thereafter.
Now it appears withdrawals are poised to start up again, with co-founder Kristi Johnson announcing today that Achieve has signed up with Global Cash Card.
In an update published December 18th, Achieve Community admin Kristi Johnson writes
Hello Achieve Community!

I just got off a call with our new payout processor…..

Our new Payout Processor is Global Cash Card.

You will NOT have to sign up with them through our system or their website. Achieve will send your information to them and then your debit cards will be sent to you.

You WILL need to activate the card when you receive it in order to be paid. This will be much easier for everyone!

Best news? The limits on Global Cash Card for us will be $5000.00 per day!

I will let you know as we go when to expect your cards. We will begin sending them out first to those members who joined us from the beginning through October 31st.
On their website, Global Cash Card advise that they are based out of the US state of California.
As to the cards they will purportedly be issuing Achieve Community affiliates,
The Global Cash Card Payroll Card is the leading way to distribute wages to your employees and a smart alternative to issuing payroll checks.
Wages? Employees?
Huh?
The Achieve Community solicits $50 investments from affiliates, on the promise of an advertised 800% ROI ($400). By signing up for Global Cash Card they're now claiming their investors are employees?
How's that going to work?
There's also an "incentive card" advertised on the Global Cash Card website:
Global Cash Card understands that Sales and Marketing rely on incentives to motivate, reward, and inspire. Nothing shows appreciation – and builds loyalty – like a Global Cash Card incentive card.

It's easy to add to your incentive program so you can influence consumer behavior, drive revenue, issue rebates, recognize staff, and motivate sales teams.
But "incentives" hardly describe ROIs paid out by a Ponzi matrix cycler, so I think that's out too.
Of additional note is this line from Johnson's update:
You will be able to repurchase positions with your Global Cash Card from your back office, but you will need to enter the card details.
It suggests that Achieve Community will be using Global Cash Card not only for outgoing funds, but also to accept payments from affiliate investors.
Whether this will result in funds passing through Global Cash Card to iPayDNA's Chinese-based "high risk" solution accounts is unclear.
In accepting Achieve Community as a client, one would assume Global Cash Card have conducted thorough due diligence into their 800% ROI business model and compensation plan.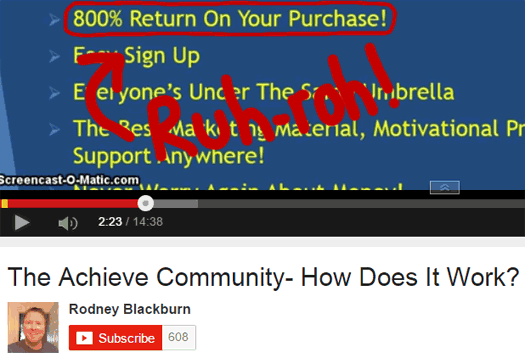 Achieve Community affiliates meanwhile have already taken to social media to assert just that:
GCC has obviously done their homework and have deemed the Achieve community to be worthy of their services. (December 18th)
In other Achieve news, co-founder Troy Barnes has announced he's doing a runner.
Barnes disappeared around the time Payoneer shut down Achieve's payment processor services. He's made the odd brief appearance here and there since but, at least publicly, it has been his partner Kristi Johnson running the show.
Achieve investors have suggested that Barnes used Achieve funds to purchase a house and go-kart. It has also been suggested Achieve funds have been used to cover Barnes' family-related medical expenses.
Indeed, Barnes farewell message certainly hints at as much:
Hello Achieve Community,

I'm sorry to say I wont be around much anymore. I have some Family issues to deal with and I'm sorry but that has to
come first.

Enjoy all that Achieve Money your going to be making. I'll be right behind you. I Love you all and wish you all a Happy
Holiday.

Get ready for the Greatest New Year Ever.

To Your Success – Troy
A clear explanation to Achieve investors regarding Barnes abrupt disappearance has been suspiciously absent.
Despite his departure from the spotlight, comments from admin Kristi Johnson suggest that Barnes will continue to participate in Achieve as an investor:
Troy will always be a founder of Achieve and a member of our community.

I just want to remind you all that Achieve was designed so that you could have exactly the life you want to have, and that includes Troy!
How much Barnes has invested in Achieve and how much he has withdrawn remain a mystery.
Certainly the timing of Barnes' departure won't go unnoticed by Achieve investors wondering whether they'll ever see their money again.
Stay tuned…