Intelligence Prime Capital to fix withdrawals with crypto fraud

Just days after its fictional CEO vowed to solve ongoing withdrawal issues, Intelligence Prime Capital has unveiled a new crypto investment scheme.
Like any MLM Ponzi scheme inevitably does, Intelligence Prime Capital began having withdrawal issues in mid February.
Initial symptoms were blocking and draining of investor accounts. Functionality was eventually somewhat restored but withdrawal problems persisted throughout March.
Intelligence Prime Capitals admins put ongoing withdrawal problems down to non-specific "glitches".
Our technical team is now fixing the issue on MetaTrader 4.

So let's rest assured of this [sic], we have realized the glitches that are happening right now.

Therefore, we will solve this issue as soon as possible.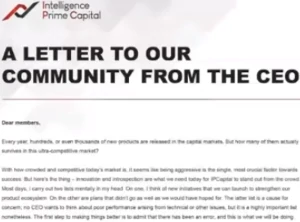 Things came to a head earlier this week, prompting Intelligence Prime Capital to release a "letter from the CEO" on March 17th..
I understand that some members were facing withdrawal issues that have negatively impacted their experience with the IPCapital platform.

The withdrawal issues were simple a result of some technical difficulties, and we have worked around the clock to resolve them so that our members can continue to enjoy the best that IP Capital has to offer.
Intelligence Prime Capital never bothered to hire an actor to play CEO. Its assumed this was another communication from its admins.
In any event, less than 48 hours after the CEO letter, Intelligence Prime Capital revealed a new crypto investment scheme.
Dubbed "Master-C Bot", Intelligence Prime Capital is promising monthly crypto returns of up to 50%.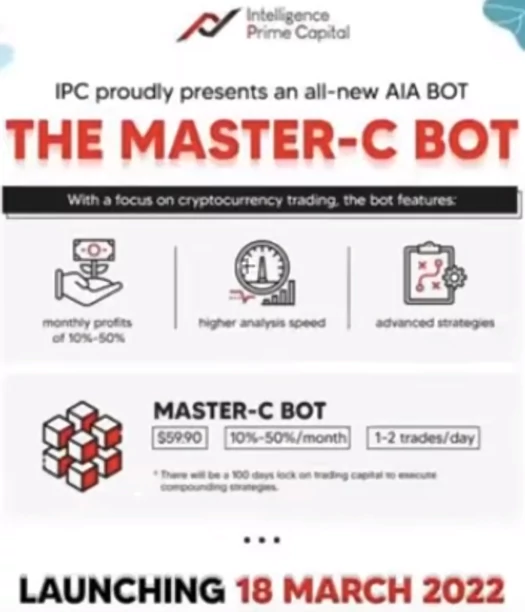 New Intelligence Prime Capital affiliates will be charged $59.90 for access to Master-C Bot.
Existing affiliates are being enticed to transition to crypto at no cost. Note that  Affiliates who opt to transition are locked out of Intelligence Prime Capital's USD investment scheme.
Intelligence Prime Capital's crypto trading scheme is being offered in tether (USDT).
As part of the signup/transition process, affiliates are required to sign a "Limited Power of Attorney" document.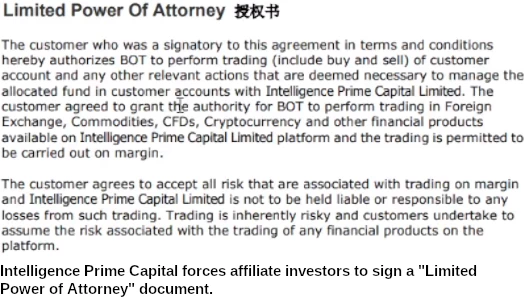 As opposed to an actual Power of Attorney, Intelligence Prime Capital are using the ruse as more of a "sorry for your loss" disclaimer.
The customer who was a signatory to this agreement … hereby authorizes BOT to perform trading of customer account and any other relevant actions that are deemed necessary to manage the allocated fund in customer accounts with Intelligence Prime Capital Limited.

The customer agrees to accept all risk that are associated with trading on margin and Intelligence Prime Capital is not to be held liable or responsible to [sic] any losses from such trading.
Obviously this document has no legal standing in any jurisdiction.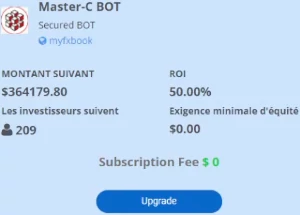 Tether invested through Intelligence Prime Capital's Master-C Bot is also locked for 100 days.
Oh and, perhaps most importantly, at time of publication only new funds can be invested into the tether trading bot.
What we're seeing here is your classic end-of-run cash grab. Plenty of Ponzi schemes have done it but a recent example is Futures Trade.
The transition to cryptocurrency itself is worth noting. MLM Ponzi schemes transition to cryptocurrency when regulators begin cracking down.
Over the past few months, Intelligence Prime Capital has received securities fraud warnings from Russia and Canada (British Columbia and Ontario).
As things intensify, it becomes difficult for MLM Ponzi schemes to maintain regular banking channels. Rather than ever admit this though, it's packaged as a transition to crypto.
USI-Tech and Mirror Trading International are two larger MLM Ponzi schemes that did exactly this in the past.
For now Intelligence Prime Capital is allowing affiliate investors to continue with USD (and withdrawal problems). This is likely to change sometime in the future.
Intelligence Prime Capital is believed to be run by a group of scammers operating out of Singapore.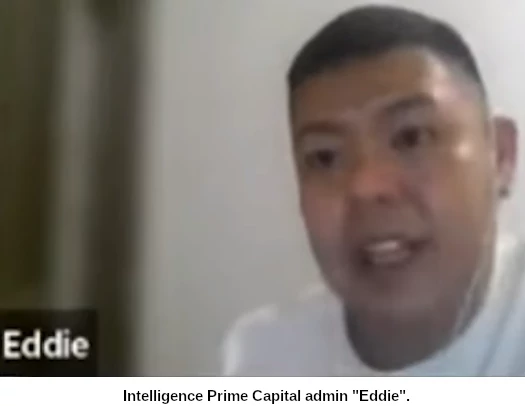 Singapore has a poor track record on regulation of MLM securities fraud. Other than a potential securities fraud notice from MAS, local authorities are unlikely to take action.