iFreeX now a 120 day 200% ROI revenue-sharing scheme?

When we first took a loot at iFreeX back in September 2014, the company was in prelaunch.
Headed by top Sannderly Rodrigues, iFreeX in its prelaunch state was pretty much a reload scheme targeting those who lost money in TelexFree.
TelexFree was a $1.8 billion dollar Ponzi scheme, shut down by the SEC in April 2014. Billed as the top earner in the scheme, Rodrigues himself claimed to have stolen over $3 million dollars from TelexFree victims.
iFreeX sought to emulate TelexFree's fraud, by also attaching itself to a paper-thin telecommunications front-end.
Now, as iFreeX appears to be on the verge of collapse, it appears the telecommunications ruse has been abandoned entirely.
And not for the better.
In a Facebook post dated 12th of May, Rodrigues explains iFreeX's new direction: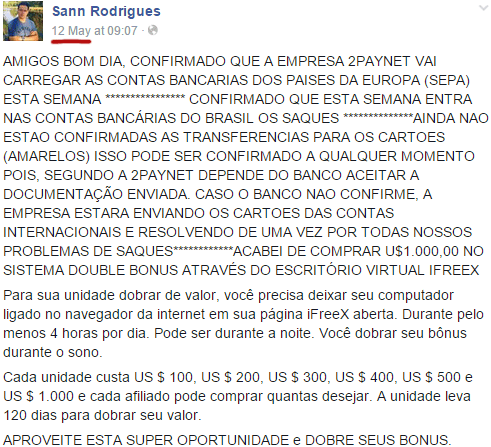 I just bought $1000 in the system double bonus through the virtual office ifreex

Double for your unit of value, you need to let your computer connected to the internet browser on your page ifreex open. For at least 4 hours a day. Can be during the night. You bend your bonus during the sleep.

Each unit cost $ 100, $ 200, $ 300, $ 400, $ 500 and $ 1.000 and each affiliated can buy how many wish. The unit takes 120 days to double its value.
The above is auto-translated from Portuguese but is clear enough to make sense of.
With the mention of "units" costing between $100 and $1000 doubling in value after 120 days, it appears iFreeX has now deteriorated into a 200% ROI revenue-sharing Ponzi scheme.
Why isn't clear, but apparently in order to qualify for the ROI, iFreeX affiliates need to leave their computers online and parked at the iFree website for a minimum four hours a day.
Whether or not iFreeX take control of affiliate computers for the duration of this time is unclear.
What is clear is that with no external source of revenue, iFreeX will simply be taking newly invested funds and using it to pay off existing investors at the end of the 120 day maturity period.
How successful iFreeX's new compensation plan will be remains to be seen.
Ever since Brazilian police raided an iFreeX recruitment drive Rodrigues was hosting, interest in the scheme has plummeted.

Following the raid Rodrigues fled to the US, leaving him unable to personally oversee promotion of the company in Brazil as he had been doing.
Not helping are ongoing problems related to securing banking channels affiliates can be paid through. As I understand it iFreeX have been unable to pay commissions to their affiliates for some time now.
For any number of reasons iFreeX's latest move is of concern.
Pertaining to Sann Rodrigues, in the wake of TelexFree being shutdown, he was sued by the SEC.
For his part in investing in and promoting TelexFree, Rodrigues had a permanent injunction granted against him in May 2014.
That injunction saw Rodrigues 'ordered to cease conducting any further fraud involving securities or otherwise'.
Rodrigues had previously already been ordered to do the same, as part of the SEC action against his 2006 Universo FoneClub pyramid scheme.
Other than police raiding Rodrigues' Brazilian iFreeX event, thus far no further action has been taken against him. At least not publicly.
Meanwhile who is running iFreeX remains a mystery. Despite being the face of the company, Rodrigues insists he is only an affiliate.
I am not the owner of the business, I am affiliated. And I try to help everyone. (May 6th)
Questions as to who then owns and operates iFreeX have gone unanswered.