iFreeX payment problems, Sann Rodrigues on the run?

Last we checked in with iFreeX, it was to report the raiding of a promotional event by Brazilian police.
Rodrigues and a fellow iFreeX ringleader were rounded up and further questioned, with Rodrigues later playing down the event on his Facebook page.
This despite the fact that officers who raided the event belonging to the GAEP, a specialized division who assist the police department's criminal investigation division.
Now it seems things might have caught up with Rodrigues, amidst reports iFreeX have stopped paying affiliates and Rodrigues himself is on the run.
In a message to its affiliates recently published in the company's backoffice system, iFreeX advise
all visa cards will be replaced by International Mastercard cards at no cost to the affiliate.

Your card will be sent to your address registered in 2PAYNET.
2PayNet are a Hong Kong based company founded in 1999. As per their website,
We are a comprehensive international payment solution provider. We are actively involved in providing web-based commission and bonus distribution.
Schemes like iFreeX, who operate in the midst of the MLM underbelly, have increasingly been turning to Chinese banking channels to avoid western financial regulations (typically pertaining to money laundering).
Who owns 2PayNet is unclear, as there is no information about company ownership on the 2PayNet website.
Additionally the 2PayNet website domain was registered on the 22nd of July 2013, however the domain registration is set to private.
iFreeX claim that they will start making payments to their affiliates through 2PayNet from March 12th.
The move comes after Brazilian processor Alelo purportedly suspended iFreeX's payment processor account with them. Whether or not iFreeX funds were frozen as a result of the suspension is unclear.
What is clear though is that the recent police raid might have resulted in difficulties sourcing and maintaining payment processing services in Brazil.
This ties into claims about Sann Rodrigues, iFreeX's main promotional driving force.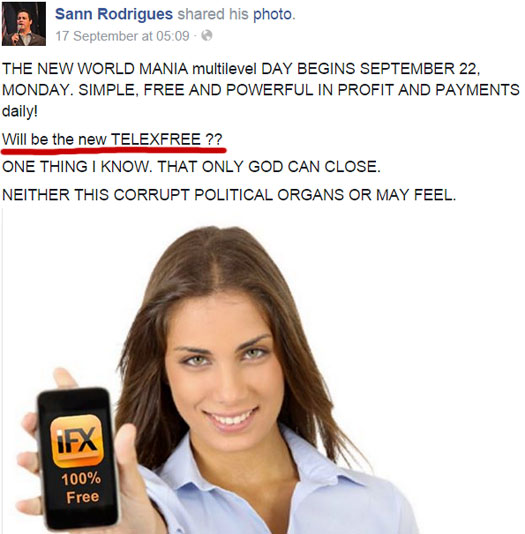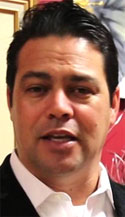 As with 2PayNet, who owns iFreeX is unclear. Rodrigues (right) is pretty much the lone face of the company, but denies he owns it. Yet at the same time, Rodrigues has also thus far failed to disclose who does.
iFreeX affiliates who have asked Rodrigues who owns the company have purportedly been told "you do".
Reports out of Brazil suggest that following the raid on the iFreeX event, Rodrigues was barred from leaving Brazil.
Perhaps sensing pending further action for authorities, Rodrigues has now apparently fled Brazil and returned to the US.
Although unconfirmed at this stage, the reports are supported by a web-conference Rodrigues recently held, in which 'a clearly very upset Sann says he's in the US because "there's no justice in Brazil"'.
The move back to the US is interesting because there, and one of the main reasons he initially left the US, Rodrigues is under  an injunction prohibiting him from engaging in fraud.
The injunction is part of the SEC's civil case against TelexFree, a $1.8 billion dollar Ponzi scheme Rodrigues earned at least $3 million dollars in.
Rodrigues is named as one of the defendants in the SEC's lawsuit.
Unable to promote pyramid schemes from within the US, Rodrigues fled to Brazil where he began promoting iFreeX. Over the past six months or so, Rodrigues has been travelling around Brazil and Portugal heavily promoting the scheme.
At the time of publication, Rodrigues was still actively promoting iFreeX on his Facebook account.
Stay tuned as we keep an eye out for any further developments…