HyperFund withdrawals disabled, HyperTech's new Boris CEO

November was an interesting month for the HyperTech and its HyperFund Ponzi scheme:
HyperTech owner Ryan Xu has disappeared;
one of Ryan Xu's and Sam Lee's Australian shell companies collapsed;
HyperFund withdrawals have been disabled;
HyperTech has a new Boris CEO;
Hyperverse was announced; and
HyperFund's website has been pulled offline.
Ruh-roh…
What was originally supposed to be a HyperFund promotional extravaganza in the US, instead went ahead as just another cryptobro snorefest.
To the best of my knowledge HyperTech owner Ryan Xu was a no-show at Rodney Burton's "Reinvent Yourself With Crypto" event.
HyperTech is the umbrella shell company Xu runs his various crypto Ponzi schemes through.
If Xu (aka Zijing Xu) attended Burton's event, it was kept extremely low-key. Ditto any mention of HyperTech and/or HyperFund.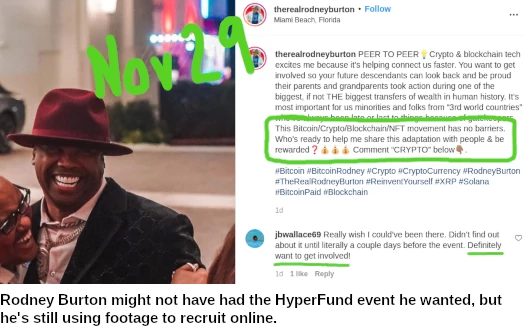 Perhaps more concerning to HyperFund's investors, is that Xu hasn't been seen since he announced plans to attend Burton's event.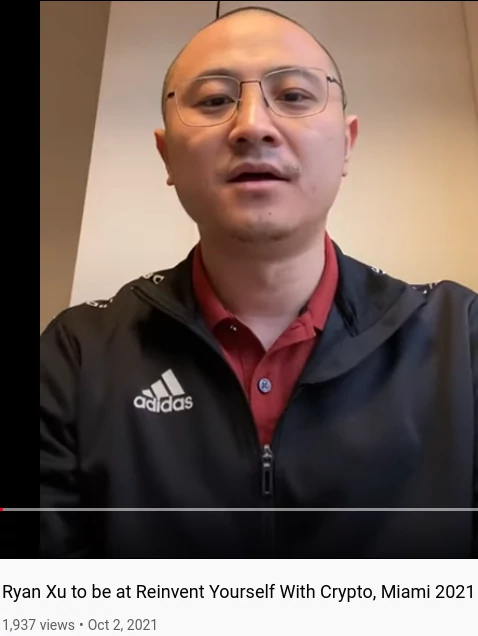 That was now two months ago.
Xu, along with the rest of HyperTech/HyperFund management, are believed to be hiding out in Dubai.
To explain away Xu's disappearance, HyperTech revealed a new Boris CEO: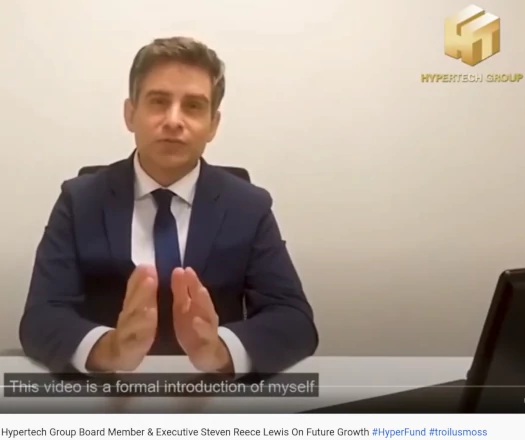 "Steven Reece Lewis" introduces himself as HyperTech's "new executive officer".
Lewis' Boris CEO cover story is that he "joined HyperTech Group in the beginning of 2021".
Nobody in or outside of HyperTech and HyperFund has ever seen Lewis until now. Naturally Lewis doesn't exist outside of this one HyperTech marketing video either.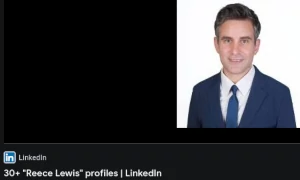 There was a LinkedIn profile featuring what appeared to be a younger Lewis, however that was recently deleted.
Probably around the time Xu hired Lewis to play HyperTech CEO.
In his introduction video, Lewis suggests Xu disappeared due to crypto regulations in China:
It is unfortunate with the China crypto ban, Chinese leaders in our management team have to step down a little bit.
Seeing as Xu is hiding out in Dubai since at least Q1 2021, this of course makes no sense.
Xu disappearance and Lewis' appointment as Boris CEO, HyperFund MOF withdrawals have been disabled.
I noted this in the comments of BehindMLM's HyperFund review on November 22nd.
The timing of HyperFund disabling withdrawals was the week before the holiday shopping season commenced in the US.
This is obviously not a coincidence.
The official excuse though is that HyperTech is switching MOF from an ERC-20 shit token to a TRC-20 shit token.
Again, this ruse makes no sense.
Setting up an ERC-20 token takes 5 minutes. Setting up a TRX-20 token is as trivial an undertaking.
After spending five minutes to create a MOF TRX-20 token, all that's left is switching out MOF ERC-20 from HyperFund's database to MOF TRX-20.
This certainly wouldn't take almost two weeks and counting.
In related news, November also saw Blockchain Global shell company collapse.
Blockchain Global was co-founded by Ryan Xu and Sam Lee (aka Xue Lee), as "BitCoin Group" in 2014.
Blockchain Global was a the precursor to Xu's and Lee's HyperTech crypto Ponzi empire.
Blockchain Global effectively became a shell company in 2017, following the failure of its "blockchain exchange platform" ACX.
To distract everyone from all of this, HyperFund's top promoters began pitching "HyperFund 2.0" late last month.
HyperFund 2.0 is supposed to launch on December 6th and has something to do with "Hyperverse".
As far as I can tell this is an attempt to cash in on Facebook recent rebranding, and founder Mark Zuckerberg's "metaverse" vision.
Details are sketchy. There's a few promo videos out there showcasing some VR game (again ripping off Facebook and their Oculus platform).
Rodney Burton is banging on about NFTs so it could be a tie-in.
There's no shortage of Ponzi schemes integrating NFTs into shitty mobile games and pretending it's technological innovation.
Stay tuned for whatever's announced on December 6th I guess.
In the meantime, HyperFund's website has been pulled offline for "maintenance":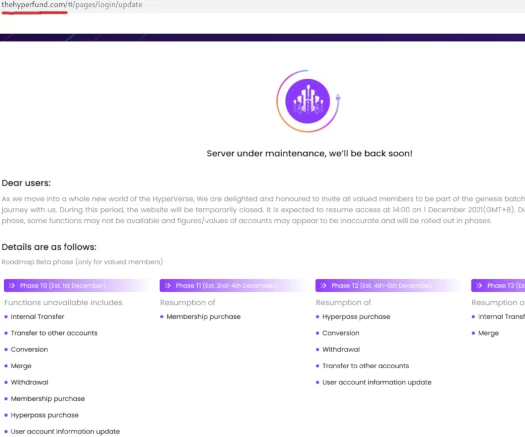 HyperFund claims withdrawals will be re-enabled between December 4th and 6th.
Alexa traffic estimates suggest HyperFund investor recruitment is currently taking place in the US (44%), Canada (10%) and Saudi Arabia (6%).
To date US authorities have taken no public action against HyperFund, its executives or promoters.
Update 11th August 2022 – The Steven Reece Lewis reveal video has been deleted from the official Hyperverse YouTube channel.
Lewis last appeared on a Hyperverse marketing video, uploaded to YouTube on April 20th, 2022.
The Hyperverse Twitter spam account in Lewis' name was abandoned on June 25th.