451.999 bitcoin recovered from GainBitcoin scammers

Following the filing of a chargesheet against Amit Bhardwaj, Indian authorities have recovered 451.999 bitcoin.
The bitcoin is tied to Bhardwaj's GainBitcoin Ponzi scheme, which collapsed in late 2017.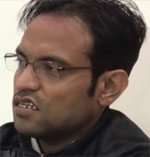 In addition to Bhardwaj (right), chargesheets have also been filed against nine accomplices.
Indian authorities believe thousands of GainBitcoin victims collectively lost around $523 million.
In addition to the recent seizure, authorities have gone after $5.9 million in property tied to the Ponzi scheme.
Police had suid that the accused still had at least 160 Bitcoins, 300,000 MCAP and 80,000 ethers in their possession.
MCAP was a shitcoin attached to GB21, Bhardwaj's failed GainBitcoin reboot.
Today 451.999 bitcoin has a street value of $1.73 million USD.
Around the time GainBitcoin collapsed in late 2017, the value of the seized amount was approximately $3.26 million.