Gain Bitcoin collapses, reboot immediately announced

Gain Bitcoin launched their MCAP MLM opportunity earlier this year.
As per BehindMLM's Gain Bitcoin review, the company operates as your typical MLM pump and dump altcoin Ponzi scam.
Gain Bitcoin affiliates invest bitcoin and receive a monthly 10% ROI.
To avoid haemoraghing investor funds, Gain Bitcoin pay ROIs in MCAP.
MCAP is a worthless altcoin created solely to offload Gain Bitcoin's ROI liabilities onto.
Not surprisingly as Gain Bitcoin affiliate recruitment dropped off, so too has MCAP's public value.
This has seen desperate investors scramble to recover their losses, prompting Gain Bitcoin to collapse.
This is nothing new in the world of MLM altcoin Ponzi schemes. However what's particularly devious about Gain Bitcoin is upon collapse, a reboot was immediately announced.
As it stands the current public value of MCAP is 28.7 cents, down from a high of over $10 back in July.
In an attempt to resuscitate the scheme, Gain Bitcoin launched ethereum mining contract packages a few weeks ago.
The packages however have done little to fend off Gain Bitcoin's inevitable downward spiral.
At an event held in Dubai on November 9th, Gain Bitcoin affiliates were told the company plans to terminate all current affiliate ROI contracts.
This will be performed after pre-mined (and worthless) MCAP held by Gain Bitcoin is dumped onto affiliates, the equivalent of whatever they are owed in ROI payments and commissions.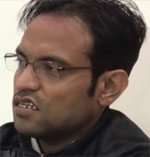 This is expected to be completed by January, 2018, at which point CEO and owner Amit Bhardwaj (right) hopes to reboot the scam.
One Gain Bitcoin affiliate who spoke to Factor Daily blamed the collapse on "greedy" affiliates.
GB is constantly distributing huge payouts regularly to all its customers and also trying simultaneously, through its leaders, to educate all common investors to hold the MCAP payouts.

But due to various reasons like real need, lack of understanding, due to misinformation, and jealous rivals and enemies of company, there is fear and distrust among some investors, who sell MCAPs as soon as they get them.

There are also some greedy outsiders and some insiders who are making profits by using inside information to trade in MCAPs.

So, all the efforts and large amount of money poured in market by GB is going in the wrong pockets and in undesired direction.

Hence, the MCAP price is not rising as it should.
Sounds reasonable. I mean MCAP's tanked public value couldn't possibly be due to the fact that as an altcoin it's utterly useless outside of Gain Bitcoin.
With Bhardwaj offloading premined MCAP onto affiliates, the flood of coins will likely further drive down MCAP's public value.
Gain Bitcoin affiliates were the only buyers and sellers of the coin, so with Gain Bitcoin collapsing there's nobody to sell to.
Gain Bitcoin's reboot meanwhile will continue to be pegged to MCAP (which realistically will probably be worth close to zero come January), as well as "increased bitcoin mining".
To date Bhardwaj has provided no evidence of bitcoin mining revenue being used to pay Gain Bitcoin affiliates.
Other than a forced positive spin from top investors, genuine reactions from Gain Bitcoin affiliates are sparse.
Back in May Gain Bitcoin threatened to shut down the account of any affiliates who "defamed the company" by complaining on social networks.
At the end of the day funds invested in Gain Bitcoin didn't just disappear.
Minus pyramid recruitment commissions, they went into Amit Bhardwaj's pocket and early Gain Bitcoin investors.
In exchange for real money, Gain Bitcoin affiliates were given worthless MCAP coins. A fact now that now affiliate recruitment has declined, is being realized.
Rebooting the same scam will result in the same outcome, only this time there's far smaller a pool of new investors to steal money from.
This will prompt a much quicker second collapse, resulting in even deeper losses from affiliates who invested and lost the first time round.
Failing Indian authorities stepping and taking action, about all Gain Bitcoin affiliates can do is wallow in Bhardwaj's promises of a magical increase in MCAP's value.
And that's only if Bhardwaj's still in India. From the sounds of it he might have already packed up and fled to Dubai.
Update 5th April 2018 – Working with their Thai counterparts, Indian authorities have secured the arrest of Bhardwaj in Thailand.