eAdGear file suit against Randy Williams (JubiRev)

I received an anonymous tipoff this morning informing me that GoFunRewards' parent company eAdGear had filed a civil lawsuit against former President Randy Williams.
Sure enough when I checked the newly filed cases list of the North District Court in California, there it was:

As per the information above, the suit was filed in San Francisco on March 15th and has been assigned case number "13-1186".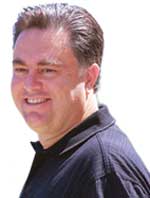 eAdGear's complaint lists eAdGear and GoFunPlaces as the plaintiffs, with Randal Williams (also knows as Randy Williams, photo right), Prosperity Formula LLC, JubiMax LLC, JubiMax Inc., Affiliate Pro Inc. and John Does 1 to 100 as the defendants.
eAdGear claim that Williams is the "CEO and alter-ego" of both Prosperity Formula and Affiliate Pro, as well as being the "organizer, officer, director and managing agent" of JubiMax. They claim the same for JubiMax Inc. but replace "organizer" with "founder".
In the complaint, eAdGear accuse Randal Williams, all of his alter-egos and JubiMax of
misappropriation of trade secrets
violating of the Computer Fraud and Abuse Act
conversion
breach of fiduciary duty and duty of loyalty
tortious interference with contractual relations
tortious interference with prospective economic advantage
inducing breach of contract
breach of contract
breach of implied covenant of good faith and fair dealing
unfair competition
eAdGear, listed as a Californian corporation and GoFunPlaces, listed as a British Virgin Islands corporation (of which GoFunRewards is the MLM marketing arm of), state that through a "Joint Venture Agreement" (JVA), Williams and eAdGear launched GoFunPlaces.
The JVA provided that eAdGear would supply the initial working capital for the GoFunPlaces joint venture, and would permit Williams, on behalf of GoFunPlaces, the right to use eAdGear's member base to promote, endorse and market the joint venture's travel club and auction system to eAdGear's members.

The JVA also provided that Williams would be the "Manager" of the GoFunPlaces joint venture, with duties to maintain its books  and records and distribute its profits as provided by the JVA.

Once GoFunPlaces was formed, Williams became GoFunPlaces' President in addition to the Manager of the joint venture.
In a nutshell, eAdGear bankrolled the GoFunPlaces/GoFunRewards operation and gave Williams access to their memberbase to market GoFunPlaces.
After all this was setup, Williams then appears to have gone rogue;
eAdGear and GoFunPlaces contend that shortly after Williams executed the JVA and while he was the Manager and President of GoFunPlaces, Williams engaged in unlawful conduct including:

1. converting, stealing, embezzling and misappropriating their funds and/or trade secrets/confidential and proprietary information such as software, members, databases, downlines, business plans, business platforms, marketing plans and compensation plans.

2. sabotaging their operations.

3. publishing false and negative information about them to the public and to their employees, affiliates, distributors and vendors.

4. setting up and operating JubiMax Inc. and JubiMax LLC (collectively "JubiMax"), to use their trade secrets/confidential and proprietary information to compete with them unfairly and

5. inducing distributors, including T. LaMont Silver, to breach the terms of their distributorship agreements with GoFunPlaces.
The complaint then dives into the history of JubiRev, which eAdGear claim began while Williams was still President of GoFunPlaces.
On July 16, 2012, eAdGear entered into a JVA with Affiliate Pro and others in order to form a British Virgin Islands corporation (later known as GoFunPlaces) that would develop and operate an online travel club.

On December 11, 2012, while he was the Manager and President of GoFunPlaces, Williams registered the domain name "JubiMax.com".

JubiMax Inc. was incorporated in the British Virgin Islands on December 21, 2012, while Williams was the Manager and President of GoFunPlaces.

Shortly thereafter, JubiMax's online operation was launched with a business plan, website, software, compensation structure, technology platform and member base that includes trade secret/confidential and proprietary information that was misappropriated from Plaintiffs.

On or about January 5, 2013, Williams asked a key GoFunPlaces distributor, Kent McLaughlin, to be the President of JubiMax.

During that conversation, Williams told McLaughlin that he had been working on setting up JubiMax for months, and asked McLaughlin if McLaughlin knew of a source of funding for JubiMax.

McLaughlin declined the offer to be President of JubiMax.

Thereafter, Williams asked J. Joshua Beistle to be the President of JubiMax and, on or about Friday 21, 2013, Beistle was announced as JubiMax's new President.

In a letter dated January 10, 2013, Williams resigned his position as President of GoFunPlaces effective as of January 14, 2013, purported to "terminate" the JVA, and demanded "full and proper distribution for myself" of the assets in GoFunPlaces.

Williams also solicited one of GoFunPlaces' key distributors, T. Lamont Silver, to become Video Manager for JubiMax and, in this role, Silver has published numerous internet media files promoting JubiMax.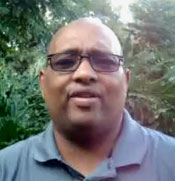 In his promoting of JubiMax (or more specifically, JubiRev), Silver (photo right) has encouraged JubiRev affiliates to invest as much as '(their) resources allow' as well as heavily promoting and endorsing the use of a third-party automation company, which effectively turn JubiRev into a passive investment scheme.
As if the above wasn't "dirty" enough, eAdGear then go on to lay out how Williams effectively scammed the GoFunPlaces compensation plan for his own benefit;
Between October 2012 and December 2012, Williams embezzled and misappropriated GoFunPlaces' assets, by setting up in GoFunPlaces' distributor database bogus accounts for his family members and friends and then transferring "Lifestyle Dollars" and "bonus rewards" into these accounts.
In GoFunPlaces affiliates are paid newly invested money as a ROI, based on how many Lifestyle Dollars they dump onto "customer" accounts to generate bonus reward points.
William's family members and friends who received the "Lifestyle Dollars" and "bonus rewards" had no right or entitlement to receive them.

As a result of these embezzlements by Williams, GoFunPlaces has incurred and/or will incur losses in an amount exceeding one million dollars.

On January 11, 2013, Williams embezzled $55,000 out of a GoFunPlaces bank account by having a cashier's check in that amount issued and made payable to himself.

As soon as one of GoFunPlaces' directors learned about this embezzlement, GoFunPlaces notified Williams that his conduct would be reported to the authorities.

Immediately thereafter, and in recognition of the fact that his conduct would result in criminal sanctions, Williams returned the cashier's check to GoFunPlaces' bank and tearfully implored GoFunPlaces not to prosecute him.
Guess Williams eventually found that "source of funding" he was asking Kent McLaughlin about…
Then there's your typical "raid the company's database when you leave" too;
In order to protect its trade secrets/confidential and proprietary information, GFP required its distributors to enter into a Distributorship Agreement providing that they "will not use the company's platforms, products or service to obtain unfair competitive advantages".

Plaintiffs contend that Defendants induced GoFunPlaces' key distributors, including T. LaMont Silver, to breach their Distributorship Agreements with GoFunPlaces by using the company's downlines and other platforms, products and/or services to benefit Defendants and compete unfairly with GoFunPlaces.
And last but not least, computer fraud and abuse, with GoFunPlaces accusing Williams and JubiRev of
improperly accessing and/or gaining entry without authorization to Plaintiff's computer network and servers
knowingly accessing Plaintiff's networks and computer systems and without permission altering, damaging, deleting, destroying and/or otherwise making use of data to wrongfully obtain money, property and/or data
knowingly and without permission accessing Plaintiff's data and copying, taking, deleting and/or making unlawful use of such data; and/or
knowingly and without permission providing or assisting in providing a means to access Plaintiff's computers, automated data, servers, networks and/or computer systems
eAdGear also claim the above is evidence of JubiRev and Williams breaching the California Penal Code.
Citing the "misappropriation" of their "trade secrets" by Williams, eAdGear appear to be looking to halt JubiRev in its tracks. The company is seeking an injunction that would restrain the
defendants, their employers, agents, employees and all persons acting in concert with them from using, copying, publishing, disclosing, transferring or selling Plaintiff's trade secrets, or any product or services based on or incorporating all or part of such trade secrets, and restraining them from obtaining any commercial advantage or unjust enrichment from the misappropriation of such trade secrets.
Given that GoFunPlaces effectively claim that Williams and friends used their trade secrets to launch JubiRev, an injunction would no doubt mean a halt of operations.
Whether or not the lawsuit will have an effect on the yet to be launched JubiRev remains to be seen. Cut it anyway you want, some of those allegations against Williams are pretty serious and aren't exactly confidence inspiring when it comes to conduct of executive management in an MLM company.
Interestingly enough, a "Notice of Pendency of Other Action" filed with the eAdGear lawsuit acknowledges another lawsuit filed by Randal Williams in the Texas District Court.
eAdGear state the suit was filed because Williams alleges that eAdGear are in violation of the Texas Business and Commerce Code, you can read the BehindMLM writeup of the case here.
eAdGear state they intent to have the cass dismissed due to a lack of personal jurisdiction, or alternatively have it moved to California's Northern District Court to be heard.
Looking forward on eAdGear's case against Williams, the District Court of California has set an "Initial Case Management Conference" date for the 11th of June.
Stay tuned.