JubiRev affiliate call endorses passive investment

I'm going to preface this article by stating that the exact nature of the business relationship between T. LeMont Silver and JubiRev has to date not been made public.
Silver is an affiliate of JubiRev but is also responsible for virtually all of the affiliate training videos the company has put out, as well as hosting most if not all of JubiRev's affiliate training and marketing calls, as well as the company's webinars.
Additionally, Silver was present at JubiRev's recent "JubiMeeting" held on March 6th, sitting alone in the front row: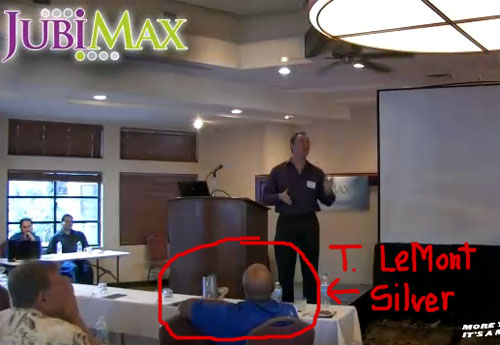 Whatever the extent of the relationship between Silver and JubiRev is, it obviously extends well past being a top affiliate of the company.
Update March 30th 2012 – In a lawsuit filed by eAdGear (parent company of GoFunRewards) against JubiRev and former President Randal Williams, T. LeMont Silver was named as a "Video Manager" of JubiRev.
This indicates that Silver has an executive role in JubiRev beyond just being an affiliate of the company. /end update
With that in mind it was a recent such call that caught my attention, raising new and confirming ongoing red flags with the yet to be launched JubiRev MLM business opportunity.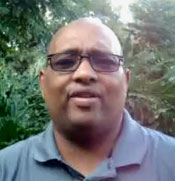 T. LeMont Silver (photo right) opens the call, which I believe went live only a few days ago, by announcing that he and his wife are 'going to be leaving out of the country for a couple of weeks' [00:21].
Silver doesn't explain why he has to leave the US, only stating that 'when we planned this trip, we did not know that we would be in the heat with what we're doing with JubiRev/JubiMax' and that it's 'a very important trip' [00:29].
In the second audio clip however (available at the end of this article), Silver explains that he is
going to Chile to an off-shore tactics workshop. There's a gentlemen that I do follow, he's not a conspiracy theorist he just puts out great investment information. His name is Simon Black [26:33].
Simon Black (not his real name) runs the website "Sovereign Man" ("sovereignman.com"). On his website, Black writes
I am an international entrepreneur and investor; I travel the globe on the lookout for personal and economic opportunities to enrich my life… sometimes this means a great investment, an exciting business venture, beautiful places, or new relationships.
A poster by the name of "wordsdontmatter" on the Survival Podcast forums outs Simon Black as Miss Ragini Dhanvantray, who appears to be based out of Singapore and was convicted for filing "false lodgements" there in 2010.
Whether or not Black has personally invested in JubiRev is not known.
At [1:48] Silver informs listeners that despite his absence, JubiRev's webinars will continue with company President J. Joshua Beistle hosting them.
Apart from "strongly encouraging" affiliates to 'do what they must to start off at $200 a month' and to then 'purchase as many JubiBucks as your resources allow' at [5:10], the rest of the call is of little interest.
Well, until right at the end when Silver starts gushing about Fly Guy Marketing.
[14:20] Fly Guy Marketing dot com is the vendor that I am strongly, strongly, strongly, and the only vendor that I am endorsing for customer registrations.

I've worked with the folks at Fly Guy, some of you that have been part of the following have worked with the folks behind Fly Guy. They are absolutely phenomenal people.

I don't have a good enough and uh, adjectives to explain my absolute love or working with these folks. They are just so simple and easy to work with, great people. People of phenomenal integrity and character.
Bear in mind this is a company call, with affiliates being strongly advised to purchase customers from Fly Guy Marketing.
So who is Fly Guy Marketing?
In a nutshell they provide affiliates in schemes like JubiRev with customers to dump their Ponzi points on, as well as placing ads for affiliates (an ongoing qualification requirement in JubiRev to earn a share of the daily profit share).
There is no information on the Fly Guy Marketing website indicating who owns or runs the business (surprise, surprise).
Hidden in the Fly Guy Marketing website source-code however, is a testimonial from none other than T. LeMont Silver, in which he mentions the company "RealKuleAds":

RealKuleAds was a company who offered affiliates of GoFunPlaces automated daily ad placement.
A notice on the RealKuleAds website informs visitors that the company is 'no longer accepting new subscriptions':

I'm going to go out on a limb and suggest that this happened around the same time T. LeMont Silver effectively ditched GoFunRewards and started to promote his "Plan B", JubiRev.
I remember listening to a call a while back which was essentially T. LeMont Silver with some sidekick slamming the management of JubiRev, complaining incessantly that the Chinese management of eAdGear needed to "get out of the way" and let Randal Williams (then president of GoFunRewards, now connected to JubiRev) implement the compensation plan T. LeMont Silver wanted.
Naturally there's no information on the RealKuleAds website indicating who is running the company, however the domain registration for the company's website ("realkuleads.com") is registered to something called "2cfreedom".
The administrative contact for 2cfreedom is a Chris Pearson, operating out of Washington in the US.
It is unclear whether or not Chris Pearson was or is involved in either GoFunRewards or JubiRev, however he does appear to have a close business relationship with T. LeMont Silver.
For reasons unknown, Pearson is marketing his daily ad posting automation under the brand of Fly Guy Marketing, having felt the need to ditch the name RealKuleAds.
Putting all of this together, what we have here is an official JubiRev company call firstly urging affiliates to invest as much as they can in JubiRev, and then the suggestion that affiliates use the services of Fly Guy Marketing to purchase customers.
By purchasing customers from Fly Guy Marketing and getting them to publish a daily ad, JubiRev affiliates effectively turn their purchase of JubiBucks from JubiRev into a passive investment.
You simply join JubiRev, pay your monthly subscription, buy as 'many JubiBucks as your resources allow', pay Fly Guy Marketing to create some customer accounts for you, dump your JubiBucks on them and then earn a daily ROI on your generated JubiPoints.
This is an entirely passive ROI, with JubiRev affiliates simply investing money into the company and dumping virtual currency dollars on paid for customer accounts.
This passive investment strategy is being endorsed and "strongly" recommended by JubiRev on their company calls! 
I'd like to say we've hit an all-time low in the MLM Ponzi points niche arena but it was only a month or so ago that T. LeMont Silver was at it on another JubiRev company call, this time advising listeners to
protect what you have so that somebody… can't just come after you and everything that you've worked hard to build up goes away [29:22].
Given Silver's involvement in the recently busted $600M Ponzi scheme, "somebody" is no doubt referring to the SEC, who, through a court appointed receiver are clawing back ill-gotten Ponzi scheme funds from those that profited in the scheme.
Silver refers to the SEC action against the $600M Zeek Rewards Ponzi scheme as a "frivolous lawsuit" [29:28].
As a prominent investor in Zeek Rewards, no doubt Silver himself is facing clawback litigation from the Receiver. Ironically part of Silver's ill-gotten Ponzi winnings in Zeek Rewards would have been sourced from those that follow him from scheme to scheme.
Silver appears to be quite bitter over having to pay back his Zeek Rewards Ponzi profits back to those Zeek Rewards investors who lost their money:
[29:36] When you've got some dude over there (the Zeek Rewards Receiver, in the US), that's trying to scare people saying that "if you're in Zeek Rewards and made some money I'm gunna claw that money back".

But if you don't own any of the money, you don't own any of the asssets – what's he gunna claw back?
Silver then goes on to describe his plan for JubiRev affiliates,
[29:59] One of the things we're going to do…is have a website.

[30:15] There's gunna be things like perhaps having an accountant, a US based accountant coming in and talking about doing some structuring.

Maybe having someone coming in and talking about some asset protection things.

Why?

Because we saw with Zeek Rewards, we saw people make more money then they'd ever made before. I wanna make sure that as you make that money in JubiRev that you know what to do with that… that you know how to diversify your assets offshore.

[30:58] If you live in the US but you had banking in Belize, and you had a corporation and a trust in the Cook Islands, and you did store some gold and silver offshore in Hong Kong, well I tell you what – if the US wants to come and confiscate your gold it's kinda hard to do that if it's in Hong Kong.

Those are the types of things we want to bring to our audience.

[31:29] Ultimately when our folks start making money we want them to know what to do with the money when they start to make it.
As good an admission as any that Silver expects JubiRev to be targeted by the SEC for being a Ponzi scheme in the future. This of course is no surprise given the near identical business model to Zeek Rewards that JubiRev uses.
Replace "penny auction sample bids" with "JubiBucks" and compensation plan wise you've pretty much got a clone of the Ponzi scheme core of Zeek Rewards' business model.
It's interesting to note that whereas with Zeek Rewards, despite the obvious Ponzi scheme mechanics inherent in the company's compensation plan, the discussion was largely focused on whether or not it was indeed a Ponzi scheme, that this time around with JubiRev focus has shifted on preempting regulatory action against the company, and how (early) investors can avoid having to pay back they receive from investors who join after them.
And furthermore, even if the authorities don't step in and shut down JubiRev, if this is the advice being given to the company's affiliates, one can only imagine where and how JubiRev themselves are storing the money invested with them.
When the SEC shut them down, the books revealed that Zeek Rewards was at best just a few months away from an organic collapse – with funds in reserve nowhere near the amount that was owed to investors.
Fortunately for those who lost money in the scheme, Zeek Rewards made a big deal about using US banking channels and largely kept most of its funds in the US (although they did experiment with offshore credit card processors).
With JubiRev following the same Ponzi points driven business model that will inevitably arrive at the same conclusion once enough investors start pulling out sizeable funds each day, what happens when they collapse?
Footnote: Both audio recordings referenced in this article are official JubiRev training calls, hosted by T. LeMont Silver and sent out to affiliates by the company.
Here's the first call, where Silver spruiks Fly Guy Marketing and urges investors to invest in as many JubiBucks 'as (their) resources allow':
And the second (recorded about a month prior to the first), with Silver providing financial advice on how to avoid having to pay back net winnings if the US govt shuts down JubiRev for being an illegal Ponzi scheme: