Rise Network Review: Secretive Unbox ecommerce platform

Rise Network operates in the marketing tools MLM niche.
The company provides a suite address in Texas on its website. The same website cites Rise Network's founders as Hitesh Juneja, Kevin Hokoana and Jason Rose.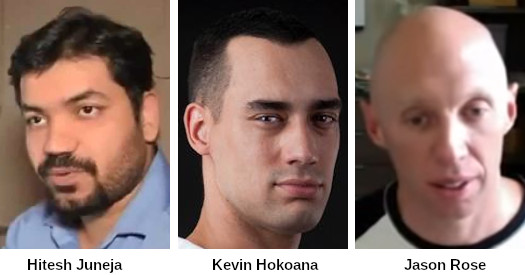 Long-time readers will recognize Juneja, Hokoana and Rose from their DS Domination days.
DS Domination launched in 2013 and combined dropshipping training with pyramid recruitment.
Two years later recruitment slumped. This prompted Juneja, Hokoana, Rose and partner Roger Langille to launch Options Domination.
A few months later Roger Langille, largely credited as DS Domination's dropshipping guru), cashed out and left.
Options Domination saw Juneja and Hokoana pivot into securities fraud. This continued with the launch of Infinii in late 2015 (Options Domination was launched earlier that same year).
A month after BehindMLM published its Infinii review, the company announced it was dropping its securities fraud offering.
By mid 2016 Infinii was on the rocks, prompting a reboot launch of Options Domination as Infinii Digital Signal Forge.
For the most part, Infinii and its associated companies appears to have gone under or been wound down by the end of 2016.
Not really sure if Juneja, Hokoana and Rose launched anything MLM related over the past three years. Things had been rather quiet until the recent Rise Network launch announcement.
Read on for a full review of Rise Network's MLM opportunity.
Rise Network's Products
Rise Network has no retailable products or services, with affiliates only able to market Rise Network affiliate membership itself.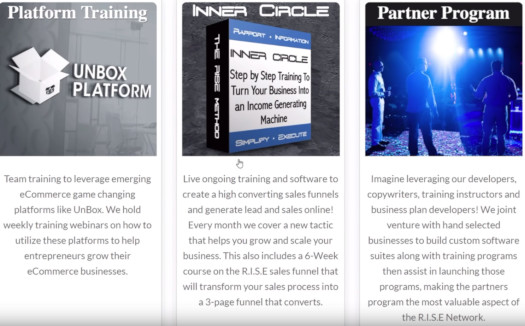 Rise Network affiliate membership provides access to marketing tools and is intended to be used with Unbox.
Unbox is represented as an independent third-party merchant ecommerce platform.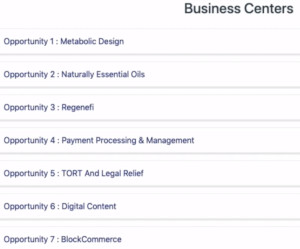 "Business Centers" revealed in Rise Network marketing presentations include Metabolic Design, Naturally Essential Oils, Regenefi, payment processing & management, TORT and legal relief, digital content and BlockCommerce.
Unbox affiliate membership costs an additional $99 and then $39  to $299 a month.
A $99 one-time non-affiliate membership option is also available.
Rise Network's Compensation Plan
Strictly speaking, Rise Network's compensation plan is one-level deep and not MLM.
You sign up as a Rise Network affiliate for $47 a month, and get paid $25 a month per affiliate you recruit.
I'm counting Rise Network as an MLM company though due to its interconnectivity with Unbox (more on that in the review conclusion).
Unbox affiliates pay $99 and then $39 to $299 a month.
Commissions paid on non-affiliate and affiliate Unbox members are as follows:
100% commission (minus payment processing fees) on initial membership fees paid
40% on residual membership fees paid by personally recruited affiliates
A 10% matching bonus is paid on Unbox commissions earned by downline affiliates.
Unbox's website states the matching bonus is paid on 'the first 4 generations of your organization'.
Based on the information Unbox provides on its website, whether these generations are unilevel team levels of rank-based generations is unclear.
Joining Rise Network
Rise Network affiliate membership is $47 a month.
Unbox affiliate membership is available at three price-tiers:
Pro – $99 and then $39 a month
Elite – $99 and then $99 a month
Enterprise – $99 and then $299 a month
The primary difference between the different Unbox affiliate membership tiers is income potential (lower tiers are gimped).
Conclusion
What initially struck me as odd about Unbox was a reference to gift cards on one of Hitesh Juneja's Rise Network presentations.
A typical gift card sees an individual pay a store or processor for credit, which is stored on the supplied gift card itself.
Digital gift cards operate in the same manner but use a code instead of a physical card (some physical cards have codes printed on the back of them).
What caught my in Unbox was affiliates being able to generate gift vouchers without making any payment.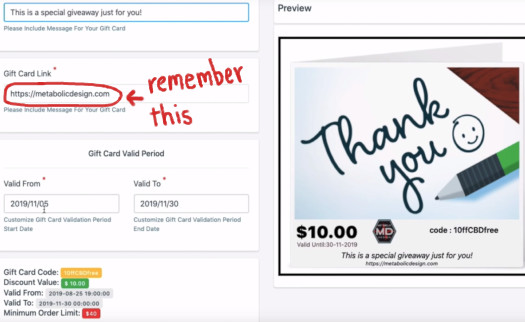 This seemed extremely odd, and more in line with a voucher than a gift card.
Sure enough with a bit of digging around I was able to confirm Unbox's gift cards were actually vouchers.
The other thing I found strange was Juneja going on about waiving the $99 fee to join Unbox.
In an official Rise Network webinar Juneja categorically states;
You have your Unbox business which you're gonna be building, and we're going to teach you all about it – but we don't own that, that's not our company.
Unbox has its own website over at "joinunbox.com". In the "About Us" section of Unbox's website the company states it
is a product of Knowledge Technologies, LLC, which was established in 2019 with the partnership between J & H Bssiness Institute [sic] – a 12 year old firm behind multiple ecommerce and digital content platforms, and Pramana Capital (Pramanacapital.com), a multi-billion dollar fund focused on acquiring and partnering with innovative, future-focused projects.
So Unbox is owned by Knowledge Technologies, which in turn is part owned by J&H Business Institute and Pramana Capital.
On LinkedIn Hitesh Juneja cites himself as a co-founder of J&H Business Institute Corp.
This shouldn't come as a surprise, as the "J" in J&H Business Institute stands for "Juneja".
The "H" stands for Hokoana, as Kevin Hokoana is the other co-founder.
So through J&H Business Institute and in spite of what Juneja is telling people, Juneja and Hokoana are part owners of Unbox.
So what about the other supposed owner, Pramana Capital?
Weeeeeeeeeeeell…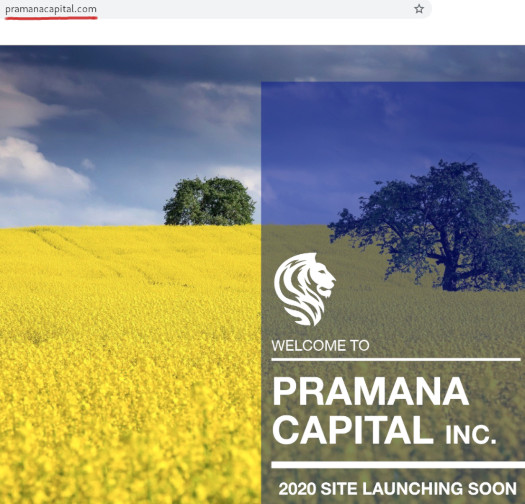 Pramana Capital's website domain registration was last updated in July 2019. Peter Shamoon is listed as the owner, through an address in Chicago, Illinois.
I stopped there because there wasn't anything overtly linking Shamoon to Rise Network.
What I do want to draw your attention to now though is the "gift card link" in the Unbox gift card screen shot above.
The company name Metabolic Design appears, which is presumably one of the merchants Unbox has partnered with to populate their ecommerce platform with.
Metabolic Design has its own website, which reveals it to be a CBD oil merchant.
An address in Cyprus is provided for Metabolic Design LTD. Well, actually this address belongs to Highworth Cyprus, a "corporate service provider".
We provide our clients with the relevant knowledge and expertise required to assist them with the formation of companies almost anywhere in the world.
The provided contact address for Metabolic Design itself is the same as that of Rise Network and Unbox.
Oh, did I forget to mention Rise Network and Unbox also share the same Cypress, Texas address? (there's a Cypress/Cyprus joke in there somewhere).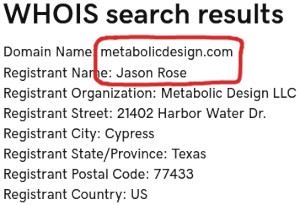 Anyhoo, guess who owns Metabolic Design's website domain?
Yup… Rise Network co-founder Jason Rose.
Now before we continue I want to point there's absolutely nothing wrong with what Hitesh Juneja, Kevin Hokoana and Jason Rose have set up.
My issue is the lack of ethics in disclosing any of this to potential affiliates. In particular Juneja seemingly lying about only owning Rise Network.
In actuality between the three of them, Juneja, Hokoana and Rose appear to quadruple dip every time a Rise Network affiliate sells or purchases something through Unbox.
First there's a white label merchants populating Unbox's ecommerce platform – although to be fair whether any money passes between these merchants and Unbox is unclear.
Then you have Unbox selling white label merchant products to retail customers and/or affiliates, generating another revenue layer.
On top of that you have both Rise Network and Unbox membership fees.
That's four potential sources of in house revenue from just one Rise Network signup.
Again, not illegal although the FTC might take issue with the lack of disclosure (Hitesh's false representations withstanding).
With all of that out of the way, there's nothing particularly remarkable about Rise Network and Unbox's business models to comment on.
It's the same or similar marketing material Juneja, Hokoana and Rose have been pushing since DS Domination.
No doubt stuff has been added and taken away, but the roots can be traced back to 2013.
From a retail customer perspective, if vouchers are being generated on demand, that money has to be made up somewhere.
This lends itself to Unbox's white label merchant products being overpriced from the get go.
I'd love to provide you with some concrete examples, but Unbox provides no example pricing to the public on its website.
The take-away however is that the retail side of Unbox is questionable. Rise Network itself appears to be a single-level pyramid scheme owing to there being no retail offering.
It's all a bit messy to be honest, and a large part of that is due to how Rise Network and Unbox have been set up.
DS Domination enjoyed initial success owing to it being a new MLM concept. There's no "dropshipping" hook so to speak with Rise Network and Unbox, so I'm not really seeing this pan out the same.
Juneja does go on about the genius of offering gift cards to potential customers to get them to buy in his webinars, but as discussed these are just vouchers.
Approach with caution.