Daniel Filho competent enough to continue scamming DFRF victims?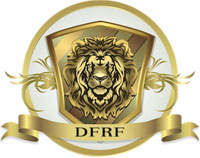 In June 2018 Daniel Filho was declared incompetent to stand trial.
A year later Filho appears to have made a miraculous recovery. He's communicating with DFRF Enterprises victims and appears to be planning a comeback.
In 2015 the DOJ and SEC went after Filho for running DFRF Enterprises, a $22.8 million dollar Ponzi scheme.
Following his arrest in July 2017, Filho was indicted on three counts of wire fraud.
As his case progressed, trotted out the competency card.
This saw criminal proceedings against Filho delayed for two years, and ultimately dismissed in November 2018.
Fast forward eight months and Filho is posting quite regularly to his Instagram account.
Seemingly picking up right where he left off, Filho isn't shying away from his Ponzi past.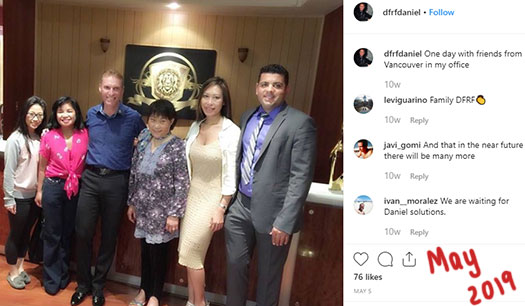 In one photo Filho can be seen sitting next to Eduardo Da Silva, a co-defendant in the SEC's DFRF Enterprises fraud lawsuit.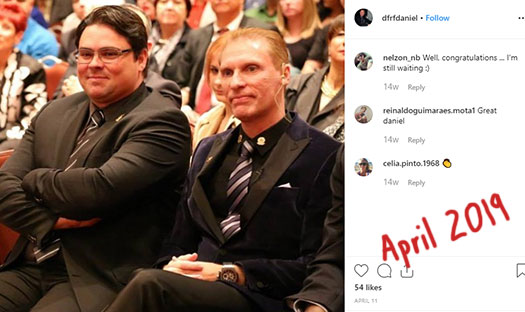 Last we heard Da Silva had fled to Brazil and more recently, ghosted the attorneys representing him in the SEC case.
What's perhaps most disturbing about Filho's Instagram account is his interaction with DFRF Enterprises victims.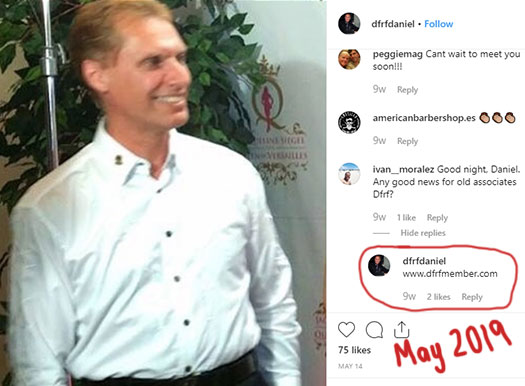 As above, Filho is directing DFRF Enterprises victims to the "dfrfmember.com" domain.
The DFRF Member website hosted on the domain is a pre-built WIX site.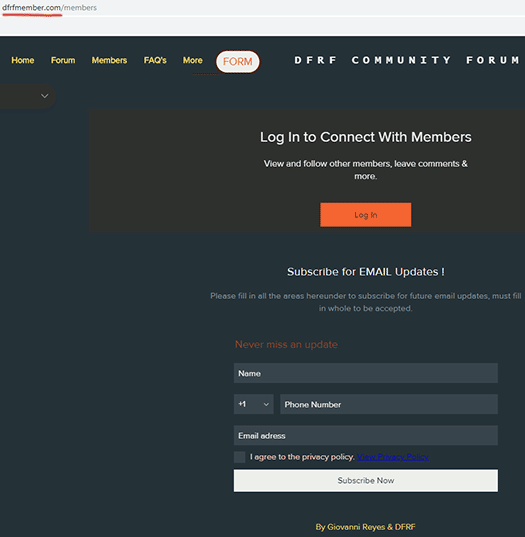 A tag-line for the site reads those who sign up will be able to
connect with members of our site. Leave comments, follow people and more.

Your nickname, profile image, and public activity will be visible on our site.
In the website footer, operation of the site is credited to "Giovanni Reyes & DFRF".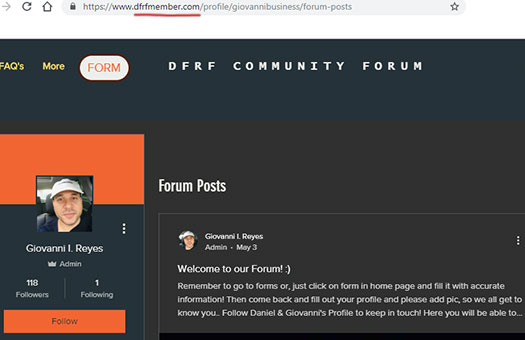 Giovanni Reyes is an admin on the site. In the blurb above, the account is referenced as "Daniel & Giovanni's profile".
If one clicks the "FORM" menu in the DFRF Members website header, you're redirected to a page asking for banking and DFRF Enterprises investment details:

Under the guise of offered "donations", Daniel Filho appears to be collecting DFRF Enterprises victim information.
According to Reyes, touted donations to DFRF victims "have absolutely no attachment to past investment."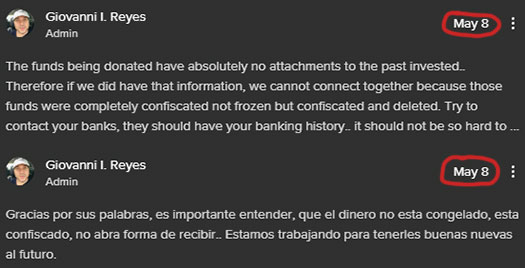 The SEC was awarded a $17.9 million final judgment against DFRF Enterprises just last month.
Considering that case is still active and Filho is apparently too incompetent to sit in a court room and take responsibility for his actions, how is any of this happening?
Am I missing something, or would setting up a website to collect victim details for some "donations" scheme suggest at least some level of competency on Filho part?
Going by Giovanni Reyes' DFRF Members profile, the website seems to have been set up on or around May 2019.
Given these are relatively recent developments, for now I'm willing to cut the DOJ and SEC some slack.
Going forward though I'd be absolutely gobsmacked if neither regulatory took any further action.