DagCoin's Success Factory USA prelaunch details leaked

Details of DagCoin's pending Success Factory launch in the US have leaked.
Here's what we know…
Our source for this article is "Success Factory USA" promo material being circulated by Kevin Mullens.
Mullens appears to have started his MLM journey with Fortune Hi-Tech Marketing. There Mullens met Trey Knight.
The FTC shut down FTHM in 2013, confirming the company operated as a pyramid scheme.
After FTHM Mullens went on to promote Zija. Mullens was still promoting Zija as of 2019.
In late 2020 Mullens rejoined Trey Knight to promote his new CBD company, Navan Global.

In mid 2021 Knight was indicted for wire fraud, bringing Navan Global to a halt.
It is believed Mullens joined DagCoin sometime after.
Presumably pending the launch of Success Factory USA, Mullens has kept his involvement in the Ponzi scheme quiet.
As per Success Factory USA promotional material cited by BehindMLM;
Kevin knows the CEO in the USA office in Alpharetta, GA.

Company is in Amsterdam, the Netherlands. Kevin a consultant for a year and half.  Business currently in 180 countries, never in the USA.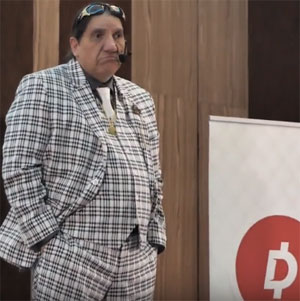 Former OneCoin top-earner Igor Alberts (right), heads up Success Factory in the Netherlands.
The presumably US based CEO of Success Factory USA has yet to be revealed.
Through Success Factory, Dagcoin is alleged to have solicited $270 million in investment last year. This is up from $220 million in 2020.
USA is in Pre-launch now, in February.  Hard launch in the USA in March.

Two days before Kevin called me, there were only 25 people in the system for the USA pre-launch.
US residents are being onboarded into Success Factory with the lure of owning three compensation positions.
$50 to join as an Affiliate, $79 monthly for 1 Business Center.

$125 to join as an Affiliate, $79 monthly, for 3 business centers.

You join by a Referral Code.

If they have MLM experience and desire to build a team, I'd highly suggest they ADD their extra income centers, to have 3 instead of 1.

This is also obligating them to the company in March at hard launch.

They are agreeing to $125 instead of $50.  $50 is an Affiliate Fee for 1 Income Center.  $125 for 3 Income Centers.
This is of course indicative of a pyramid scheme, which is what Success Factory is.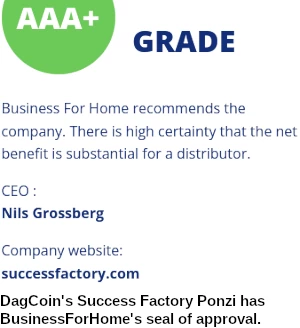 Success Factory USA's marketing leans heavily on BusinessForHome awarding the Ponzi an AAA+ rating.
Business For Home has rated Success Factory with a AAA+ , the highest rating, because of the 'high certainty that the net benefit the business opportunity offers is substantial for a distributor'.

This rating proves that we are on track to reaching one of our most ambitious goals: structurally belong to the top 10 of the most successful direct selling companies in the world.
BusinessForHome is owned by Ted Nuyten.
Nuyten has been a fan of Igor Alberts' Ponzi scamming for years.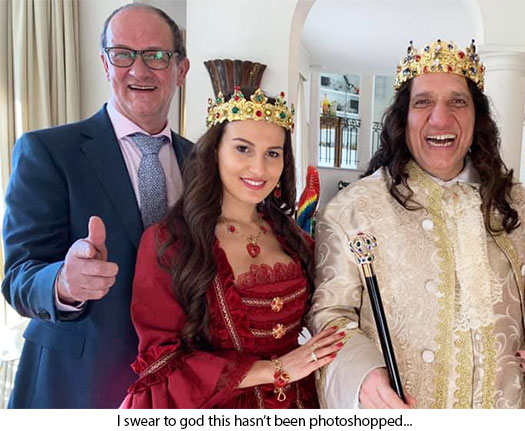 As part of BusinessForHome's business model, back in the day Nuyten also appeared in OneCoin promos.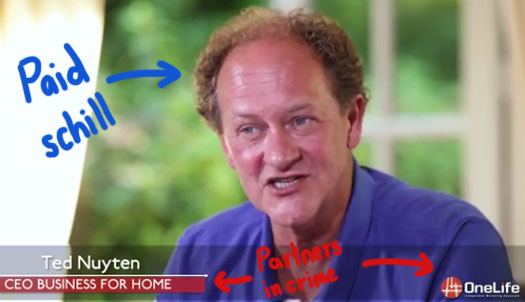 BusinessForHome quietly dropped OneCoin promotion after founder Ruja Ignatova's disappearance in late 2017.
In essence, BusinessForHome's OneCoin/OneLife coverage…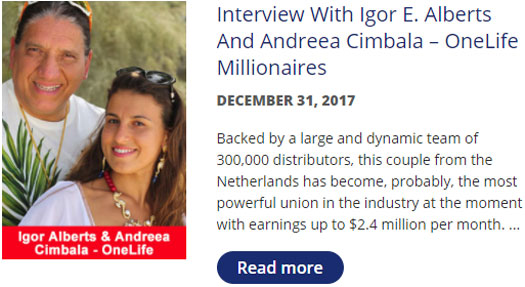 …was replaced with DagCoin and Success Factory.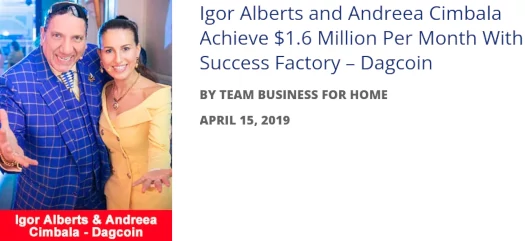 The exact business relationship between OneCoin, DagCoin, Igor Alberts, BusinessForHome and Ted Nuyten has never been disclosed.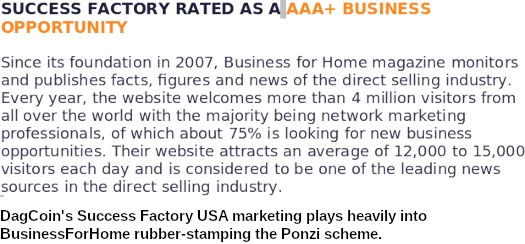 How much Nuyten received to promote OneCoin and DagCoin over the years is also unclear.
OneCoin executives have been indicted in the US. They have either been convicted or pled guilty, and now await sentencing.
Top OneCoin net-winners, like Igor Alberts, and business partners, like Ted Nuyten, have not been brought to justice.
While it's unlikely we'll see either set foot in the US to promote DagCoin, DagCoin soliciting investment from US residents – while OneCoin sentencing dates remain pending – is an interesting development.
Dagcoin is expected to reveal Success Factory USA at their upcoming Dubai event this weekend.
Stay tuned as we continue to track DagCoin's Success Factory Ponzi expansion into the US.