Crowd1 gambling partner claims "no cooperation"

Crowd1's gambling ruse might be coming undone, following confirmation one claimed gambling partner is in fact not a partner.
SBA markets itself as "one of the leading Sports Betting and Casino sites in Uganda".
Through Affilgo, Crowd1 claims to have a partnership with the company (click to enlarge):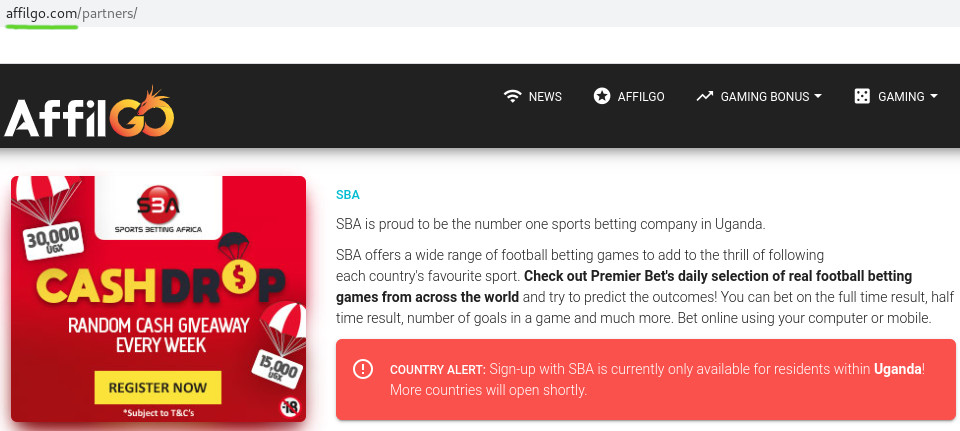 Crowd1 claims to generate external revenue via gambling partnerships.
As opposed to simply recycling invested funds, Crowd1 claims to pay returns out of gambling partnership revenue.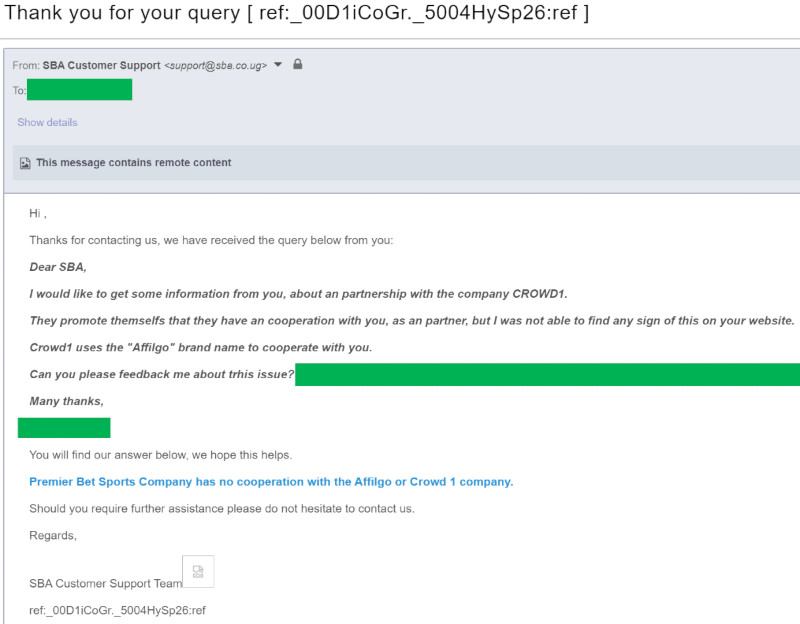 A BehindMLM reader reached out out to SBA to confirm Crowd1's claimed partnership (click to enlarge source on right):
I would like to get some information from you, about a partnership with the company Crowd1.

They promote themselfs that they have an cooperation with you, as a partner, but I was not able to find any sign of this on your website.

Crowd1 uses the "Affilgo" brand name to cooperate with you.

Can you please feedback me about this issue?
A representative from SBA's Customer Support Team replied:
Premier Bet Sports Company has no cooperation with the Affilgo or Crowd1 company.
Premier Bet is SBA's parent company:
Premier Bet is also separately listed as a Crowd1 partner through Affilgo: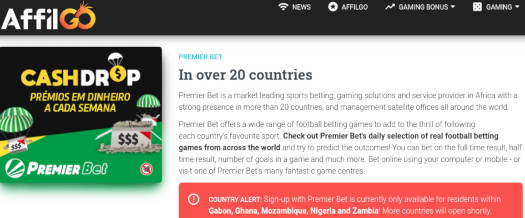 SBA's email response confirms that at least two companies Crowd1 claims are gambling revenue partners, are in fact not.
BehindMLM reviewed Crowd1 last August. Based on the company failing to register it's passive investment opportunity with financial regulators, we concluded it was a fraudulent investment scheme.
The only reason an MLM investment company would opt to operate illegally is if it's not paying returns with external revenue.
Using internal revenue (invested funds) to pay returns is a Ponzi scheme model.
Last month Namibia banned Crowd1 for being a Ponzi scheme. The company is also under regulatory investigation in Norway.