Coenie Botha funneling CBI Global investors into GSPartners

Coenie Botha is funneling CBI Global investors into the GSPartners Ponzi scheme.
The move follows the Bank of Namibia freezing Botha's business and personal accounts last month.
Botha, assisted by South African GSPartners investor Ray De Bruyn, instructed CBI Global affiliates on signing up to GSPartners in a March 10th webinar.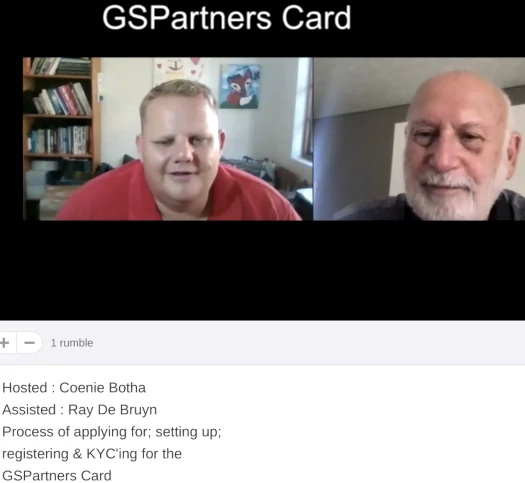 GSPartners is an MLM crypto Ponzi scheme run by former Karatbars International executive Josip Heit.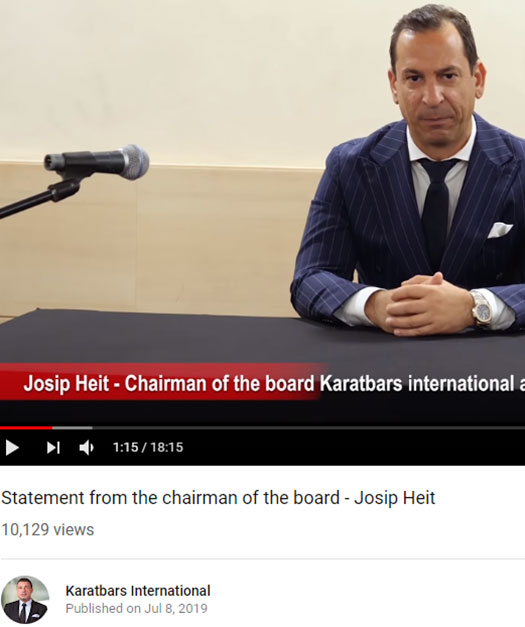 Heit spun off GSPartners following Karatbars' failed foray into MLM crypto fraud back in 2019.
CBI Global investors sign up under Botha's GSPartners account, ensuring he collects any commissions earned on their activity.
Although not confirmed, I believe Ray De Bruyn is Botha's GSPartners upline. Meaning he gets a cut too.
In addition to GSPartners itself, the Ponzi scheme's GS Lifestyle card is being pitched as a cryptocurrency withdrawal method for CBI Global investors.
Effectively the integration will see CBI Global investor funds laundered through GSPartners.
After they'd signed up, CBI Global investors found out what that really meant.
If you (with)draw bitcoin to your GS Lifestyle card, and you want to convert it, it is not cheap.

I made a thing yesterday where I transferred some bitcoin into the GS Lifestyle card and then I wanted to convert it into dollars, in order to make use of the card.

Now when you put the figure in, it shows you how much you will get. And between the buy and the sell price, to the market price, you'll fall on your back.

It's something like 15% that they make profit on it. So it is expensive.
That was Botha on a March 28th CBI Global webinar.
On that same webinar Botha gave an update to CBI Global's regulatory problems in Namibia.
What happened is they froze our accounts, both my personal account and the business account, and they did it in, we believe, an illegal way.

Now the Judge came there … with a proposal, and the proposal that he came with, he made in a ruling, and that is that, they should unfreeze our account, subject to BoN overlooking what we do, in order for us to pay our expenses.

So it's still frozen. And we now (have) sued BoN during the week last week. And we should know by Friday what is going on.
There have been no further updates since the March 28th webinar.
On an earlier March 21st webinar, Botha introduced Afrika Jantjies.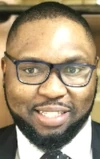 Jantjies (right) represents he is a South African based attorney and CBI Global's Compliance Officer.
We are the attorneys for CBI. Plus I act as the compliance officer for CBI Exchange Namibia.

If there is anything that is done unlawful or is not in line with the law, then it is my duty to advise my client to desist and stop and comply.
Evidently instead of informing Botha he is running a Ponzi scheme and committing securities fraud, Jantjies is paid to rubber-stamp Botha's fraudulent conduct.

To that end Jantjies trots out an FIC registration for CBI Exchange Namibia (PTY) LTD.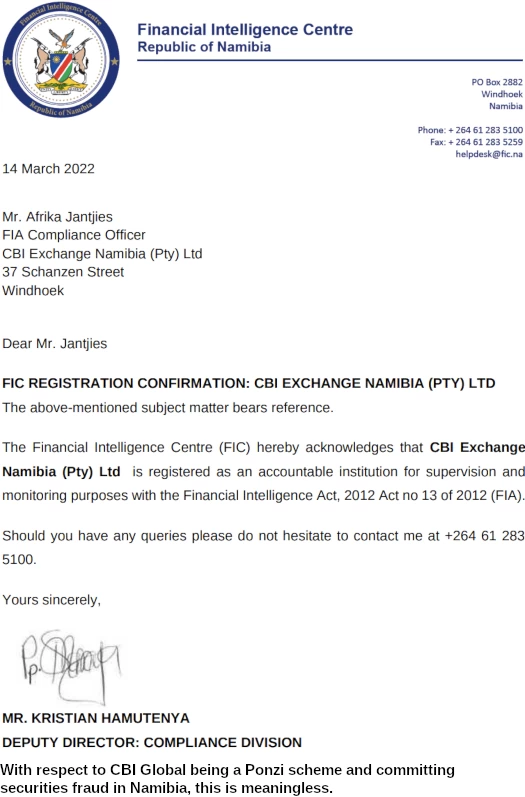 The issue is and always has been CBI Global isn't registered with financial regulators, be it Bank of Namibia in Namibia or the FSCA in South Africa.
Registering with the Financial Intelligence Centre doesn't negate or relieve CBI Global of its securities related regulatory obligations.
Jantjies' CBI Global pseudo-compliance are best exhibited through the following statement, made on the March 21st webinar;
CBI does not take deposits from (the) public. I think that's very important.
Botha directly contradicts Jantjies statement later on in the same webinar;
So if you transfer rand or namibian dollars into the (DafriBank) account, they do charge a fee but it's not much.

And then you can from there transfer directly funds to us, to our account.
DafriBank was introduced to CBI Global affiliates as a way to circumvent regulatory action in Namibia.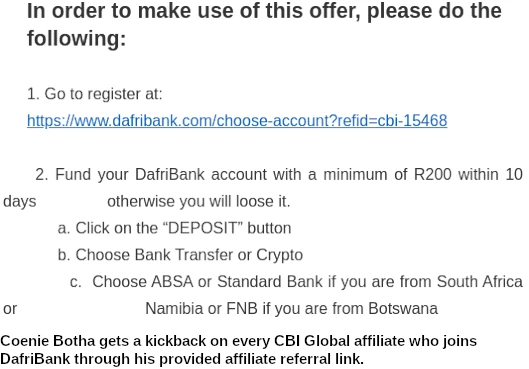 Here's how that's going;
There were people complaining that they withdrew BTC into their DafriBank account. And they charge up to 27% commission on that transaction.
Looking forward, it appears Botha might be looking to move CBI Global's operations to Dubai.
Botha: Afrika was sharing with us that he's been to Dubai. We all know he was in Dubai the week before last.

And he went for specific things to go and do there which we will share at another case.

Jantjies: There are things that we're doing there that obviously we would disclose at a later stage.
Dubai is the MLM scam capital of the world. Through non-regulation of MLM related securities fraud and a lack of extradition treaties, the emirate provides a safe-haven for scammers.
CBI Global and Botha shifting operations to Dubai won't bode well for investors.
Pending further updates, Botha has instructed investors to "just ignore" CBI Global's documented fraud and regulatory non-compliance.
Update 18th May 2022 – Coenie Botha has deleted the cited GSPartners and Afrika Jantjies introduction webinars.
Links to the webinars were previously provided but as such I've disabled them.