CBI Global collapses again (Coenie Botha's 4th Ponzi collapse)

CBI Global has collapsed for a third time, marking owner Coenie Botha' fourth Ponzi collapse.
Rather than just admit he's spend invested funds, Botha is sticking to his regulatory coverup.

CBI Global collapsed for a second time last November. At the time Botha (right) trotted out a story about South African regulators.
This is because of the constant investigations regarding our presence and activities in South Africa while there are no regulations regarding crypto currencies in place.
While it's believable South African regulators might investigate CBI Global and Botha (the vast majority of CBI Global investors are from South Africa), no confirmation of an investigation has surfaced.
Given inaction in relation to Mirror Trading International and Finalmente Global, it's also unlikely.
Now Botha claims authorities in Namibia are onto him.
We all knew this was about to happen sometime, just not when, and neither are we surprised or taken back.

The CBI Exchange Namibia Bank Account in Namibia, as well as my personal bank account, are now restricted with various other crypto related organisations and/or people.

The "what", the "who" and the "how" is not important at this stage.
That last sentence is of particular significance. Botha doesn't want any questions.
So what does this mean for CBI Global affiliate investors?
It means that, once again, they can't withdraw.
You will not be able to load your CBI wallets by buying CBI, BTC or ETH through the CBI Exchange platform or to sell your CBI Tokens through that platform until after the High Court has made a ruling regarding this matter.
Botha's March 11th email doesn't elaborate any further on purported CBI Global High Court proceedings.
In a follow up email sent on March 14th, Botha provided a temporary workaround to CBI Global withdrawal problems.
Botha's solution involves laundering CBI Global Ponzi funds through Dafri Bank.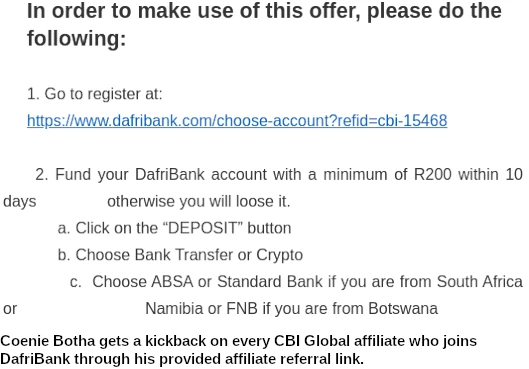 Fund your DafriBank account with a minimum of R200 within 10 days otherwise you will loose [sic] it.

a. Click on the "DEPOSIT" button

b. Choose Bank Transfer or Crypto

c.  Choose ABSA or Standard Bank if you are from South Africa or Namibia or FNB if you are from Botswana

d.  Make sure you use the 10-digit Reference number when you make an EFT/Deposit

Then go to your CBI Account and Click on Bank and Card Details under Profile settings

Choose "CARD DETAILS"

Submit the email address that you used to register with DafriBank above

Click in the "Accept" box

Click on SAVE

We will unlock the Card Button to make a withdrawal and will then transfer your funds to your email address in the DafriBank account

Maximum daily withdrawals via EFT to your bank are $15,000 per account once you are fully verified.
DafriBank is an an offshore bank based out Comoros Island. Comoros Island is a sketchy tax haven off the coast of Africa.
As per their website;
DafriBank Digital is part of DafriGroup PLC a public company duly registered in South Africa, Nigeria and Botswana.

All DafriBank Digital customers are required to undergo a whitelisting process that includes KYC (Know Your Customer) and AML (Anti Money Laundering) and fulfill other criteria we deem necessary.
With CBI Global now using DafriBank to power their Ponzi scheme, whether that's taken seriously remains to be seen.
For his part Botha doesn't sound all that confident.
We have done as much research as we could, and it seems that they are a legitimate bank operating from the Comoros.

They do have businesses registered in both South Africa, Nigeria, and Botswana.

We cannot find that they have banking licences in these countries, but they do have bank accounts within these jurisdictions as well as many other places and countries.

You can do your own research on the internet regarding this bank and its founder of which some information might be very interesting.

FOR NOW, we would not recommend that you put huge amounts in this bank, but rather open your account, use it as a funnel or gateway to make deposits/withdrawals into your CBI Account.

Unfortunately, this is the only way we see a solution for now.
DafriBank is owned by founder and CEO Xolane Ndhlovu.
I couldn't place the year but Ndhlovu was convicted on attempted murder and weapons charges. The charges were connected to drug related gang violence.
Through continuing to launder money through DafriBank, Botha maintains
CBI will continue to render the various services as we have done over the last 4 years, and all those prophets of doom will, in the end, see what it means to be victorious in the midst of all their negative and false accusations.
We'll keep you posted on any updates.
Update 16th April 2022 – The Bank of Namibia's investigation into CBI Global and Botha continues.
Botha meanwhile has filed suit against the BoN for millions in lost income related damages.