CashFX Group website down, "decentralized" reboot?

After collapsing in late 2021 and dissuading investor complaints with a never-ending string of promises, CashFX Group has finally taken down their website.
A "decentralized" reboot has been announced, run by a centralized group of unknowns.
In taking down its website, CashFX Group posted the following announcement;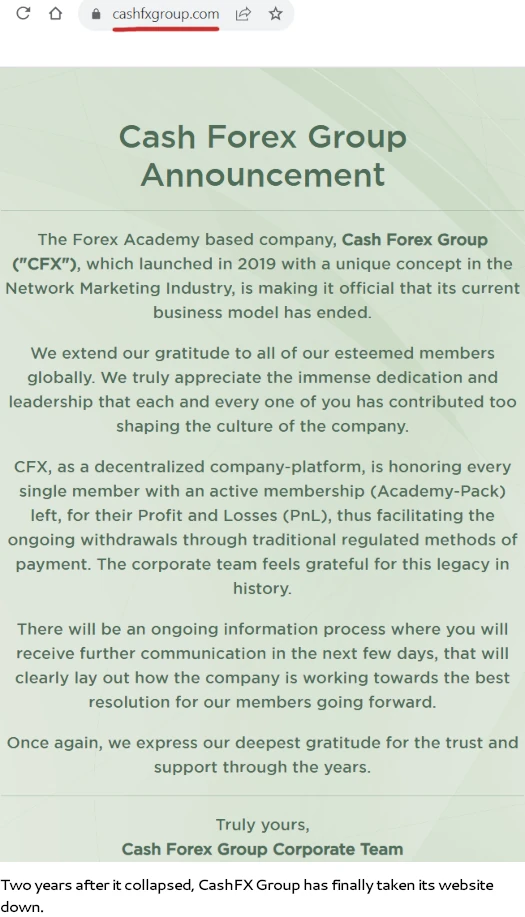 CFX, as a decentralized company-platform, is honoring every single member with an active membership (Academy-Pack) left, for their Profit and Losses (PnL), thus facilitating the ongoing withdrawals through traditional regulated methods of payment.

The corporate team feels grateful for this legacy in history.

There will be an ongoing information process where you will receive further communication in the next few days, that will clearly lay out how the company is working towards the best resolution for our members going forward.
The last known payments CashFX Group made was to its top promoters. These payments were to encourage the promoters to continue deceiving their downlines. The payments stopped in mid 2022.
The latest decentralized ruse appears to be yet another "carrot on a stick" promise.
As to who's running the CashFX Group's centralized "decentralized" reboot, it's unlikely to be co-founders Huascar Lopez and Ron Pope.
Huascar Lopez was the face of CashFX Group and its marketing.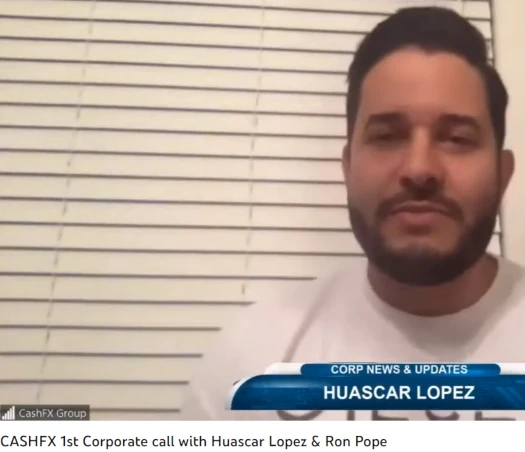 Lopez disappeared shortly after CashFX Group disabled withdrawals in late 2021. Shortly thereafter he turned up in Europe but hasn't made any public appearances from 2022.
Ron Pope, owner of Conversion Pros, is believed to have handled CashFX Group's backend and payment processing (money laundering).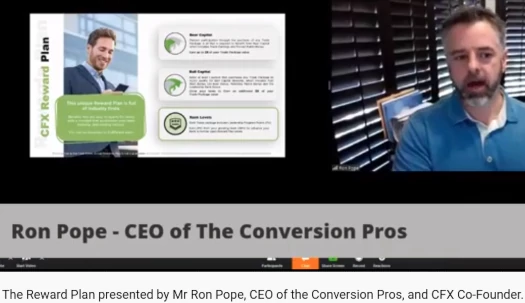 Perhaps wary of being the face of a Ponzi scheme and US resident, Pope did front CashFX to begin with but quickly retreated to the shadows.
In August 2023 Pope was tied to CFX Legacy. Touted as a reboot run by the "Cash Forex Group Corporate Team", CFX Legacy's website remains online.
Despite stealing millions through CashFX Group, top promoter Luigi Bruni continues to falsely represent himself as a victim.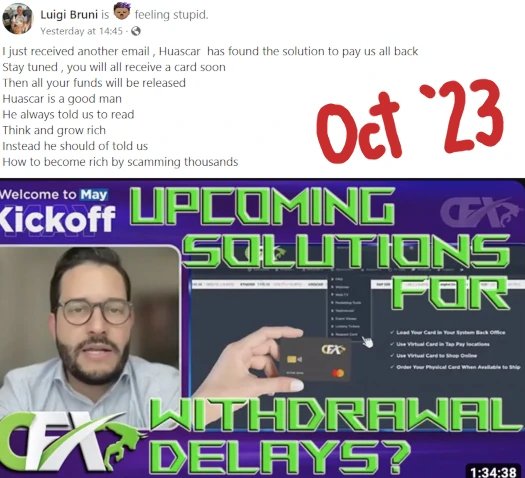 Bruni, a Canadian national, continues to promote various short-lived MLM crypto Ponzi schemes.
Bruni shared the top CashFX Group promoter position with Justin Halladay (below (L) with Luigi Bruni).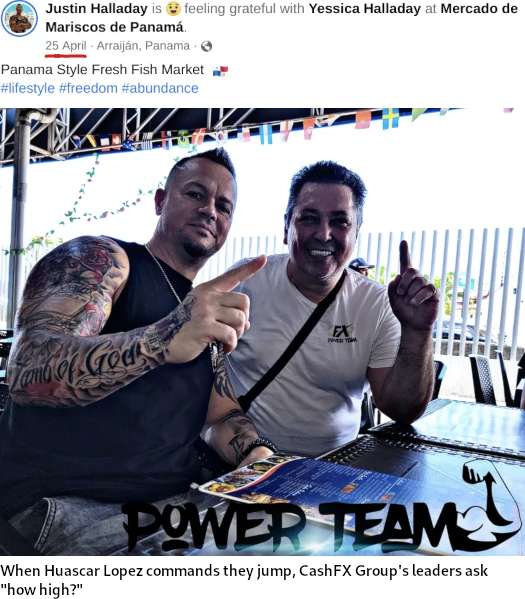 After shilling various failed NFT grifts, Halladay has recently been tied to promotion of Banker Quotes.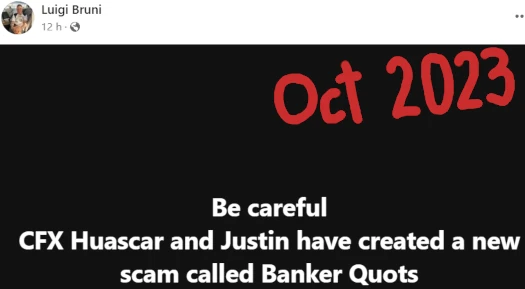 Banker Quotes is of course yet another MLM crypto Ponzi scheme.
Two years after its collapse, no definitive regulatory action has been taken against CashFX Group, the scammers who ran it or its promoters.
The UK confirmed a criminal investigation into the Ponzi scheme back in August. The status of that investigation, and whether the US are involved, remains unclear.
Total CashFX Group victim losses remain unknown.