BlackOxygen Organics shuts down, distributors screwed

BlackOxygen Organics officially announced it was shutting down on Tuesday, November 23rd.
Logistics with respect to products supply, unfulfilled orders and unpaid commissions are up in the air.
At time of publication BlackOxygen Organics has disabled its webpage and deleted its social media accounts.
The only communication to distributors was a notice sent to distributors either late Tuesday or early Wednesday.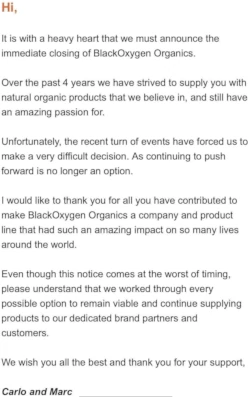 The notice is extremely light on details.
Hi it is with a heavy heart that we must announce the immediate closing of BlackOxygen Organics.

Unfortunately, the recent turn of events have forced us to make a very difficult decision. As continuing to push forward is no longer an option.

Even though this notice comes at the worst of timing, please understand that we worked through every possible option to remain viable and continue supplying products to our dedicated brand partners and customers.

We wish you all the best and thank you for your support.

Carlo and Marc

"Carlo and Marc" refers to BlackOxygen co-founders Carlo Garibaldi (President, right) and Marc Saint-Onge (CEO).
Notably there is nothing about whether current outstanding orders will be fulfilled, whether distributors owed commissions will be paid or whether refunds will be issued.
Activity from BlackOygen Organics distributors on social media suggest they've been screwed over.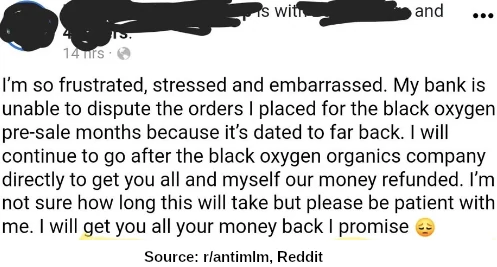 As to why BlackOxygen Organics abruptly shut down, here's what we know:

BlackOxygen Organics products had been seized in both Canada and the US due to contamination;
Canadian authorities issued a BlackOxygen Organics product recall in September;
a civil lawsuit was filed against BlackOxygen Organics in the US state of Georgia last Friday, alleging "toxic heavy metals at an unsafe level".
BlackOxytgen Organics responded to the lawsuit last Sunday;
BlackOxygen Organics ("BlackOxygen") has recently been made aware of a lawsuit brought by a Georgia attorney and his clients who are attempting to file a class action lawsuit by falsely claiming that certain BlackOxygen products contain "unsafe levels" of "toxic heavy metals."

The allegations in the lawsuit are entirely false and appear to arise from false and defamatory statements published on social media platforms by disgruntled former BlackOxygen Brand Partners.

BlackOxygen has engaged legal counsel and it intends to vigorously contest the false allegations and, if appropriate, assert claims for damages against the responsible parties for defamation and damage to BlackOxygen's reputation.

BlackOxygen is confident that it will prevail by presenting the true facts about BlackOxygen products and by proving that the allegations in the lawsuit are false and malicious.
Two days later the company abruptly shut down.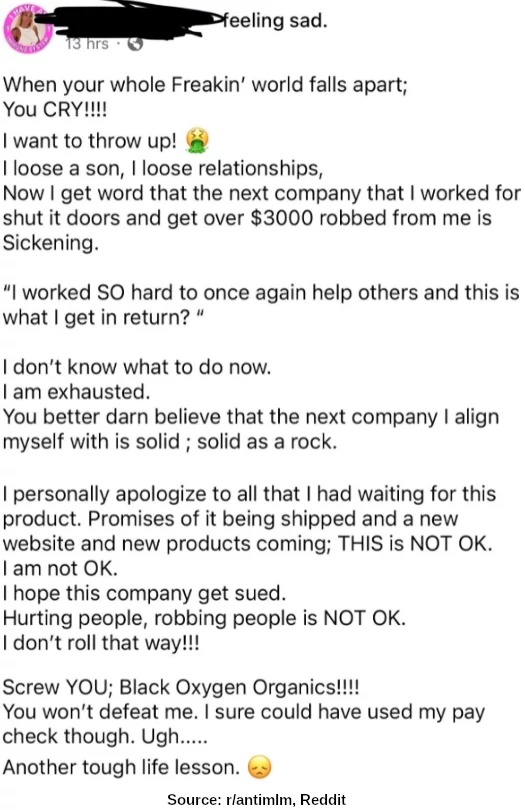 Whether further regulatory action has been taken against BlackOxygen Organics and Marc Saint-Onge is unclear.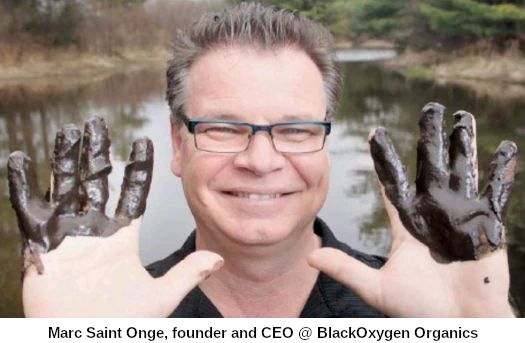 Stay tuned for any further updates.
Update 26th November 2021 – An extortion lawsuit filed by BlackOxygen Organics earlier this year sheds light on why the company collapsed.