BlackOxygen Organics recall refused because nobody had died

A defamation lawsuit filed in an Ohio County Court reveals BlackOxygen Organics had a culture of lies and deception.

In her lawsuit (provided courtesy of Mombie on FaceBook), Plaintiff Louise Harris (right) claims to be a US citizen residing in the UK.
Harris states she's an "accredited health and wellness practitioner based in England".
Defendant Careyann Muller Zivich is a US citizen and resident of Ohio. Harris' lawsuit described Zivich as a "biohacker, health, mindset, and wealth coach.
I might be mistaken but I don't believe any of those are accredited qualifications.
Both Harris and Zivich are former BlackOxygen Organics distributors.
Harris cites Zivich as a prominent distributor, with direct access to "massive audiences" through "social media groups".
It is through these groups Harris claims she was defamed.
As recounted in Harris' lawsuit;
After signing up as a brand partner for BlackOxygen, Harris had concerns about the medical claims asserted by BlackOxygen and the lack of transparency regarding the ingredients used in its products.
Skeptical of BlackOxygen Organics' own commissioned testing, Harris, Zivich and another distributor 'commissioned independent lab tests of (BlackOxygen's) products.'
The independent lab tests showed the products were unsafe for human consumption for a variety of reasons, including dangerous levels of toxic heavy metals and an amount of potassium that could cause severe medical problems or death if taken as recommended by BlackOxygen.
Harris' problems began when she 'expressed her concerns to Zivich and the executive leadership of BlackOxygen'.
Harris asked BlackOxygen to compare her testing results to their own batch testing results and remove unsafe batches from the marketplace.

BlackOxygen Founder and CEO Marc Saint-Onge informed Harris that BlackOxygen did not test any of the batches presently on the market for heavy metals.

Harris then asked BlackOxygen to recall all batches and implement industry standard testing protocols moving forward.

Saint-Onge informed Harris that BlackOxygen would take no action for several reasons, including the fact he was not aware of any deaths directly attributable to BlackOxygen products.
Evidently until someone died, Saint-Onge wasn't going to voluntarily recall BlackOxygen's toxic products.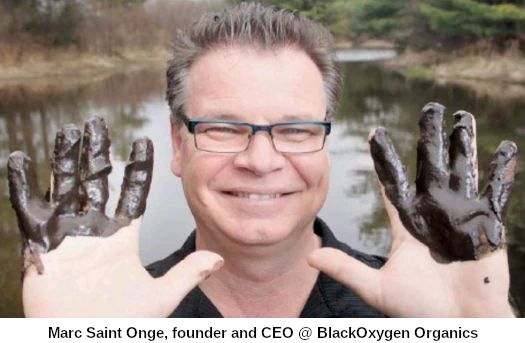 As a result of regulators conducting their own tests, distribution of BlackOxygen Organics' products in the US was banned in August. Canada followed suit in September.
Saint-Onge ignored the FDA's ban and continued to illegally distribute BlackOxygen Organics products to US residents.
In November 2021, Saint-Onge abruptly announced BlackOxygen Organics was shutting down.
This brings us back to Harris' lawsuit;
Soon thereafter, Zivich disseminated messages claiming that the company was not shutting down, and that Harris orchestrated a hack on the company and sent a false email to hurt the company.
That of course was nonsense. And Harris puts for Zivich knew it.
When Zivich made this false statement about Harris, Zivich knew that the company was in fact shutting down as she and other select brand partners were privately informed before the email was sent out.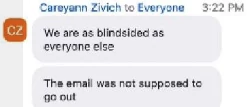 Despite this, on the BlackOxygen Organics webinar discussing the closure (after it had been made public), Zivich denied prior knowledge.
In this webinar, in chat groups and "subsequent social media posts", Zivich maintained BlackOxygen Organics shutting down
had nothing to do with safety concerns and was due to an excessive number of "orchestrated" chargebacks, which resulted in BlackOxygen's credit card processors freezing all of their funds and prohibiting further transactions.
Naturally with BlackOxygen Organics' products being banned for distribution across its two primary markets, orders weren't being fulfilled.
Maybe if refunds were given consumers wouldn't have had to file chargebacks?
Regardless, even if one accepts Zivich's unverified claim, BlackOxygen's closure is still attributable to "safety concerns" (distribution of toxic products).
In a move disturbingly similar to BlackOxygen corporate's conduct a few months earlier against another distributor, Zivich claimed Harris was 'personally responsible for the freezing of the company's assets'.
Harris goes on to assert neither banks or credit card processors shut or froze BlackOxygen Organic's accounts.
Harris claims Zivich lied about her being responsible to 'deflect anger from herself and BlackOxygen's senior leaders'.
Zivich told hundreds of people who had just been informed that they would not be paid earned commissions and were questioning how they would pay their mortgages or provide for their children that Harris was personally responsible for their losses and they should "thank" Harris.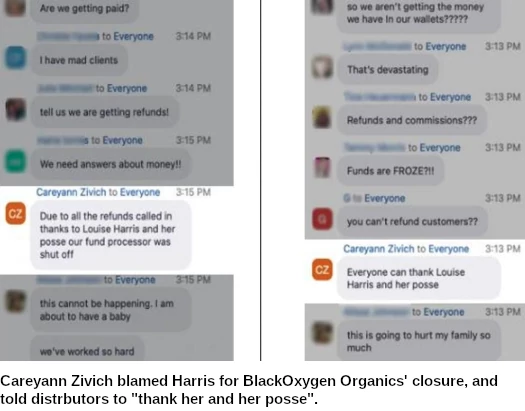 In reality, Zivich had actual knowledge that the closure was related to the quality of BlackOxygen's products.
Additionally Zivich claimed Harris
was "mentally ill";
had had a "mental breakdown and was unable to perform her job duties";
needed to be involuntarily committed to a mental facility;
stole money from Zivich to obtain the previously referenced independent BlackOxygen product testing;
stole BlackOxygen Organics' property;
somehow stole control of a 100,000 strong FaceBook group Harris created (and therefore already had control of);
was terminated by BlackOxygen Organics; and
was planning to launch a BlackOxygen Organics competitor.

Zivich (right) also claimed Harris was a
member of a satanic cult intent on using dark energy to prevent the masses from discovering the magical healing properties of BlackOxygen products.

As a direct and proximate cause of Zivich's actions, Harris suffered public ridicule and outrageous harassment, including pervasive and unironic claims that she is a "demon", "a secret agent for the evil FDA," and that she wanted to kill as many children as possible by depriving them of the magical properties of BlackOxygen products, including its "organic arsenic and lead."
And if that wasn't bad enough, apparently there's even more…
(There are) other statements that are not reprinted here but will be disclosed under seal or otherwise as the Court advises.

Harris' lawsuit against Zivich was filed on December 6th and alleges defamation.
Zivich's efforts … (were) specifically and maliciously calculated to cause harm to Harris.
Harris claims Zivich's actions caused her to suffer 'online bullying, threats, and direct and indirect threats of physical violence'.
Unfortunately I'm unable to follow county lawsuits but I'll keep an eye out for any updates as Harris' case progresses.
On the surface it certainly looks like Zivich has causes of defamation to answer to.