BlackOxygen Organics products recalled due to health risks

Health Canada has recalled BlackOxygen's products "due to potential health risks".
As per a recall alert issued on September 23rd, Health Canada warns;
BlackOxygen Organics is recalling all lots of these products due to potential health risks which may be higher for children, adolescents, and pregnant or breastfeeding women.

The products are being promoted in ways and for uses that have not been evaluated and authorized by Health Canada.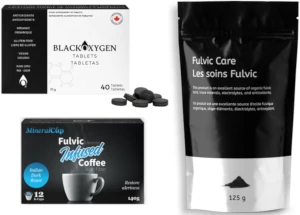 The recall applies to BlackOxygen Tablets and BlackOxygen Organics Powder.
BlackOxygen Organic's coffee product appears unaffected by the recall.
In BehindMLM's BlackOxygen Organics review, published September 8th, we expressed concerns of illegal medical claims being made.
Health Canada expressed similar concerns regarding BlackOxygen Organics' products.
These products are being marketed as fulvic acid supplement(s); however, this use and the quantity of fulvic acid provided by these products has not been evaluated or authorized by Health Canada.

There is limited information to support the safety of fulvic acid when consumed at the quantities found in these products, especially by children and adolescents, and by pregnant or breastfeeding women. The safety of long-term use is also unknown.

The powder product is also being marketed for use on the skin, which has not been evaluated by Health Canada.

Stop taking these products. Do not administer the products to children or adolescents.
BehindMLM's research found examples of affiliates claiming BlackOxygen Organics' products could prevent Alzheimer's disease and "heal autism".
BlackOxygen Organics corporate pitched its products as a treatment for COVID-19.

There are no peer-reviewed medical studies pertaining to any of BlackOxygen Organics' products.
Furthermore, we remain unconvinced that bog dirt harvested within close proximity of a waste management site is fit for human consumption.
At least not without routine adequate third-party sample testing, which BlackOxygen Organics does not provide.
BlackOxygen Organics has supposedly stopped selling the products in question in Canada. There is nothing on their website about the Canadian recall.
BehindMLM understands BlackOxygen Organics's products have also been seized by the FDA in the US.
The outcome of that investigation is pending.