FDA: BlackOxygen Organics' mud had elevated lead & arsenic

In an extortion lawsuit filed in September, BlackOxygen Organics attributed their regulatory issues to former distributor David Bykowski.
In August 2021, Bykowski encouraged members of his Facebook group and others to file complaints about BlackOxygen Organics products with Health Canada, the Canadian agency that regulates consumable products, and the U.S. Food and Drug Administration.

Bykowski's campaign to "wreak havoc" has also significantly impacted BlackOxygen Organics' sales in the U.S.

After Bykowski began publishing false and disparaging statements about BlackOxygen Organics, the FDA put a hold on the sale of the companies' products in the U.S.
That, of course, was baloney. Here's what actually happened.
On or around August 2021, the FDA sampled one of BlackOxygen Organics' products, Fulvic Care Powder,
at the Canadian border and found elevated levels of lead and arsenic.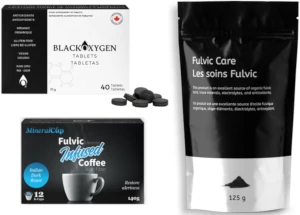 As a result of this finding the FDA seized the shipment, and placed an import alert ban on Fulvic Care Powder.
This resulted in BlackOxygen Organics having to hold subsequent Fulvic Care Powder shipments destined for the US.
In violation of the FDA's import alert ban, after September 14th BlackOxygen Organics began shipping their products to US consumers anyway.
(BlackOxygen Organics) released those shipments into commerce without the FDA's knowledge when they should have been held.

When discovered, the FDA pursued a recall, however, the firm went out of business on November 23, 2021 before performing the product recall.
To really drive home how much of a scumbag move this was, despite being fully aware of the import ban, BlackOxygen Organics imported and distributed its products across the US anyway.
When the FDA caught on and contacted BlackOxygen Organics about a recall, instead of cooperating and organizing a recall, Marc Saint Onge shut the company down.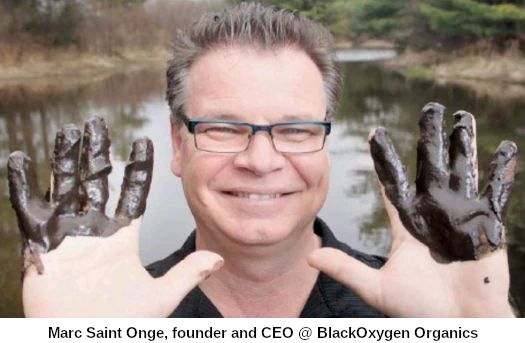 Rather than disclose what had happened to BlackOxygen Organics customers and distributors, Saint Onge diminished the severity of his actions.
In the "BlackOxygen Organics is closing" communication sent out to customers and distributors, Saint Onge stated:
Unfortunately, the recent turn of events have forced us to make a very difficult decision. As continuing to push forward is no longer an option.
That's a far cry from "Yeah so we violated a standing FDA import ban order, distributed toxic products across the country and uh, shit has now hit the fan."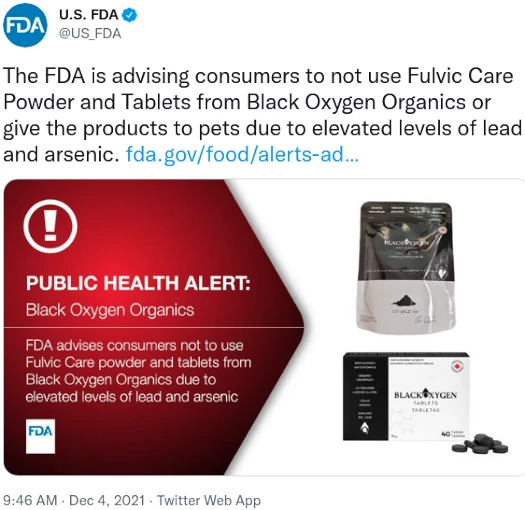 When weighed against BlackOxygen Organics' denials, general disregard for public health and safety and litigation threats, Saint Onge's conduct seems particularly egregious.
If US authorities are pursuing further action against BlackOxygen Organics and Saint Onge, they haven't made anything public yet.
In the meantime, the FDA warns;
Because the Fulvic Care Powder and Tablets contain the same ingredients, the FDA is advising consumers to immediately discard both the Fulvic Care Powder and Tablets.

Continued exposure to elevated levels of these metals can result in serious health risks and can affect people or animals of any age or health status.

It can be especially harmful to vulnerable populations including infants, young children, pregnant women and their fetuses, others with chronic health conditions, and pets.

The FDA is issuing this Public Health Alert to advise consumers of the hazards of using Black Oxygen's Fulvic Care Powder and Tablets or giving them to pets and recommends that consumers throw the products away.
Disturbingly, BehindMLM found BlackOxygen Organics products still being sold to US consumers: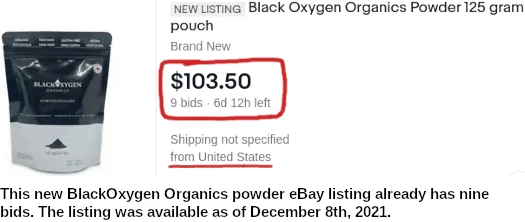 Stay tuned for further developments…