BlackOxygen Organics' extortion lawsuit sheds light on collapse

An extortion lawsuit filed by BlackOxygen Organics provides insight into the company's abrupt collapse earlier this week.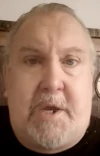 David Bykowski (right), is a Texas resident who joined BlackOxygen Organics in 2019.
BlackOxygen Organics co-founders Marc Saint-Onge and Carlo Garibaldi, describe Bykowski's time at the company as 'disruptive and a constant source of frustration'.
After repeated requests to Bykowski to refrain from his constant disruptive and harassing behavior, BlackOxygen Organics terminated Bykowski's Brand Partner Agreement on March 13, 2021.
In response to being terminated, Bykowski pleaded to be let back into the company.
I realize I should have held back and stayed out of the way and I apologize for my mistakes.

I promise to change my approach and be more understanding in the future and support the needs and requests of my people and company directions …

I will do anything to stay involved in [BlackOxygen Organics] and I will respect your every wish and directive and I will support the business direction and opportunity without fail …

I pledge my total commitment and heart to this company and this business.

I love this company and product and I love you guys and I am sorry I let you down …
Despite multiple emails sent by Bykowski, BlackOxygen Organics refused to reinstate him.
As alleged in BlackOxygen Organics' Texas lawsuit, this prompted Bykowski to launch a YouTube campaign against the company.
Beginning in April 2021, Bykowski began posting videos on the social media site YouTube which contain false and disparaging statements about BlackOxygen Organics and Messrs. Saint-Onge and Garibaldi.

In a video dated April 7, 2021, Bykowski falsely states that Messrs. Saint-Onge and Garibaldi are greedy" and that Mr. Saint-Onge is a "flunky" with no direct sales/MLM experience.

Bykowski further falsely states that Mr. Garibaldi, who is married, has engaged in extramarital infidelity by "chasing Colombian women."

In a video posted on YouTube on June 28, 2021, Bykowski repeats many of the statements made in the April 7, 2021, video.

He refers to Messrs. St. Onge and Garibaldi as "greedy" and "not honest."

Although he repeats his assertion that BlackOxygen Organics has great products, he suggests that BlackOxygen Organics products are not adequately tested and/or inspected prior to sale to the public.

Bykowski has published additional videos on YouTube making similar statements and suggesting that BlackOxygen Organics needs "to be put out of business."
In addition to YouTube, Bykowski also ran a private FaceBook group called "BOO – Seekers of the Truth".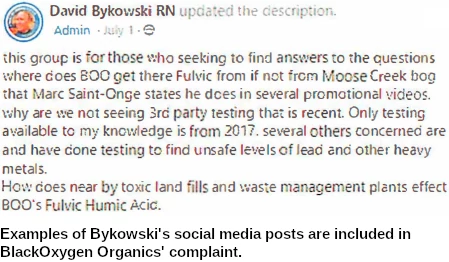 Bykowski has used this group forum to publish false, misleading and disparaging statements about BlackOxygen Organics and Mr. Saint-Onge, including but not limited to the following:

(i) BlackOxygen Organics does not regularly test its products and suggestion that the products have unsafe levels of lead and heavy metals;

(ii) BlackOxygen Organics products have been sold "illegally" in Canada;

(iii) Mr. Saint-Onge is "nothing but a Snakeoil salesman;"

(iv) BlackOxygen Organics products contain human or animal feces. "Brand Partners and customers are literally eating shit;"

(v) BlackOxygen Organics products may contain streptococcus, the bacteria that causes strep throat;

(vi) BlackOxygen Organics products contain only 5% fulvic acid and are "equivalent" to lawn fertilizer;

(vii) BlackOxygen products are "nothing but SNAKEOIL and its CEO Marc Saint-Onge is nothing but a Snakeoil salesman" and suggestion that the company's products come from a landfill;

(viii) BlackOxygen Organics products come from a toxic source;

(ix) Comparing BlackOxygen Organics products to food made from human remains; and

(x) Suggesting that BlackOxygen Organics products "could very well be tainted.
Bykowski wove a marketing campaign for "a competing fulvic acid company" into his allegedly defamatory statements.
That, however, is not what BlackOxygen Organics objected to. Rather it was an alleged extortionary demand for $200,000.
BlackOxygen Organics' complaint quotes an email, allegedly sent by Bykowski on July 31st, 2021.
So here is my proposal $200,000.. $100,000 paid by the end of August and $20,000 paid over 5 months, September, October, November, December and January.

If you decide to except [sic] this settlement I will sign any documents that request I take down all my YouTube videos and refrain from any further posts about BlackOxygen Organics as well as other language you request to be added.

I have not even begun to reek [sic] the havoc I will continue to reek [sic] if you refuse this offer.
Saint-Onge and Garibaldi refused to pay Bykowski.
As a result of them not paying up, BlackOxygen Organics alleges
Bykowski has made good on his promise to "wreak havoc" against BlackOxygen Organics and its owners.
BlackOxygen Organics goes on to attribute the company's regulatory problems to Bykowski.
In August 2021, Bykowski encouraged members of his Facebook group and others to file complaints about BlackOxygen Organics products with Health Canada, the Canadian agency that regulates consumable products, and the U.S. Food and Drug Administration.

Plaintiffs believe that almost all of the complaints were submitted by persons who have neither purchased nor consumed BlackOxygen Organics products and who instead were acting based upon the false and misleading information Bykowski has published in his online videos and Facebook posts.
Bykowski's campaign, the company's alleges, thus lead to BlackOxygen Organics downfall.
In August 2021, Health Canada began an investigation of BlackOxygen Organics products which resulted in a recall of
BlackOxygen Organics products in Canada.

As a result of this action, 11578243 Canada, Inc. d/b/a BlackOxygen Organics has experienced a loss of revenue from Canada sales of approximately $20,000 (CA) per day since August 17, resulting in significant lost profits.

Bykowski's campaign to "wreak havoc" has also significantly impacted BlackOxygen Organics' sales in the U.S. After Bykowski began publishing false and disparaging statements about BlackOxygen Organics, the FDA put a hold on the sale of the companies' products in the U.S.

This has prevented BlackOxygen Organics from selling products in the U.S. market since August 18, 2021, resulting in a catastrophic loss of revenue and profits.

Before Bykowski began his extortion campaign, BlackOxygen Organics' revenues in the U.S. were growing at a rate of more than 100% per month.

This growth slowed to 25% in July 2021, 9% in August 2021 and in September 2021 the company projects a significant decline in sales.
Personally I think BlackOxygen is giving Bykowski far too much credit.
Certainly consumer complaints might lead to an investigation, but authorities aren't going to shut down a company's national distribution without an investigation of their own.
Given Health Canada and the FDA opted to seize BlackOxygen Organics' products, one can surmise what the outcome of those investigations were.
This is also pure speculation on my part, but I'm also having a hard time believing neither Health Canada or the FDA wasn't in contact following the seizures.
Perhaps not straight away but after months on end? Yeah, not convinced.
BlackOxygen Organics' lawsuit goes on to accuse Bykowski of
business disparagement;
tortious interference with existing contractual relationships;
tortious interference with prospective business relations; and
defamation and defamation per se.
BlackOxygen Organics sought a permanent injunction, monetary damages, exemplary damages and legal costs.
BlackOxygen Organics filed its lawsuit on September 16th. Bykowski was served in early November.
On November 24th a Joint Motion for a Permanent Injunction was filed, detailing settlement between the parties.
On or about November 10, 2021, Plaintiffs and Defendant reached a settlement of this dispute.

Plaintiffs and Defendant have executed formal settlement documents, including an Agreed Permanent Injunction and Final Judgment.
As per the terms of the settlement Bykowski agreed to remove all online BlackOxygen Organics content he'd created.
This included negative content pertaining to Marc Saint-Onge, Carlo Garibaldi and BlackOxygen distributors who requested removal.
Bykoswki was also barred from having any further communication with BlackOxygen Organics and its executives.
The filing was signed on November 12th.
On or around November 23rd, one day before it was filed, BlackOxygen Organics announced it was shutting down.
To date the company has failed to provide a specific reason for the abrupt announcement.
The lawsuit against Bykowski suggests BlackOxygen Organics' regulatory troubles are/were far greater than the company let on.
This in turn crippled distribution of product across its two primary markets, eventually resulting in financial collapse.
If Health Canada and/or the FDA intend to pursue action against BlackOxygen Organics, they have yet to issue a public statement.
Perusal of David Bykowski's social media reveals a decade plus history of promoting various MLM supplements.
Bykowski is currently promoting Vidafy Global's "Nanofy Curcuma" supplement.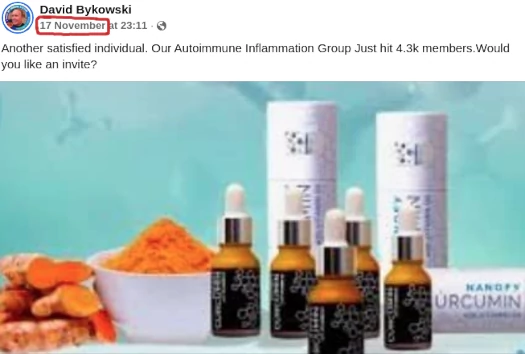 The above Facebook post suggests Bykowski is promoting Vidafy Global as a treatment for autoimmune disease and/or inflammation.
In one YouTube video Bykowski describes Vidafy as "the opportunity of a lifetime". His Vidafy marketing specifically targets nurses.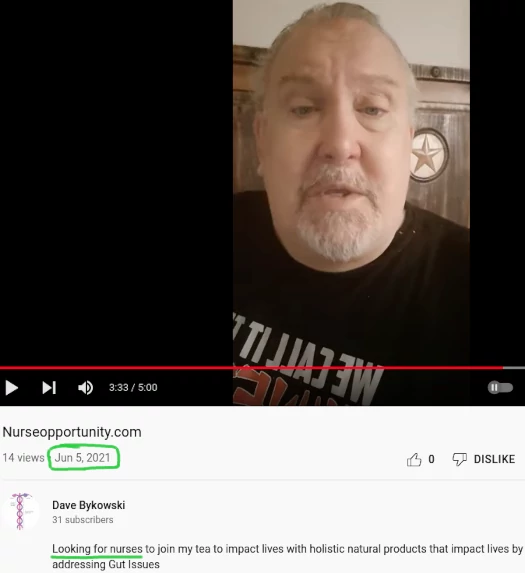 BehindMLM's review of Vidafy Global is pending.
Update December 8th 2021 – The FDA has issued a public health warning, advising BlackOxygen Organics' products contain elevated levels of lead and arsenic.
Update 2nd January 2022 – BehindMLM has now published its Vidafy review.
Update 14th January 2022 – A reader let me know David Bykowski had passed away.
I was able to confirm the news via a family member on social media:

At the time of this update Bykowski's cause of death hasn't been made public.