Kristine Johnson pleads guilty to wire fraud conspiracy

Following the pleading the fifth in the SEC's civil case against Achieve Community a few weeks ago, news today that Kristine Johnson, one of the co-founders of Achieve Community, has plead guilty to wire fraud conspiracy.As per a Bill Of Information filed by the Department of Justice on the 18th of June;
From about April 2014 through February 2015, Kristine Louise Johnson … ran a $6.8 million Ponzi scheme through a sham internet company called "The Achieve Community".

Johnson … lured investment victims by falsely claiming that they would receive a bogus 700% return on investment when, in truth and fact, TAC operated as a fraudulent Ponzi scheme whereby Johnson used monies from later victim-investors to pay fraudulent returns to earlier victim-investors and to personally enrich herself.

As a result of the scheme and artifice to defraud, over 10,000 victims worldwide … sustained losses totaling millions of dollars.
Previously the SEC had estimated Achieve Community to have been a $3.8 million dollar scheme, with the DOJ adjusting that amount to $6.8 million.
Meanwhile for all the talk of "triple algorithms" and "3D matrices", turns out BehindMLM was spot on in our analysis of the Achieve Community Ponzi scheme (be sure to check out the comments left by Achieve investors).
Johnson falsely told potential participants that The Achieve Community was not a pyramid scheme.

In truth and in fact, TAC operated solely as a pyramid scheme by which initial investors were paid with later investors' money.

Johnson falsely told potential investors that the "more products purchased, the more people move through the matrix and get paid".

In truth and in fact, there were no products; earlier victim-investors were paid returns with money contributed by later victim-investors in Ponzi-like fashion, regardless of the purchase of any products.

(Johnson) falsely promoted TAC as a "lifetime income plan" with "limitless" returns when, in reality, the Ponzi scheme could only operate with ever increasing infusions of new victim-investor cash.

(Johnson) falsely represented that TAC was able to sustain and continue making payouts through the use of what they called a "Triple Algorithm" and a "3D Matrix," which were so complex that they could not be explained in writing.

In reality, no such algorithm or matrix existed and the only revenue for the scheme came from victim-investors.
Not only was the entire business model presented by Achieve Community and its investors complete bullshit, but its owners were caught red-handed lying to payment processors and withdrawing invested funds for their personal use.
(Johnson) claimed that (she was a) participant in the scheme in the same fashion as all other participants in the scheme, when in truth and fact, Johnson misappropriated over $200,000 for her own personal use.

(Johnson also) made false oral representations and transmitted bogus descriptions of the business model to payment processors in which they fraudulently described the scheme.
Achieve Community's payment processor woes were well-documented here on BehindMLM.
Payoneer were first to terminate Achieve Community's ewallet services, which lead to flat-out lies being told by Johnson to the Achieve affiliate-base:
When their initial payment processor concluded that TAC was operating a Ponzi scheme, the payment processor terminated TAC as a client, advising TAC that they were terminated for "compliance issues" with their contract.

Subsequently, (Johnson) falsely told victim-investors that the payment processor had terminated TAC as a client because the payment processor was unable to handle the large amount of money that TAC paid to victim-investors.
Achieve Community then subsequently failed to resurrect processor services through Global Cash Card and AeroPay, with both attempts failing.
Ultimately, the scheme began to crumble and payment processors stopped processing Ponzi payments to victim-investors
Johnson's attempts at pseudo-compliance are also called out, with the DOJ noting that
when (Johnson) became concerned that the use of the term "investment" would draw scrutiny from regulators, (she) instructed victim-investors that "We ARE NOT an INVESTMENT program, please don't use that term when you speak or post about our re-purchase strategy".
For her efforts in masterminding and operating a global $6.8 million dollar Ponzi scheme, Johnson has plead guilty to one count of Wire Fraud Conspiracy.
All funds traced in connection to Achieve Community are now subject to forfeiture, including $2.6 million dollars in proceeds.
The details of Johnson's sentence are currently shrouded in mystery, with a sealed plea agreement filed on June 18th appearing on the case docket.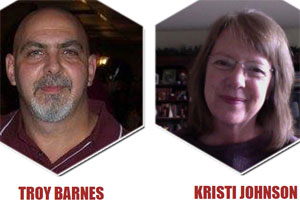 Troy Barnes (right with Johnson) has yet to be formally charged, with my guess being Johnson has struck a plea deal that will see her sentence reduced.
I expect Barnes will be charged at some point in the future, with the details of Johnson's plea agreement (and any pertaining to Barnes if he too has made one), then being made public.
Stay tuned…
Footnote: Our thanks to Don@ASDUpdates for providing a copy of the DOJ's June 18th filed Bill of Information.
The DOJ's own press-release was published earlier today and can be read over on the DOJ website.
Update 20th June 2015 – Kristi Johnson has been summoned to make an initial appearance before the court on the 30th of June.
The summons was filed under seal, so unfortunately we don't have any specific details as to its contents.