Achieve Community shut down, criminal charges pending

I wasn't sure if this was going to go down till next week, but it seems things have escalated in the last 24 hours and Achieve Community is no more.
As per an update published by Achieve Community owner Troy Barnes sometime in the last few hours:
Hi Everybody

Well it looks like the rumors are true. Kristi has fled from USA….. God knows where she went…. ?

Before she left She had been talking to the Attorney general in Colorado for many weeks.

My last conversations with her were all good They were dropping all charges of fraud and of Achieve being a scam.

This is what SHE told me!!! Kristi has deserted us all !!!

It would seem that she has now pointed everything at me!!!

I was doing every -thing I could do, to make us safe and be here for the long term and we were doing great.

Now because of Kristi deserting all of us I am facing criminal charges and our Achieve assets have been frozen.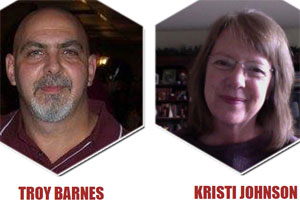 Last week I published a story confirming that Troy Barnes had been in contact with at least one US regulator (Michigan). It would seem his partner, Kristi Johnson (right, with Barnes) had been in contact with the Colorado Attorney General's Office for some time.
For reasons unknown, Johnson did not disclose this to the Achieve Community investor-base – or if Barnes it to be believed, him either.
I'd heard rumours on the grapevine that Barnes was facing a criminal investigation, which he all but confirms in his update:
I don't know what the plan is yet. One way or another I will get your money returned to you, somehow.

I am now facing jail because a few people hated our community and I have let Kristi have way too much control of our finances.
Based on what I know about the criminal investigation, I believe this action is being spearheaded by Colorado – possibly with assistance from Michigan. Whether the SEC have gotten involved is unclear.
In any event, even now Barnes seems to fail to grasp that he and Johnson were both running what was always nothing more than a blatant Ponzi scheme.
From the looks of it, Barnes is refusing to accept responsibility for his actions. Instead he wishes to place the blame on Johnson in absentia, and people who "hated his community".
What a load of bollocks.
I am sure I will have to be leave Facebook for a while. I have a lot to do to prepare for court and try to take care of ALL of the members. That is ALL I HAVE ever wanted to do !

How one woman can destroy so many lives is beyond me. I have no money for an attorney so I have to do my best to protect you all on my own.

It's a very sad day for me the worst day of my life ! So sorry I had the wrong partner.

Troy
The only people responsible for orchestrating the Achieve Community Ponzi scheme are both Troy Barnes and Kristi Johnson.
Barnes appears to facing criminal charges (jail time), and if Johnson has indeed fled the country – she has family in England – I don't suppose she'll be able to get very far before regulators catch up with her.
Johnson had yesterday gone and deleted all of her social media accounts, which might indicate she's reacting to a cease and desist filed against her.
I'm thinking that, rather than flee, she's simply cut off all contact with Barnes. It's likely that she's facing similar criminal charges.
Johnson had disappeared from the Achieve Community spotlight at the end of January, which is likely when she realized the gravity of what she was facing on the legal front.
Barnes evidently remained clueless and in denial about regulatory investigations against him and the company. Even as late as yesterday he was still stringing his investors along about setting up a payment processor sometime next week.
I'm also not to sure on Barnes' claim he has no money for an attorney. I had heard he'd spent $25,000 of Achieve investor funds on a retainer for a lawyer.
Whether he means now that Achieve Community's funds have been frozen he can't pay this lawyer going forward, or that he's lying about every having paid the retainer is unclear.
In the US at least, proceeds of a crime cannot be used to defend criminal charges filed against you. With Barnes having no other line of employment (and income source), that would explain why he's unable to afford to defend himself.
All in all it's hard not to have seen this coming. Now we wait for a statement from Colorado authorities to find out the extent of damage the Achieve Community caused (the amount invested).
And at some point, those who profited from the scheme can likely expect to have to return the bulk of what they stole from those who lost money in the Achieve Ponzi scam.
Stay tuned…
Update 15th February 2015 – Referred to as an Achieve Community admin by her fellow investors, Kelly Thomson is claiming Kristi Johnson has not fled the US, and that Troy Barnes is lying: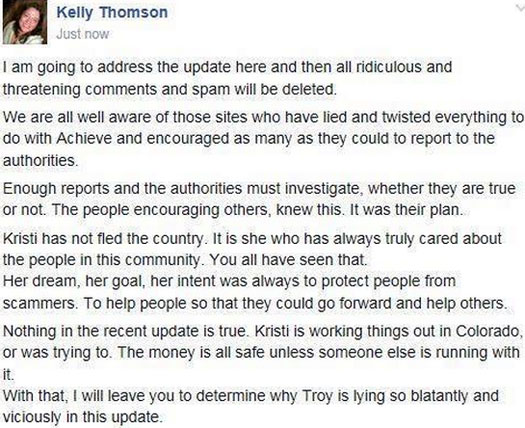 On what basis Thomson is claiming Johnson is still in the US is not clear. She's clearly an insider though and one that appears to be wholly in denial about what's going on.
Update 18th February 2014 – According to Troy Barnes, the SEC shut down Achieve Community:
February 17 2015

The SEC has closed down The Achieve Community due to all the haters reporting it to the authorities.

All monies will be returned when the investigation is over. All funds are currently frozen.
Gotta love his reasoning for the investigation… anything rather than admit he was running a Ponzi scheme.
Barnes recently also deleted his Facebook profile. This brings him up to speed with Kristi Johnson, who deleted all her social media profiles last week.