Kristi Johnson's sentencing delayed (Achieve Community)

As we last reported back in early October, Kristi Johnson's sentencing was to take place on November 19th.
The sentencing hearing was scheduled following a large number of sealed filings in the case against Johnson, leaving us to speculate on the what had happened.
It is believed the reason behind the sealed filings (and general secrecy of Johnson's criminal case) is related to her former partner, Troy Barnes.

Barnes has been uncooperative in parallel civil proceedings, with the status of a criminal investigation into him unknown.

It is expected proceedings will commence against Barnes following the sentencing of Johnson.
Troy Barnes was indeed indicted on October 22nd, with his upcoming criminal case directly impacting that of Johnson's.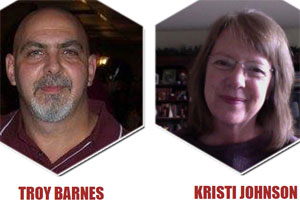 Troy Barnes and Kristi Johnson (right) are facing criminal and civil proceedings for their operation of Achieve Community, a $6.8 million dollar Ponzi scheme.
Johnson has already plead guilty, with proceedings against Barnes still in their early stages.
The SEC's concurrent civil case against the pair is ongoing.
As per a November 5th filing, it appears the specifics of Johnson's case, including sentencing, contains "sensitive information" pertaining to Barnes' criminal proceedings.
As such, a joint motion filed by both the DOJ and Kristi Johnson has requested the court continue Johnson's sentencing hearing.
So sensitive is the information under question that even the filed Motion to Continue Sentencing has been filed under seal.
Public dissemination of the Joint Motion to Continue Sentencing may interfere with the administration of justice.

Therefore, there is good cause for the Court to seal said motion.
A continuation in legal terms is a postponement (delay), which will likely extend until Barnes' criminal proceedings have played out.
We'll keep you updated as more news as the criminal proceedings against Troy Barnes develops.
Stay tuned…
Footnote: Our thanks to Don@ASDUpdates or providing a copy of the DOJ's and Kristi Johnson's "Joint Motion to Continue Sentencing", filed on November 5th.
Update 7th November 2015 – Troy Barnes has been assigned a public defender, who has requested a scheduled November 16th trial date be continued (postponed).
As at the time of publication of this update, no new trial date has been set.