4300% annual ROI touted through Ormeus Global ORME investment

Whereas the cryptocurrency market has more or less been in a slump since January, Ormeus Global's ORME altcoin is currently pumping.
This isn't that unusual, as MLM altcoins can be insulated from natural market activity via new investment tied to new affiliate recruitment.
What's disturbing however is how affiliates are using ORME's current value to market the Ormeus Global MLM opportunity.
Ormeus Global launched mid last year and, purportedly through a trading bot, promise investors a 160% ROI.
At the time of launch Ormeus Global claimed its business opportunity was "not available in the United States", however that hasn't stopped US investors from signing up and promoting the company.
Two US-based Ormeus Global investors of interest are Troy Rejda and Mark Pooser.
Rejda is believed to reside in Missouri, Pooser states on his Facebook profile that he lives in Dallas, Texas.
A few days ago the public value of ORME began to climb, owing to an abrupt 1000%+ increase in public trading activity on Cryptopia and HitBTC.
In addition to public trading, pre-generated ORME coins are offloaded onto Ormeus Global affiliates by the company's owners.
One possible reason for the sudden pump is the "rolling over" of investors from other companies and an "April cut off" to "receive Ormeus coin".
Ormeus Global affiliates such as Rejda and Pooser, no doubt hoping to capitalize on increased activity and looming deadlines, have rushed out marketing material to coincide with the pump.
In an email sent out on or around March 25th, Troy Rejda quotes a Facebook post by Mark Pooser;
Been telling y'all to buy buy buy. I don't make this stuff up.
Pooser goes on to offer very specific information pertaining to what he calls "Ormeus Coin Price Predictions".
What is Ormeus Coin's current price?

Ormeus Coin is currently trading at $1.57 today.

Will the Ormeus Coin price rise, grow, increase, go up?

Ormeus Coin's price will increase from $1.57 to $68.14 within one year from today.

Is it profitable to invest in Ormeus Coin?

The long-term earning potential is profitable for Ormeus Coin.

Will the Ormeus Coin price fall, decrase, drop? [sic]

Our prediction thinks it will not fall in value.

What will 1 Ormeus Coin be worth in 2023 five years from now?

The price of 1 Ormeus Coin (ORME) will roughly be $165.48 by 2023.
Respectively, Pooser touts very specific 4300% annual and 10,540% five-year returns.
Nine months ago Troy Rejda pitched Ormeus Global with a "160% return over and over month after month".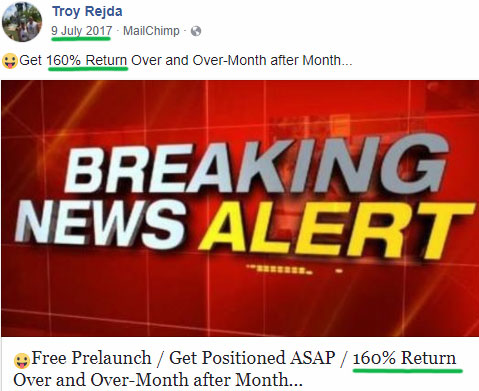 At the time of publication neither Troy Rejda or Mark Pooser are registered to offer securities with their the SEC or Missouri or Texas respectively.
Ormeus Global itself is not registered with the SEC or any state securities regulatory that I'm aware of.
Despite emerging almost a year ago, the Ormeus Global website details a "grand launch" event in Thailand next month.
Update 29th March 2018 – Mark Pooser has denied he is the original author of the Facebook quote.
He claims to have copied what he published from a third-party website.