Payza co-founders indicted, facing $250 million money laundering case

For years Payza has been the defacto payment processor darling of the MLM underbelly.
Founded by brothers Firoz and Ferhan Patel, who weren't above personally promoting their partnership with Ponzi schemes, Payza was operated out of Montreal, Canada. Both Firoz and Ferhan Patel are Canadian citizens.
Earlier this month the Patel brothers were indicted by a federal grand jury in the District of Columbia.
Ferhan Patel has since been arrested while Firoz Patel is still on the run.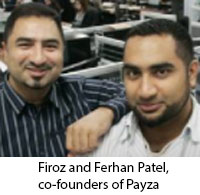 In addition to eagerly assisting MLM underbelly fraudsters, Payza and the Patel brothers also serviced "child pornography rings and other criminal enterprises".
According to the indictment, Payza's customers included Ponzi schemes, pyramid schemes and a child pornography site.

The Patels opened bank accounts in the United States and laundered their illegal proceeds through those accounts.
BehindMLM first became aware of a federal investigation into Payza back in 2015. Details at the time were sketchy.
The indictment details the Patel brother's criminal enterprise dating back to March, 2012.
The indictment was returned earlier this month and unsealed today in the U.S. District Court for the District of Columbia.

Firoz Patel, 43, and Ferhan Patel, 37, who live in the area of Montreal, Québec, are charged with one count of conspiracy to operate an unlicensed money transmitting business and to violate anti-money laundering program requirements, one count of a money laundering conspiracy and one count of operating an unlicensed money transmitting business in the District of Columbia.

If convicted, each of the brothers faces a maximum sentence of more than 25 years.

MH Pillars, Ltd., doing business as Payza, is charged with operating an unlicensed money transmitting business.
Ferhan Patel was arrested by authorities in Detroit on March 18th.
"The arrest and indictments in this case demonstrate that we will vigorously enforce laws meant to protect the American consumer," said U.S. Attorney Liu.

"Money transmitting businesses are required to be registered federally and licensed in most states and jurisdictions, including the District of Columbia.

Consumers should beware of those that do not follow these laws because they could be acting as a cover for other illegal activity."
Personally I think the $250 million figure authorities have come up with is easily lowball.
By my estimate, Payza has likely processed billions of dollars in funds over the years.
Still, it's a start.
The indictment also seeks forfeiture of any property involved in these offenses or traceable to these offenses.

In addition, the indictment seeks the specific forfeiture of approximately $10 million that has already been seized and frozen.
The indictment and accompanying federal case was unsealed as of March 20th.
Stay tuned for updates…
Update 22nd March 2018 – As of sometime in the last 12 hours, both the Payza and AlertPay website domain have been seized by US authorities.
Update 25th July 2020 – On July 17th the Patel brothers pled guilty to money laundering.
Update 12th November 2020 – On November 10th the Patel brothers were sentenced to 4+ years in prison.