Payza website offline, domain seized by DOJ and HSI

US authorities have seized the Payza and AlertPay websites, as part of forfeiture in a $250 million money laundering case filed against co-founders Firoz and Ferhan Patel.
The seizures appear to have taken place sometime in the last twenty-four hours, with visitors to both sites either being timed out or redirected to a DOJ/HSI seizure page: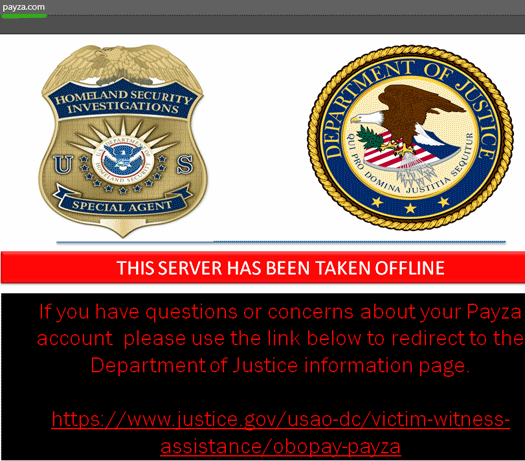 As at the time of publication the status of client deposits with Payza is unclear.
Over the past few years Payza had slowly been transitioning into a cryptocurrency exchange. In a Facebook post published less than 24 hours ago, Payza boasted it was now accepting over 50 cryptocurrencies for trade.
US authorities arrested Ferhan Patel on March 18th. Firoz Patel is wanted by US authorities and on the run.
Firoz is believed to be operating Payza's social media profiles, which as at the time of publication continue to publish new content.
In a post published an hour ago that addresses the domain seizure, "Team Payza" wrote:
As some of you may be aware of already, Payza is currently dealing with some legal matters in the United States.

We cannot give any specific details at this time, but please be aware that this is an accusation and it is NOT evidence of guilt.

Right now, this is affecting our Website, Blog and Reference Center, but we are working on a solution and we do not want you to worry.

Unfortunately, we cannot share any more information right now.

Thank you for your patience and understanding,

Team Payza
Specifics of the case against Payza and the Patel brothers have already been disclosed by US authorities in the recently unsealed indictment.
Personally, I think it's rather cute Firoz thinks he can "solution" his way out of a $250 million money laundering indictment.
Stay tuned…