Firoz Patel turning himself in to face Payza money laundering charges

After roughly ten months of being a fugitive, Firoz Patel is turning himself in.
Last March Firoz and his brother Ferhan were indicted on money laundering charges related to Payza.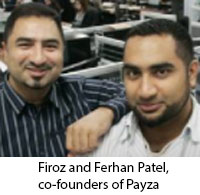 The DOJ alleged that through Payza, the Patel brothers laundered over $250 million dollars for "child pornography rings and other criminal enterprises".
Some of the criminal enterprises Payza provided services for were of the MLM variety. And for a decent amount of time Payza was the go-to processor for MLM underbelly schemes.
At the time of the indictment Ferhan Patel was in the US and was arrested in Detroit.
Firoz Patel remained at large. After authorities seized Payza's website domain, Firoz is believed to have continued to illegally operate Payza through an alternative domain.
While the alternative Payza website has since been taken offline, subdomains are still available.
The last communication Firoz Patel is believed to have sent Payza clients is a "Payza is still restructuring" blog post (May 30th, 2018).
At the time of his indictment, Firoz Patel's whereabouts were unknown.
At some point though he is believed to have traveled back to Canada. In Patel's native Quebec, he stands accused of committing $15.2 million in tax fraud.
Wanted by US authorities and having returned to Canada, it was assumed Patel would be apprehended on behalf of US authorities.
That didn't happen but nevertheless negotiations have been going on behind the scenes.
In a January 9th filing the DOJ moved to quash Firoz Patel's arrest warrant.
In the motion the DOJ advises
Firoz Patel has booked air travel to come to the United States on or about January 14, 2019, in order to be arraigned in this matter.

This Court has scheduled an arraignment hearing for January 15, 2019.

At or before that time, the defendant will propose an unopposed bond package.
The quashing of the arrest warrant is to ensure that, upon entering the US, Patel isn't apprehended by authorities outside of Washington, D.C., where he is scheduled to be arraigned.
On January 10th Firoz Patel's arrest warrant was quashed.
On January 15th Firoz filed an unopposed Motion for Bond.
In the motion Firoz will guarantee his appearance in proceedings with a $300,000 cash bond.
The motion suggests Firoz intends to remain in Canada outside of proceedings. If he wishes to travel outside of Canada outside of court appearances in the US, he'll be required to seek prior permission.
The $300,000 will act a surety for both Ferhan and Firoz at court appearances, in addition to their interest in Payza related funds US authorities have seized.
Last year Ferhan Patel was released on personal recognizance pending trial.
At the time of publication Firoz is believed to have traveled to the US and appeared at the scheduled January 15th hearing.
The outcome of the hearing held this afternoon however is as of yet unknown.
The docket should be updated sometime over the next twenty-four hours though, so stay tuned for an update.
Update 17th January 2019 – Firoz Patel has appeared at his arraignment and pleaded not guilty.