How are Payza continuing to provide payment processor services?

Within 24 hours of the Department of Justice and Homeland Security seizing Payza's .com domain, the payment processor reemerged on a .eu domain.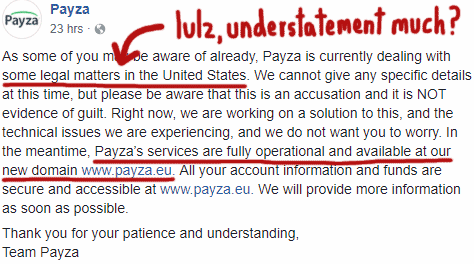 The "payza.eu" domain was registered back in 2012. Payza only activated in response to the domain seizure however on March 21st.
Payza's parent shell company PH Millars is listed as the owner of the domain. The domain itself is registered through the US registrar GoDaddy.
Whereas Payza's clients, many of whom the DOJ and HSI allege are criminals and peddlers of child pornography, were unable to access their wallet balances, after the .eu switch they were again able to transfer funds.
Considering Payza co-founder Firoz Patel is an indicted fugitive facing a $250 million money laundering case, this seemed a strange development.
Today we dig a little deeper and examine how, despite US authorities' efforts, Payza and Patel are still servicing their clients.
The footer of the new Payza EU website states
Griffin Management is a Licensee of MH Pillars Ltd., operating as payza.eu
No information about Griffin Management is provided.
The corporate address provided on the Payza EU office belongs to Finchley House, a virtual office services provider in London, UK.
From this we learn Griffin Management is pretty much a shell company set up in haste to circumvent US regulation.
With US authorities bearing down on Firoz Patel (his co-founder brother Ferhan was also indicted and has since been arrested), the big question is how is Payza providing payment processing services?
According to Payza EU's User Agreement, payment processing services are provided through their 'financial software provider, Synapse'.
According to their website, Synapse Financial
enable(s) companies to provide the best in class finance products to their customers for a fraction of the cost of traditional banks.
Advertised services on the Synapse Financial website include "process(ing) payments between bank accounts" and the "open(ing of) FDIC insured bank accounts".
Featured "bank partners" on the Synapse Financial website include Evolve, Triumph and I-Bank. All three banks appear to be US owned and operated.
Synapse Financial itself is a US company, operated out of California by founder and CEO, Sankaet Pathak.
I wasn't able to find any definitive links between Pathak and Payza or Firoz Patel… which just raises even more questions.
How is it an indicted fugitive wanted by US authorities is
able to create a shell company operating out of a virtual address in the UK within 24 hours of losing control of his company's website domain
use said shell company to register a new domain and enter into a partnership with a US financial services provider
potentially use the services of the financial provider to create bank accounts across three US bank and
continue to provide payment processor services like he's not facing imminent arrest and $250 million dollar money laundering criminal charges?
Just to be perfectly clear, this is what the DOJ and HSI allege Payza and Firoz Patel have been up to since 2005;
providing money transmission services to Ponzi and pyramid schemes and criminals engaged in the distribution of child pornography and controlled substances
attempts to conceal fraudulent conduct by creating customer lists that intentionally excluded Payza clients known be engaged in criminal activities
attempts to conceal fraudulent conduct by creating customer lists that intentionally excluded Payza clients who were operating in jurisdictions Payza was not licensed to operate in
transferring known criminal clients from AlertPay to Payza and from Payza to EgoPay
intentionally hiding Payza's corporate connection to EgoPay
approving a co-conspirator's request to transfer $1.5 million dollars in stolen funds from "Ponzi scheme 1's" Payza account to an EgoPay account
And apparently this is now still going on, with Payza's cryptocurrency exchange also mixed in… and nobody at Synapse Financial, Evolve, Triump or I-Bank has raised an eyebrow?
No worries chaps. I'm sure this'll play out swell…
Update 24th March 2018 – Within 24 hours of this article going live any mention of Synapse Financial has been removed from the Payza EU website.
The Payza EU User Agreement now references "Mazarine Commerce Inc."
This User Agreement ("Agreement") is a contract between you and Mazarine Commerce Inc., dba Payza, dba payza.eu, a wholly owned subsidiary of MH Pillars Ltd.
Mazarine Commerce Inc. appears to be a Canadian company. Whether it is a financial service provider is not known.
If not, how and through what jurisdiction Payza are currently providing financial services to their clients is unclear.