Payza co-founder Ferhan Patel wants release, brother still at large

Despite initially consenting to detention, Payza co-founder Ferhan Patel wants out.
In a Motion to Revoke Detention Order filed on April 19th, Patel has asked the court to either outright release him, or in the alternative allow him to stay with his brother-in-law in New York.
In justification of his release, Patel's attorney claims he's
a fully employed Canadian citizen with no prior criminal record or history of failures to appear.

He has no alcohol or substance abuse issues.

Mr. Patel has been married since 2005, and he has a nine-year old son and five-year old girl from that union.

He holds an MBA from a university in Western Ontario, and he has been gainfully employed for his entire adult life.
As an alternative to his outright release, Patel has asked to be released to stay with his brother-in-law.
Proposed conditions include
electronic home monitoring and/or a curfew
supervision through the Pretrial Services Agency
permission only to leave the residence for attorney meetings, court obligations or PSA pre-approved religious services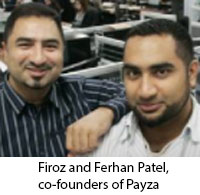 The elephant in the room is Firoz Patel's continued fugitive status.
Firoz Patel, Ferhan Patel's brother, has also been indicted and remains on the run.
After US authorities shut down Payza within the US, Firoz Patel started it up again through a .EU domain.
Through the European domain, Firoz Patel and Pazya continue to provide services to criminal enterprises and individuals that lead to the initial indictment.
Firoz Patel's current whereabouts are unknown.
Considering he's facing a $250 million dollar money laundering indictment, one can assume that until apprehended, Firoz Patel has access to considerable financial resources.
In his supporting memorandum, Ferhan Patel also acknowledges access to "moderate wealth".
Given the nature of the case against him and his brother's conduct post-indictment, I'd say that more than qualifies Ferhan as a flight risk under any circumstances.
Not being particularly well versed in criminal law however, I'm unclear as to how, if at all, a co-conspirators actions might impact release conditions of another defendant.
Ferhan Patel's attorney did run his release by the DOJ, who are quoted as being against his release.
As at the time of publication the DOJ has yet to file an opposition to Patel's motion.
Stay tuned…