Firoz Patel's Payza tax fraud bill climbs to $15.2 million

Firoz Patel's Payza tax fraud bill has claimed to $15.2 million, following adjusted undeclared income of $26.2 million USD.
Revenu Québec previously pegged Patel's unpaid taxes at $10.8 million, however an ongoing investigation has revealed additional undeclared income.
In its efforts to recover Patel's unpaid taxes, Revenu Québec has frozen his Canadian bank accounts and seized the Patel family home in Montreal.
The regulator is also hoping to secure another $1.2 million from Mazarine Commerce, one of the shell companies used to operate Payza through.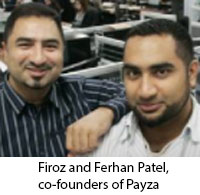 Firoz's wife Nazlin Patel is also being pursued for $2.6 million. His brother and co-founder of Payza, Ferhan Patel, owes Revenu Québec $1.8 million.
Speaking with Journal de Montreal, Firoz claims his unreported income was due to "late accounting".
Our accounting was late and Revenu Québec made projections based on client funds that went through our accounts.

Our lawyer has already shown that the money they took into consideration was not ours, but that of our clients.
After going into hiding following a $250 million dollar money laundering indictment in the US, Firoz announced his return to Canada on Facebook on June 12th.
Patel is wanted in the US on an arrest warrant. As of yet however authorities have yet to make a move.